Post by foulee on Nov 8, 2013 17:09:13 GMT -8
Name:
Larsley Filt
Pronunciation:
La-r-s-l-ey Fi-l-t
Gender:
Male
Age:
18
Turnday:
3057.10.28
Location:
Ice Stone Weyr
Rank:
Journeyman Harper
Family:
Father: Galten Filt, 36, Lord Holder
Mother: Hildre Mael, 42, Lady Holder


Younger brother: Snatrel Filt, 8, kid


Younger sister: Dayla Filt, 4, baby


Younger brother: Lennon Filt, 2, baby

Weyrmate/Spouse:
None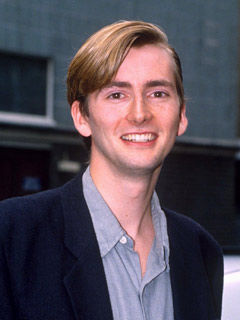 Face Claim: Young David Tennant,
sounds like him too

Appearance:
Larsley's hazel eyes, golden hair, and winning smile ought to make him a contender for any girl's interest. His eyes are accented by bushy blond eyebrows, and his skin is lightly colored despite living in a family of well tanned holders. It's pale hue is due to the countless hours spent
out
of the sun. He's a typical geek. He's too weak physically for manual labor. At 6'3'' he is a tall, slim, scrawny teenager.
Larsley's status as a lord holder's son means his clothing should be richly acented. His father's career speaks otherwise. Galten and his wife worked alongside their subjects. For a lord holder's son, he's dressed more like a farmboy. Sometimes he wears a set of pale brown overalls. Larsley also wears a ratty, dark blue jacket.
Personality:
Larsley is a serious, analytical young man. He has an insatiable curiosity to know everything and anything in his world. New developments in the world always interests him. He spends more time with his books than with other people. He isn't shy, but making friends isn't an easy thing for Larsley. People might consider him uptight. He prefers verbal conflicts over physical ones, as he's too weak to defend himself. His closest companion is the guard wher, "Larsk". He's more relaxed and open with "Larsk" than even his own parents. Larsk is a female green wher Larsley would often spend time with. The creature, though it didn't bond with Larsley, was closest to him, hence its unofficial nickname. Larsley and his parents got along fine, though for such hard workers, it was strange to have a scrawny son who preffered reading to labor. His brother gets more attention, due to the boy's rugged appearence and ability to do hard work. Though he isn't all that jealous, his relationship with Galten is awkard at best. Larsley and his brother, Snatrel are two different people. His brother is a rough kid, and Larsley dreads being around him. He gets along better with his baby sister, Dayla and younger brother, Lennon.
Larsley often investigates what interests him and writes about it. He's developed a deep respect for blunt honesty, integrity, and intelligence. As such, liars and idiots irritate him. As do pushy people, bullies, and beaurecratic simpletons, they annoy him just as much. Larsley is stubborn in his investigations, desiring answers no matter what. He never takes sides, preferring to analyze what's before him and acting in a logical manner. He's cool, clearheaded, and humble. Like his father, being the son of a lord holder is merely a title to him. In fact, he only brings it up during introductions and whenever its necessary (to get to places he can't normally go). Galten drilled it into his sons to do the best they could for the commonfolk.
Larsley is nearsighted. He has to focus (a lot of squinting) on where he's going before he begins walking. He's used to it though, but he's always looking for a better way to deal with his shortsightedness. He compares this aspect of himself to whers. His eyes fail him just as much. Though he's a harper Larsley never liked singing or music. He preffered writing about things. Hard labor is another aspect of life Larsley hates. He'll often shirk work when he can. His goal is to travel all over Pern and write about what he learns.
History:
3057.10.28: Larsley Filt is born in idyllic Golden Flight Hold to Galten Filt and Hildre Mael.
3064.4.16: Larsley's father takes him out to the fields to help with the planting. He's a weak kid, and Galten realizes his son might not work as closely in the fields with his peers as he did. Larsley often avoids work and hides in one of Golden Flight's many storerooms with a glowbasket and a book.
3065.3.4: Larsley starts spending time at the harper's house on a nearby hill, learning all he can, despite being too young to be an apprentice.

3067.5.5: Birth of Larsley's younger brother, Snatrel Filt. Larsley's father allows Larsley to continue as an (unofficial) apprentice harper instead of learning to run a hold. After all, Snatrel can take over.
3069.10.28: Larsley is officially an apprentice harper. His father catches him celebrating with his wher, Larsk, and while there is awkwardness for several days, eventually accepts his son's friendship with the wher.
3069-3075: Larsley juggles his apprenticeship, time with his wher, time with his books, and his part time lessons as lord holder (backup child).
3071.1.2: Birth of Larsley's younger sister, Dayla Filt.
3075.10.28: Larsley learned of the Silverlight Conspiracy a few months before. It piques his curiosity. He stays in Golden Flight Hold to finish his apprenticeship. He officially becomes a Journeyman harper, and leaves for Ice Stone Weyr.
3076.04.1 Searched for Ice Stone Weyr.
Adoption?:
No
Dragon Preferences:
| | | |
| --- | --- | --- |
| Preferred Colors | any color but grey or brown | Why do you think these colors fit? |
| Cross Impression? | Yes | Comments? |
| Preferred Type(s) of Dragon/Rider Pair | Similar | See below |
| Preferred Personality Traits | List Here | Anything that doesn't clash with Larsley's |
| Mauling | Yes | anything but death |