Post by Ghost of Fire (Fëanáro) on Jul 30, 2012 21:35:12 GMT -8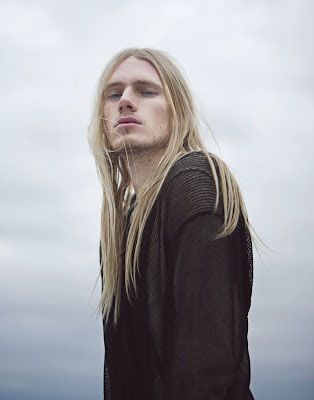 Name:
T'vax
Noixay
"Cavernborn" (pre-Impression Tivax)
Pronunciation:
Tuh-vax
No-ix-say
Ca-vern-born (Tih-vax)
Gender:
Male
Age:
21
Turnday:
Turnover's Eve, Turn 3057.
Weyr:
Ice Stone
Rank:
DragonRider
Family:
Father:
Tiberax Noixay
(38)
Uncle:
Brencis Kalarn
(54)
Mother: Keeya Noixay (38)
Twin Brother: Taver (21)
Brother: Kodax (15)
Sister: Bunika (18)
Friends:
Davquil of Purple-Grey Niekolgoth
Pets:
Pink Ninarwa (4), Aurora (f) Tyavra (4) Sled Canine (f) Ribbon
Appearance:
T'vax, like his father and twin brother, is lean and lanky. He has a scar that runs down the side of his face, just to the right of his right eye. He already stands at about 6'2", and in time will likely grow to be even taller. He has the same ice-blond hair and pale skin of his father, though his eyes are the same stormy-sea blue as his mother's eyes. He prefers to wear intense colors, with the red and blue sported by his uncle Brencis Kalarn being a personal favorite of his.
(Play by: Berthold Rothas)
Personality:
T'vax is a very careful individual. To be sure, he holds strongly to his opinions and will willingly fight anyone who derides them, unless the derider is more powerful than himself, in which case he will remain silent, and be careful not to attract that more powerful individual's attention in most cases. When among his friends, he is flamboyant, often gesturing broadly as he speaks and frequently seeking to be the center of attention. If such a thing as psychologist could get a hold of him, they might argue that he is trying to obtain from friends the recognition that he could never earn from his father, but whatever the reason, he will do just about anything to obtain and keep the center of attention for himself.
T'vax personally supports the argument that Silverlights should be treated as Queens, and has gotten into the occasional argument regarding whether Azeriuth, the male Silverlight weyrling in his same class, should be regarded as a King, with T'vax arguing that the answer is yes. However, if pressed to give a reason for this, the best he can do is to state that Silverlights have always been treated as Queens, so why should it be changed. His real reason though, which he is only aware of the fringes of, is much simpler: his father hates Silverlights and decrees that they should be killed off, therefore he, T'vax, declares them Queens and Kings. That's not to say that his father could play reverse-psychology with him, because T'vax's opinion is too well-established now, but its beginning was due to accidental reverse-psychology.
History:
T'vax and Taver were both born three months before their parents' marriage. To sticklers, they are not considered their father's heirs, but being as there's not much to inherit but a violent argument with the Weyr and a gang of outlaws (to be sure, an organized gang, but still), T'vax never really cared. His twin brother, Taver, cared plenty, but then Taver enjoyed being able to boss people around, while T'vax was perfectly happy to be left alone. The family spent most of its time at a semi-permanent camp about a day away from Icy Caverns Hold, though they traveled more as the children got older.
Their father's argument with the Weyr, and his gang of outlaw (and not so outlaw) friends was already well established by the beginning of where T'vax's memory reaches, when he was 6 or 7 Turns old. Even at that time, his father's preference for Taver was a well established fact; most of what T'vax recalls of early life revolves around getting into fights with his brother (which he generally lost), trying and failing to please his father, or trying to stay out of the way of his father and his father's friends. His mother managed to protect him from too many physical punishments, but by the time he was 9 Turns old, she spent most her time protecting Bunika and Kodax, leaving her eldest two boys to fend for themselves.
When he turned 11, T'vax met a couple other kids, children of his father's friends, who, like him, were often overlooked. His new-found friends told him all the stories about dragonriders. The traditional ones, the real ones, about how dragons and their riders risked danger to watch over and protect those less fortunate than themselves. Starting then, T'vax had a new goal in life: to become a dragonrider. Or, failing that, to help the dragonriders and all that they stood for. He spent all of his time with the other two boys, Grodac and Valentyr, for upwards of a Turn. Finally, Valentyr introduced him to the source of their forbidden knowledge about riders: the Harper at Icy Caverns Hold, one Gillian.
They stayed at Icy Caverns for a time, and T'vax soaked up all the dragon-lore that he could cram into his head. That was also the first time that he encountered a real live dragon. He hadn't known the dragon was around, and had suddenly heard a voice in his head, a voice that said: "I'm hungry Mine, we should go hunting."
Curious and confused, the nearly 13 Turn old boy had slipped out of the main Hold and looked around, trying to work out where the voice had come from. His eyes had landed on the a dragon in the corner of the courtyard, and he'd just had to come closer. Then he'd heard the voice again. "Mine, there is a boy approaching." He'd looked around wildly, but he hadn't seen anyone. When his gaze returned to the dragon and its rider, the rider was looking at him.
"What's wrong?" the rider asked.
T'vax hesitated, then answered, telling the rider what he'd heard. For some reason the rider looked even more surprised than he felt. The rider had said that what he'd heard was the
dragon
speaking. He'd opened his mouth to ask about that, only before he could say anything more his father appeared and dragged him away.
As soon as the rider left, T'vax had gotten the beating of his life for that stunt, leaving a scar on both the inside of his arm and the one just to the right of his right eye. He never told anyone that he'd heard the dragon, and his father never let him come anywhere near the Hold again.
Then, when he was 15, his father and cronies managed to capture a dragon. A weyrling dragon, and her rider. He tried to help the captives, but there wasn't much he could do… except bring them food, and that only occasionally.
The Weyr came to rescue the weyrling, and T'vax joined up with them, seizing his opportunity to escape. He was Searched, sort-of, and stood in the Hatching of Ice Temperanth's first clutch, Impressing Chrome Slinesteth.
During Weyrling training, T'vax appointed himself the protector of the younger boy, T'ruk, who had Impressed Slinesteth's male Silverlight clutchmate. He doesn't always manage it, because he does like to hang out with Dav and he has to keep an eye on Barrek to try and find out what his father is doing, but whenever he could he protected T'ruk, as well as ensuring that he made it to everything on time. Of course, he also pushed T'ruk forward at first, insisting on rights for him that would have been given to the Weyrling of a King, at lest until the change in Weyr policy prevented it.
Other Information:
T'vax is left-handed, though he can write with his right hand.
Adoption?:
Sure.
Dragon's Name:
Slinesteth (Slih-nest-teth)
Dragon's Gender:
Male
Dragon's Age:
5 Turns (born 3073.13.21)
Dragon's Color:
Chrome (a4a4a4/681717)
Template courtesy of
HeartofPern
, coloring courtesy of Cait
Dragon's Appearance:
Slinesteth, to quote T'vax's first description of him, looks like "...steel, only rusty steel, like a sword that hadn't been cared for properly." He has recently reached his full 32 feet in length, putting him roughly in the middle of size for his color. He looks a lot like T'vax right now, though, lean and lanky.
Dragon's Personality:
Slinesteth hates being in the spotlight. He isn't shy but he would much rather be unnoticed by just about everyone other than his. This chrome is a schemer, and he thinks that if he is noticed then his schemes won't work properly. Oddly enough he reads people and dragons well, and has a knack for figuring out how they will react to different scenarios. It gives him both good combat instinct, and good instinct for politics. Still, he needs someone to benefit from his plans, otherwise what good are they? Slinesteth certainly won't step forward to take the prize, that would just draw attention..
Dragon's History:
Slinesteth was the first to hatch of his clutch. He is the son of Ice Temperanth and Crimson Varketh.