Post by Kaya on Jun 20, 2012 19:54:22 GMT -8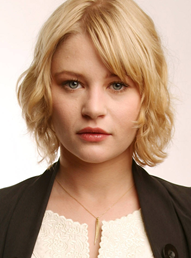 Name:
Eira Kalarn
Pronunciation:
Ae-ruh (Ae as in day) Ka-lar'n [erə kəlarn]
Gender:
Female
Age:
31
Turnday:
01.12 of the 3046th Turn
Weyr:
Ice Stone Weyr, originally from Icy Caverns Hold
Rank:
LifeWing Rider
Family:
Father:
Brencis Kalarn
(51), Lord Holder of Icy Caverns Hold
Mother: Roshanna Kalarn (49), Lady Holder
Brothers: Mekeal (24),
Lavan
(20), Randev and Vekat (Twins, 14)
Sisters: Lesolla (23), Zubrina (17)
Weyrmate:
None
Friends:
Pets:
None
Appearance:
Eira has her father's looks with her mother's build. She stands at a tall 6' even and though her frame is thin she has a healthy glow to her. She is every bit Brencis's daughter, with light blue eyes, light blond hair and fair skin. She keeps her wavy hair short, above her shoulders. After a trim, cut just below her ears, she'll let it grow out until it is about an inch from her shoulders before cutting it again. She wears practical riding gear around the Weyr but finer clothes around the Hold, even when working. She must wear fine things in public: Kalarn is a proud name and demands respect. (PB: Emilie de Ravin)
Personality:
Eira is a dutiful worker, dedicated to finishing any task once started. Once directed towards a goal she is resolute and will see it through to the end. She is well versed in pleasantries and does not mind polite, idle conversation in the least. She is friendly enough so long as others keep their distance and don't pry into her personal life or thoughts. She loves the sky passionately and will oblige any willing listener with tales of flight and stressful healing missions. Eira can only bottle up so much. While she is slow to speak her mind, on the rare occasion she does have an opinion, shock or prolonged badgering can get a rise out of her. These snap comments have always, without fail, gotten her in trouble. She dislikes animals, being of the mind that they're more trouble than they're worth and generally abhors firelizards, the wretched little spies.
History:
Eira is the first born child of Lord Brencis and Lady Roshanna Kalarn. She was, to her father's great disappointment, not a son. She saw very little of Brencis growing up, and he nearly stopped speaking to her altogether when her brother Mekael, the second addition to the unhappy family, was born. Though she was rarely permitted to see her mother the next several Turns (she had more important child heir rearing to do) she and her mother did not grow apart, but rather bonded closer when they finally could spend more time together. With Mekael gone and off, studying Lordly things from Brencis and his advisers, Roshanna could teach her girl in all things ladylike. Eira learned all the proper skills, politeness, obedience, reservedness, and patience. As a means to further her calmness and view on politics, they studied history. She was told many a time that a wise woman voices only popular views to those who want to hear them. In essence she learned to say what people want to hear and to hold very few of her own opinions.
Though she was still young, her mother saw an unhappy future for her daughter. A life too much like her own, with a difficult Lord husband, too many people to please, and many children running underfoot. Eira would become a proper lady, likely to be married off to some other Lord like her mother before her. Roshanna quietly wished for an escape for her daughter, even if the idea never took hold in the girl herself. So it was when Eira turned fifteen that her mother found her in her room crying after a wonderful Turnday party that, Eira had said herself, "was everything she wanted." It didn't take Roshanna long to hear out the story. A LifeWing Rider, the aunt of one of her close friends who had arrived to take the girl after the party, was adamant that "this young lady here must stand at the upcoming Hatching." The LifeWing Rider had meant it as a compliment, but Eira heard it as an order. Roshanna, hearing a way away from Hold life for her daughter, sought out the LifeWing Rider on her own and had an audience with her the next day. Candidacy confirmed, Roshanna told her daughter that the woman was just being polite, as was proper. It was a high honor to offer Candidacy, and though it was certain that Eira was a noble through and through and would come home after the Hatching, the very title was worth the trip. Eira always did as her mother said, so there was no question about it. She was going.
So right before the Hatching, a dragon arrived to ferry Eira to the Aerie's Hatching. The naïve girl left, small bag in hand "just in case there's no one to bring you home after the party", and willingly walked into a startlingly new life. A little hatchling, all fluffy and white, Linked to Eira that day. The innocent girl left the room in tears, a concerned little bird, beak starting to tint red, following after her. She had to be walked through all of early LifeWing care, to the great frustration of the teaching Riders. She and her LifeWing, a grey and white fledgeling named Wivish, did their best but always finished last. It wasn't until they were finally in the air that they found satisfaction in their skills. With their new confidence, healer training came much easier. Eira bounced between Icy Caverns and Ice Stone, Wivish a strong endurance flier and willing to make the trip as often as they wanted or needed to. Brencis said nothing, though Eira heard through Roshanna that he was beyond displeased. In a strange turn of events the Lord Holder requested her presence a sevenday after her promotion to Rider. She arrived and he said nothing, looking her over in her riding gear and at Wivish, healing pack at the ready. "Make something of yourself. And don't show up here looking like that again." Then her father left. Ever since Eira has another set of clothes in her packs, ready to shift into whatever role her life demands.
Eira is finally starting to settle into the role of flygirl healer. She can't take sides well in arguments because that requires decision making. Being Holdborn, she knows all the rhetoric about why Silverlights are a threat to the natural order, and though she quietly agrees with them deep down, she clams up and says nothing about the conflict to her peers. She is ready and willing to do her job, but ask her for an opinion and expect to hear nothing more out of her than healing talk. She is a healer and sees this conflict hurting not just relations but physically harming people and dragons alike. The Weyr needs to understand that and do what it has to in order to protect its people, which means treating Silverlights as the overgrown fighters that they are.
Adoption?:
No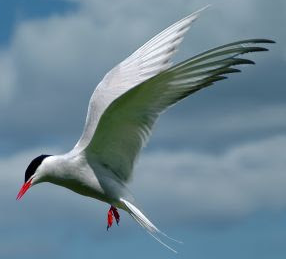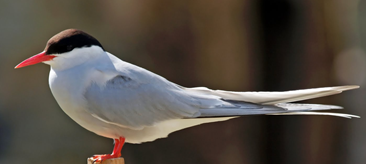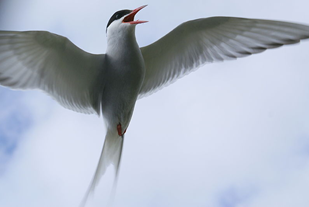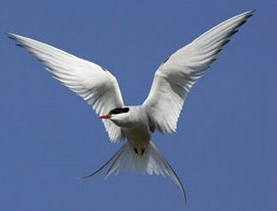 LifeWing's Name:
Wivish
LifeWing's Gender:
Female
LifeWing's Age:
14
LifeWing's Species:
Arctic Tern
LifeWing's Appearance:
Wivish is a smaller LifeWing at twenty feet long. She has shapely wings and a wingspan twice her body length. Her wings are light grey on top and white on the bottom. Her body is white and she has a black cap on her head from beak to neck, going around her black eyes. Her wings and the edges of her tail are tipped with black. Wivish has reddish webbed feet and a long, pointed, reddish beak that is good for fishing. She is clumsy on land and spends most of her time in the air. Her voice is a high pitched chirping sound.
LifeWing's Personality:
Wivish is a happy soul, nowhere more at home than in the air. She is carefree and often careless, forgetting engagements if Eira doesn't remind her or write them down. Wivish is easily influenced by the feelings of others. She is saddened by the troubles of others and will sympathize readily with all tales of woe. She will experience others' joy nearly as if it were her own. She mirrors deeply what Eira is feeling and does not have the discipline to so neatly hide her feelings as her Rider. For this reason Wivish will return to the sky when she isn't working so that Eira has one less thing to trouble herself with, and also because Wivish loves flying.
LifeWing's History:
Wivish was born to fly, though it took long enough for her feathers to grow in so she could realize it. She started off slow in her lessons but picked up speed when she learned to fly and gained some confidence. Though her turn around in attitude impressed her instructors, the pair waved it off and quickly filed back into the ranks. Eira wanted to be useful, but leadership (which required decision making and having those dreadful opinions) was not in her skillset. Wivish has always been fine with this and supports her Rider's endeavors, which are at present to continue healing and maybe, one day, have the right person see what harm this conflict is causing their world.