Post by Shoki on Sept 25, 2012 16:01:19 GMT -8
Name:
Ethilaneph "Lan" Orpheal
Pronunciation:
Eh-th-ill-an- eff Or-feel
Gender:
Male
Age:
20 turns
Turnday:
56.06.15
Weyr:
RMW
Rank:
Wher Handler
Family:
Father: Thenil- Farmer/bird trainer
Mother: Linepha- Farmer/occasional midwife
Younger brother: Philenten (16)
Friends:
Saddyris
Pets:
Trained shoulder bird (m) Syne, White (f) Firelizard Arc, Black-Pink Soida
Appearance:
Lan is a tall guy, build well as he is just getting out of his gangly teens. He reaches 6'1" has good arm strength, and large hands. His hands are scarred, though its hard to notice them since he's learned to wear thick gloves when handling Syne now. His legs are long, but he has a series of three lines on both of his calves, which run straight from a few inches below his knee to halfway to his ankle. These lines are a dark gray in color, having faded from a black color. He has a square face shape and more often then not some stubble when he forgets to shave. His hair is a brown color, comparable to caramel and he cuts it very short. His eyes are an amber color, though considering his height they are usually directed down or if he's working with Syne up at the sky. His ears are just a little on the big side and his entire skin tone is well tanned, indicating a love of being outside.
He prefers to wear sturdy shoes, even when not strictly required, and long pants. He's well used to tromping around in the grass so he just got used to wearing that sort of thing all the time. He wears a thick glove on his right hand, and it reaches about halfway to his elbow. He has another one for his left hand but he generally works with Syne with only one, so he just forgets to take it off. The glove is nice and supple for the finger area, but the portion from the wrist down is much stiffer material.
Personality:
Lan is a hard worker, enjoying responsibility and in general having something worthwhile to do. When he is working on something, he is very professional and doesn't like it when others joke or goof off. When not working, he loved people with a sense of humor. He's not particularly good at jokes, but he tries his share, though not so many that he grates on people for trying so often. He loves being out and doing something, good with things that require either effort or physical ability. He's not exactly a social butterfly. but is not afraid of talking with people. Even though he is completely hopeless when talking to girls. He is reduced to a stuttering mess around girls, assuming he's not on the job. He can hold himself together when working, but social interaction is really hard on him.
Lan is more an optimist then a pessimist, though he is realistic first and foremost. He loves animals, though is more familiar with fur and feathers variety then hided ones. His love for animals isn't blind though, which is why he insists on training creatures well, and its why Syne is the way he is. Lan dislikes anyone who picks on animals, but is neutral to those who see them in a negative light. Unless it is thinking they are useless. In which case he can be a bit of a chatter box on the benifits of a well trained canine or whatever creature is on his mind that day.
History:
Born Ethilaneph, his parents shortened his name to Lan rather quickly. He was born in Dragon Ridge Hold, but he grew up in the area around it. Thenil and Linepha were both very much about the wonder of nature, electing to make their living off the land rather then be involved in mine work. It was a rough existence, but Lan learned to love it right quick. He was still very young when his brother was born, Philenten being shortened to Ten. The boys had each other to fight and learn with, which made things easier to take. They were taught how to find food, listen and hunt animals, and of course train birds. Thenil made many a mark by catching and breaking in a bird, then selling it to someone with the marks and time for that sort of thing. He himself used birds by season to get game, something the boys watched with great interest. when the boys were old enough he taught them how to train smaller birds, though they lost some and released others. Around this time Lan was in charge of most of the chores that involved returning to the hold. Sending messages, picking up things, and dealing with the marks. He did well enough at it, but considering all of the running around he had to do in addition to it, it eventually took its toll.
Lan, not being a big complainer, didn't tell his brother or parents when his legs started to be pained all the time. He held off talking about it for a week or so, when he finally couldn't stand it. He was allowed a break, but it was bad. His mother, in charge of the healing in the family, proposed a rather drastic treatment, which would mean he would have to be inside and off his feet for a while. So he was given the line tattoos on his legs, and told to let it work for a while. Fortunately he didn't go stir crazy, since Ten and his father had just got a batch of birds to train, and the first step meant having people around to watch them almost constantly. So as he recovered his job was to acclimate the young birds. They had decided to select another bird for Lan to train personally, figuring the boy would like a challenge. So he began to watch over Syne, a bird very different from the ones he had trained before. As a night time hunter, he didn't react as quickly to things he could see, which was frustrating for a while until he figured out he dealt with sounds the best. It was a great way to keep him distracted, and once he started training proper, his legs had healed up nicely. He could now spend the majority of his time helping with the birds, since his father decided it might be best to let both brothers deal with the errands.
Lan's family was always known for working well with creatures, but as he rounded his 18th turn the search rider asked if he had ever thought about becoming a Wherhandler. Lan admitted he hadn't really thought about it, but the Watchrider thought he might think about it. The bluerider felt he had the right stuff, and Lan thought it might be a good thing. After a quick chat with his family, they agreed, both his brother and parents supporting him fully in whatever he wanted to do. Lan came back with his answer the next day, and it was decided he would go to RMW to get his chance. Admittedly half of the stuff he took was for Syne, not him, but he was excited all the same. It seemed like good work to him, and hey, he'd make a good guard.
At a singularly peculiar hatching, he bonded the Black-Gray Ethilask. She seems to be an interesting one, and she will most likely grow into the only female he can communicate properly with. Well, for the time being.
Some time later he got the small firelizard, a White he named Arc. She threw off the dynamic, between him Syne and Ethilask, meaning he had more trouble to get things calm again. Caring for all of them properly has him up all night and sometimes in the early hours of the morning. Still, Lan feels he's getting his place in the Weyr more then he has been. A good place to work always did him good. Now if he could just work on that stutter.
Adoption?:
Only if he becomes important.
Pet Description:
Syne is a large owl, coming in at a weight of six pounds. He has reflective orange eyes and tuffs of feathers coming up over his eyes. He is a mottled mix of dark and light browns, with some cream accents. His feet end in large claws, and he has a curved beak that looks small in his face with all the feathers. He's a smart bird, and well behaved, having figured out long ago that is the best way to get treats. He tends to ignore humans that are not Lan. He is not fond of Ethilask but has learned to ignore her, and ignores Arc, though he occasionally has an urge to chase her.
Age: 11 turns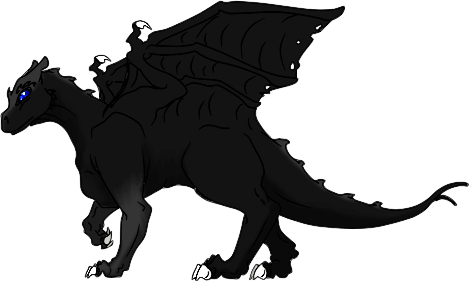 Wher Name: Ethilask
Wher Color: Black-Gray
Wher Gender: Female
Adult Length: 3'7"
Wher Age: 2 Turns (Born 3074.08.11)
Wher Personality: A peculiar Wher to be sure, Ethilask…well she struts; there's no way around it. She is certain that she is the most beautiful Wher in the land and cannot seem to be convinced otherwise. Certainly you agree, right? You do, don't you? Alright, maybe she's not so convinced all of the time. In fact, there are times when she's downright insecure about her appearance and without the proper handling will refuse to leave her den. This one is going to take both a firm and patient handler or there will be nightly chaos at the Weyr. Despite her troubles, if kept on task she should prove to be rather good at her task, especially since she easily blends in with the shadows.
Wher History: Born in rather interesting circumstances, Ethilask was hatched from a clutch that her father Dalosk had been hording. That was certainly an interesting hatching.