Post by Shoki on May 11, 2011 18:42:25 GMT -8
Name: Makaleu "Mau" Alanui
Pronunciation: Ma – Ka – loo (Ma – ow)
Gender: Female
Age: 21
Turnday: 3056.02.03
Weyr: Rainbow Mists Weyr
Rank: Dragon Rider
Family: Father-Tekal Mother-Maneu
Weyrmate: H'rarn of Blue Korith
Son: Roleu (78.09.26)
Friends: Various people from several holds.
Pets: Neon Tiger firelizard Hammer
Appearance: Mau is a touch shorter then the average woman of her age at 5'3" and built with more strength in her legs then her upper body. Her skin is a lovely cinnamon tone, and very even in complexion. She has lovely dark brown hair that flares slightly below her shoulders. Her bangs are long, but cut to her shoulders in the front and slope down from there. She had large brown eyes and a crooked smile, and usually smiles revealing her teeth rather then just moving her lips. She often ties back her hair when doing work, but all other times lets it free from any sort of tie. Her hands are calloused on her fingertips and on the palms, indicating she does work with her fingers and harder work with her hands.
Personality: Makaleu is a generally friendly individual. She can range from mellow and relaxed to exuberant and loud depending on the sort of people she is with. She loves to celebrate with people, and values friends extremely highly. For her friends she is careful to keep in contact with them, often sending letters when she moves holds or Weyrs with her family. When Mau is taunted or insulted, she usually gets sad over angry, choosing to keep her feeling of rage far away from anyone's perception. When her rage does get too hard to reign in she reduces to a sarcastic happy mood, something that is hard to pick up by those who don't know her. In this state her voice is often sugary sweet, with only a hint of an edge to it. It is rare to happen, and for the most part she is a very genuine person and is quick to reveal what she is thinking. She loves to dance, but was never formally trained, instead trained as a crafter. Her constitution is a tad weak, so she gets colds more often then the average person. She ignores these colds while with friends, which has more then once resulted in her losing her voice because she forgot to take it easy.
History: Makaleu was originally born in Dragon Ridge Hold, but her parents had something of an itchy foot. She would journey with her parents, staying at holds for a few turns at a time until she turned 15. At the time they had settled in Golden Valley Hold, to stay for a while. Mau had made friends in most of the southern holds, and continued to write notes to her friends by borrowing Beat, her father's brown firelizard. He set about making more friends, as she usually did and helping out the family by crafting various tools they needed to work with. When she turned 17 a dragon rider came an searched her to Rainbow Mists Weyr, which she agreed to. She can often be seen with Beat hovering about, ready to take a message to her parents or a friend.
She stood for Archith's first hatching and impressed the energetic Quimyenth, something that she was extremely happy with. Mau has noticed that things have come easily to the Green, but thankfully she hasn't gotten too much of a swollen head. She's even gotten Qui to dance with her at a gather, and it looks her love of dance is contagious. Mau has gotten to know some of her fellow weyrlings, including Holt, who she has found to be a good dancer. She's quite happy to have a good dance partner on gather days.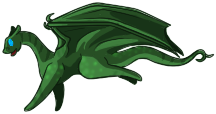 Dragon Name: Quimyenth
Dragon Gender: Female
Dragon Age: 2 Turns
Dragon Color: Green
Dragon Personality:Quimyenth is a little big for a Green and possesses an extra helping of energy. She is a quick learner and enjoys nothing more than getting herself into new activities. This Green wants to try it all! Though she's seldom does anything right the first several times, she picks things up very well once she's gotten over this initial hump. Having been properly trained, Quimyenth excels greatly at nearly everything she tries. This being the case she will probably get a swollen head if not cautioned properly. She will also need extra talks on compassion and relating with others who struggle to do what she does naturally.
Dragon History: Born from the first clutch of Gold Archith, flown by Bronze Promeuth. During her training this Green Dragoness has been swimming, learning to dance, and just generally having fun.
Adult size: 27 feet