Post by Kaya on May 9, 2011 22:20:14 GMT -8





Rilora
Name:
Rilora Brennawen
Pronunciation:
Rih-
lor
-ah [rɪlɔrə brɪnəwɪn]
Gender:
Female
Age:
27
Turnday:
12.17 Turn 3051 (43rd Turn of the 11th Pass)
Weyr:
Rainbow Mists Weyr
Rank:
Senior Weyrwoman
Family:
Father: Loethien "Loe" Brennawen (52) – Farmer
Mother: Rillyanna "Rill" Brennawen (50) – Full Time Mom
Brothers: Jubore (31), Lorrellen "Lor" (25), Benjory (18)
Sisters:
Lithena
(24), Lorinya (21), Breanne (15), Rina (13)
Weyrmate:
V'lan of Bronze Doramath
Friends:
Lithena of Black-Green Hrith, D'gan of Tiger Mosiliath, R'le of Cloud Quiorith,
T'kar of Flame Ancalanath
Pets:
Bel Lin "Bel" - silver female feline, personal pet, resides in Rilora's weyr and office
Rukbat "Ruky" - golden male feline, family pet, resides at Golden Flight Hold
Appearance:
Rilora has moderately wavy light red-blonde hair that falls about three or four inches below her shoulders. Her eyes are a pale teal-blue color. Her skin is fairly light and resists tanning despite being from the South. A small collection of unobtrusive freckles dot her skin at random but are infrequent enough to avoid being a distinguishing feature. Rilora has a reasonable figure and stands just under 5'7". (Playby: Deborah Ann Woll)
Personality:
Rilora learned the role of caretaker very early on. She is familiar with household needs and how they are run. She is competent in cooking, sewing, gardening, and common healing among other typical household tasks. She takes her social life a bit too seriously and desires constant approval and affirmation. Rilora wants to do well and be liked but she's never been good at changing her own personality traits. She quickly becomes impatient if her siblings avoid their chores. Rilora's mood is easily influenced by those around her. Rilora realizes the need to delegate tasks and will remind those whom she's trusted with that responsibility if the work is slow in getting done. The first reminder is kind, but after that she gets irritable.
History:
Rilora is the second child born to Loethein and Rillyanna of Golden Flight Hold. She has four sisters and three brothers, of which Judore is the oldest. Rilora walked daily with her siblings to lessons taught by the Harpers stationed at the major Hold. This time helped create family friendships among the siblings and established Rilora as the leader of the group. One day as they came home from lessons their mother surprised them with a fluffy golden feline who was later named Rukbat after the sun. He is the favorite, and only, family pet.
The Brennawen family is very close knit and knows their few neighboring farmer families quite well. Rilora was particularly fond of the eldest son of the nearby Solon family, Lukalt. Lukalt and Lorrellen were close friends as youngsters and their friendship still persists to this day. Because of this Lukalt and Lor spent their time between each other's farms. Rilora got to see quite a lot of Lukalt. Her mother would always insist guests stay for at least one meal and the Brennawens always ate together. Though Lukalt and Rilora spoke on fairly frequent occasion they were never a "proper couple" and have remained friends, though Lukalt grew more distant as they aged.
Rilora studied botanical knowledge at the Farmcraft Hall from the traditional Apprentice age of twelve until she was nearly nineteen. At eighteen Rilora was made a journeywoman but received permission to stay in the Hold's area, helping her mother and being involved with her siblings. She taught other Apprentices from the Hold and some neighboring families, including Lukalt's younger brother Kelton.
This was her life until a Search dragon from Rainbow Mists Weyr arrived at Golden Flight Hold one day and requested Rilora and her sister Lithena, among others, for Candidacy. Lithena was overjoyed at the invitation and started packing without a second thought. Rilora, on the other hand, was much more pained by the thought of leaving. She was, and is, still very close to her family. Her mother encouraged Rilora to choose whatever made her happy. Rillyanna took the time to tell her daughter about some of their relatives who had become Riders, including Rillyanna's sister. Rilora had several long conversations with her siblings, and almost decided to stay at the Hold when Rina started crying over the idea of Rilora leaving. In the end her younger brothers and Lorinya convinced her that the family would be fine and that she should go try her luck at the Weyr. There would always be a place for her with the Brennawen clan, they told her. So with that, Rilora packed her things and moved to Rainbow Mists Weyr.
Rilora was newly nineteen when Gold Archith was shelled. The two of them are a happy pair and make frequent visits to Golden Flight Hold for business and personal reasons.
Adoption?:
No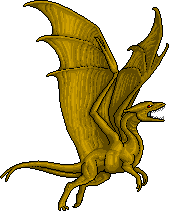 Dragon's Name:
Archith
Dragon's Gender:
Female
Dragon's Age:
5
Dragon's Color:
Gold
Dragon's Appearance:
Archith is a brilliant Gold with smooth proportions and a memorable voice. She is large and in charge as she grows into her adult length of 48 feet.
Dragon's Personality:
Archith is a demanding personality. She is quick to judge and slow to forget. She has a low tolerance for troublemakers, slackers and insubordinates. She is in charge and insists that everyone should know without her saying so. Archith is doubtful of other's abilities and rarely believes things until she sees them. She is terribly haughty around Bronzes and tends to ignore passionate Crimsons. She treats herself as "first among equals" when dealing with her fellow Queens.
Dragon's History:
Archith was born at Rainbow Mists Weyr to Gold Bylanath's retiring Clutch. Her mother may Fly again, but her Rider was ready to step down as Senior Weyrwoman due to age and for personal reasons. Archith's maiden Flight was won by Bronze Promeuth and produced a clutch of 26 healthy dragonets.