Post by Ghost of Fire (Fëanáro) on Jul 11, 2013 18:59:17 GMT -8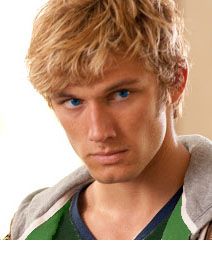 Name:
L'van (Pre-Impression: Lavan)
Pronunciation:
Luh-vin (Lah-vin)
Gender:
Male
Age:
23
Turnday:
3055.04.28
Weyr:
Ice Stone Weyr
Rank:
Rider (Lordling)
Family:
Father:
Lord Brencis Kalarn
(54)
Mother: Lady Roshanna (52)
Brothers: Mekeal (27), Randev and Veket (Twins, 17)
Sisters:
Eira
(32), Lesolla (26), Zubrina (20)
Nephews: Mekair (5) and Gesolron (4)
Friends:Pets:Appearance:
Lavan is tall like both his parents, standing about 6'4", and looks a great deal like a pared-down version of his father. Certainly he has his father's pale blue eyes and pale skin, though his hair is actually a shade or two lighter than that of his father, coming in as more of a darker ice-blond than a golden blond. He prefers to wear emerald green clothes, which fit fairly loose on his thin frame. He has broad shoulders, and will likely continue to fill out a little even now, but at the moment he still looks a little unfinished.
(Play by Alex Prettyfer)
Personality:
To sum up Lavan's personality really requires just one word: Proud. He is proud of his father's rank and his family lineage, proud to be a member of such a long and distinguished line. He also takes great pride in his physical appearance, working hard to project the image of a proper lord (which is to say powerful and authoritative). The other thing he is is pure obstinate. You want a shouting match held with no respect for surroundings, inappropriate topics, or relative ranks? Look no further, Lavan is your guy. He personally despises Silverlights, but he's not clear on his own reasoning (like he ever really is). He does consider male Queenriders to be somehow lesser, but that's more an echo of his views on anything female.
History:
Lavan was the second son, and fourth child, born to Lord Brencis and Lady Roshanna. As such, he was second in his father's regard to his older brother Mekeal, but still quite a bit ahead of his older sisters. Once he was old enough, he spent most of his childhood learning about all things Lordly from his father, though he spent a decent amount of time playing with a couple of boys his own age, sons of Lord Brencis's advisors and following his older brother around, trying to prove to his father that anything Mekeal could do, he could do better. It didn't work, but that didn't stop him from trying.
The other thing Laven spent his childhood doing was getting into arguments and fights. It didn't matter who the person was, or how important. Most memorable was a time, at a Lord Holder's Conclave, when the 14 Turn old Lavan got into an argument with the eldest son of Lord Famoran, Jatheiron, and one of the younger boy's friends. The ensuing scuffle resulted in a spectacular collection of bruises and minor scrapes, as well as giving both Jatheiron's friend, one Kalitar, and Lavan broken noses. Naturally, Lord Brencis was not pleased (nor was Lord Famoran), but while Lord Brencis was disapproving in public, his private response was to see to it that Lavan had more lessons in boxing and fighting tricks so that "nobody will be able to break your nose again".
The fights turned into duels as Lavan got older, and for all that he was both shorter and slimmer than his older brother, he was the more feared of the two of them by the common holders of Icy Caverns Hold. Indeed, he frequently sparred with his father, for all that there styles were different, Lavan quick and graceful to his father's strong and fast.
Lavan was searched as a possible Candidate at the graduation ceremony for the Weyrlings of Ice Temperanth's first Hatching, which he attended with his family as part of Brencis's gesture of reconciliation between himself and the Weyr over the Silverlight issue.
Adoption?:
For now, sure.
Dragon's Name:
Thoth
Dragon's Gender:
Male
Dragon's Age:
3 turns (born 3075.08.04)
Dragon's Color:
Blue (0000CC)
Dragon's Appearance:
A run-of-the-mill blue in shading, the major difference with Thoth is his larger-than-average wingspan and a tail about half the length of a normal dragon's, due to an injury at the Hatching. However, later in his life, it will not be much of a disability to him at all. In fact, he will grow to like it, as it stays out of the way when he is moving about quickly, which his wingspan allows him to do nicely. He is a compact, but well-muscled package, topping in at a larger size for his shade. At about 18 months, Thoth has reached his adult size of 28 feet, though he is still likely to fill out (despite already being bulky and powerful).
Dragon's Personality:
Thoth is a focused, driven dragon who will do anything to keep his Mine at ease. He is all for helping out, but when it comes to the end of it, he had better get something in return. He is a well-spoken dragon for being one inclined more to physical activity rather than mental, but he is a fervent believer in regular exercise. That isn't to say that he isn't clever, he can usually come up with solutions to things that other dragons wouldn't normally think of. Articulate and athletic, he's very well-rounded though prone to outbursts when he believes somebody else's opinion is wrong.