Post by Shoki on May 22, 2011 15:01:01 GMT -8
Name: D'ziel Mistborn
(Formerly Dalziel [Dahl – zee - el])
Pronunciation: Di – zee - el
Gender: Male
Age: 21
Turnday: 3057.12.03
Weyr:
Rainbow Mists Weyr
Ice Stone Weyr
Rank: Dragon Rider
Family:
Grandfathers:
T'ler, rider of Jungle Nelloth
D'lin rider of Grey(m)Murth
Grandmothers:
Zareal, rider of DarkBlue Ruanith
Andielia rider of Green Mivith
Father: Z'lear (Zalear) rider of Midnight Jeisipth
Mother: Naadiel , Weyrfolk
Brother: D'zeal of Darkblue Elmtoth
Friends: K'tar of purple Viarith
H'rarn of blue Korith
Pets: Ebony Silver Ocicat – Pounce (F)
Appearance: Dalziel is about five foot nine in height, but looks a little taller then that because of his long limbs. His hands are on the large side, and calloused on the palms. He has a light skin tone, but his arms show sure signs of outdoor activity. He has very few freckles, more obvious on his nose then anywhere else. He has blue eyes, which can look green in the right light. His hair is middle of the range brown overall, but he has highlights from being out in the sun so much. His hair falls fairly straight, and reaches his shoulders. His face is very open and emotions play across it easily.
Personality: Dalziel is friendly but usually is pretty mellow. He usually does not sweat the small things that are problematic, but when something big appears he can be a bit of a worrier. Still he is always willing to help out, and does his best, putting his whole heart into it. He is one of those people who always thinks they can do better, to a fault. He likes felines a good deal, more then canines or runners, not that he dislikes the later ones. He is about even with felines and firelizards. He likes moving around, and is a bit impatient when forced to sit still. He has been getting better at being patient in one place, but still has some growing to do there. Rather then being forced into confrontation, he prefers to back down, but if he is ever cornered he explodes emotionally speaking. It is rare to see him angry because of that, generally feeling annoyed in place of anger. He is a good guy to go to if you need someone to listen to a story or a shoulder to cry on. He understands people feelings pretty well, and encourages people a good deal.
D'ziel has recently gain a sort of relaxed detachment to issues that arrive by chance. Anything that is out of his hands is, in his view, not to be worried over. He is prone to bouts of introspection as well, something he was less inclined to do previously. Its lead him to be more serious overall. He has gained a dislike of Hocteth saying the word 'proper' something that the Moonlight now avoids in order to keep their relationship good.
History: Dalziel and his twin were born to Naadiel, a young girl who was Weyrborn, but did not Impress, and Z'lear, or Zalear, rider of Midnight Jeisipth. The boys grew up raised by grandmothers, grandfathers, and their mother and father. They learned a lot about caring for dragons and their parents often had them do a lot of the harder work with them. Naadiel was insistent that they learn a trade and, so, when they were still but 10 Turns old, had them sent to live with their Uncle and Aunt for three Turns to learn to be Beast Crafters if ever the need should arise. She wanted her boys to have the experience of a Hold as well as a Weyr where she and their father had not. During this time, their Uncle, being very proud of the two of them, even going as far as to treat them as sons, bought each a pet. Dalziel, at his request, received a baby feline, who he named Pounce.
Once they came to the Weyr as candidates, both brothers stood for the first hatching of Archith and Dalziel impressed Moonlight Hocteth. D'ziel found that his new friend was something of a stickler for the rules and it seemed like theirs was going to be an interesting pair. Still, the eggshell from the hatching was taken to a nice safe place in D'ziel's barrack.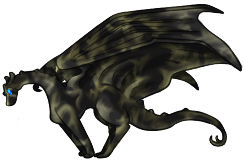 Dragon's Name: Hocteth
Dragon's Gender: Male
Dragon's Age: 4 Turns (Born 15.08.23)
Dragon's Color: Moonlight
Dragon's Appearance: Hocteth is a fairly average moonlight , dark hide with pale yellow whisps. He is not overburdened with the yellow whisps nor are they perfectly rare. He is just average for his color.
Dragon's Personality: Hocteth is exceedingly tense about rules, hates things being out of place. He is quite likely to break down into a frustrated mess if his plans go awry. He is happiest when things are clear, straight forward and moving along at a steady pace. Hocteth likes predictability and security. Oddly enough, he's drawn to friends who are quite the opposite of his nature and will probably be dragged along on more crazy adventures than he's comfortable with.
Thought Hocteth likes keeping everything proper and in order, he avoids saying so, instead picking more round about phrases.
Dragon's History: Born from the first clutch of Gold Archith, sired by Bronze Promeuth. He has sired one clutch by Darkblue Saphireth, resulting in three eggs.
Hex colors: 434343 / fbf3a8
Adult size: 33 feet