Post by Itoshii on Aug 3, 2013 7:02:08 GMT -8
Name:
A'radril Levwith
Pronunciation:
Ah-rah-drill Levv-with
Gender:
Male
Age:
21 Turns
Turnday:
54.3.22
Weyr:
Rainbow Mists Weyr
Rank:
Weyrling
Family:
Mother- Allile, Weyrfolk at Benden Weyr
Father- H'vir, Brownrider from Benden Weyr
Sister (Younger)- Annra, Apprentice Harper
Sister (Younger)- Avin, Fosterling at Southern Hold
Brother (Older)- Halinv, Journeyman Runner at Keroon
Friends:
N/A
Pets:
Black firelizard Unue
Appearance:
Time has not been overly kind to Andradril the past few turns. His youthful face already marred by the worry lines of a man twice his age, his eyes hollow and haunted by something few others could even begin to understand. His once silky black hair has become unkempt and in dire need of a good comb-though and his tanned skin often has a somewhat pale tinge.
Despite the scars that being dragonless has brought, Andradril is still a rather handsome fellow. If you can take a moment to look at him objectively, and without pity, it's rather easy to see what a handsome rider this man could have easily been, and may become should his current endeavor pay off.
His face is squared, his chin often covered in stubble unless he should be bothered to shave. If he brushed his hair it would be as dark as an unlit cavern but as silky as the finest cloth, falling to frame his face and soften the sharp angles of his jawline. Had life not dealt him a hard hand his soft blue eyes would sparkle with humor and life, often edged with pride and determination.
On the rare occasions he can be bothered to stand straight, if stand at all, he is a respectable 6" even, his body well toned and lean. He tends to dress rather drably, and the more bold women seeking his attention can often be seen trying to get him to allow them to rub old stains from his clothes. He often lets them, more from lack of conviction at shooing them off than actually enjoying their flattery.
Personality:
Understandably, Andradrill is a rather quiet, withdrawn man. Like all dragonless men, the sight of dragon wings in the sky, or the glimpse of a gently whirring eye can quickly send him in a downward spiral, and as such he usually tries his hardest to find something better to do when dragonmen are about.
He's as stubborn as a dragon, and as such is a diligent worker, often opting to do the hard, manual labor that is above drudges, but others avoid. A busy mind does not often have time to wander, and he tends to keep busy until he is, sometimes literally, asleep on his feet. If he runs out of things to do for his own tasks he will often pick up the slack that the more lazy workers will leave behind.
As much as he tries to keep focused, he is also a very unpredictable man. Anything from an unexpected word from another worker to a poorly job done can send him into a flaming rage, and he has often done things that a more sane man would feel ashamed for or guilty. Andradril has also been well known to disappear for days on end, and if questioned he either tends to lash out or completely ignore the questioner.
History:
Andradril is not all that he appears. The truth that everybody knows is not necessarily all real.
The Reality
What really happened
Andradil grew up a weyrbrat of Benden Weyr. His father, a brownrider, had transferred himself and his family from Southern Weyr when he was offered a wingsecond position by an old friend. His mother, originally of Southern Hold, raised him up on stories of how beautiful the south was and of the wonderful multi-colored dragons that had begun to fill the sky when she was just a young girl. His father, however, scoffed at the idea of multi-colored dragons, his family having come from the area around Benden, of course he would take Benden's side.
Andradril stood for the first clutch he could, at 15 turns, from Gold Wenmarryth. He watched longingly as 3 dragonets Impressed, none so much as casting a whirring glance at him, when suddenly Why worry over them, a cool and confident voice drifted through his mind, full of love, joy, and more than everyone could ever have explained, When you have your Jayreth, An'draMine?
The two of them made their way through Weyrling lessons, doing his father proud in becoming a strong, reliable brownrider pair. They weren't top of their class, but they were certainly well known. Graduation day came and went and the new Riders were filtered out into the wings.
And then the fateful, horrible day came. On a routine drill run a bronze dragon in their Wing flamed, striking a direct blow to the front of Jayreth. The dragon only had enough reaction time to surge upwards, his underside taking the force of the blow. Just able to backwing enough to keep them from slamming to the ground, An'dra was thrown from his dragons back before the Brown Betweened, never to return from it's icy grip.
Andradril became withdrawn, avoiding his father and other dragonriders and they respectfully gave him his space. Constantly escorted by one of his siblings or an older weyrbrat, he was kept from trying to kill himself until finally one day he seemd to break from his stupor. After a few sevendays of going about as normal as a dragonless man (who was barely more than a boy) could he was finally released from his constant supervision, though there was often still someone trying to interact with him or conveniently doing the same chores as he.
Finally he found an opening. Andradril made his way from the Weyr to the mountainous spot where he lost his Jayreth. It took two days to make the journey as he was paranoid, a few dragons passed overhead, presumably keeping an eye out for him. Finally making it to where his dragons ichor still stained the ground he found the nearest ledge and threw himself from it. He connected... but it wasn't the stony demise he had expected, though the blow was enough to send him spinning into darkness. Just before he lost consciousness he heard an amused chuckle. "Now don't go doing that. You could be of some use."
Finally making his reappearance in the south just after his 21st Turnday, showing up at Southern Hold, his mother's old home, where his youngest sister was being fostered. It was a joyful reunion and Andradril seemed to have returned to some semblance of normalcy, with only the occasional outburst, though his paranoia still seemed prevalent. Not long after returning he made the move to Rainbow Mists Weyr, soon after Orikaeth had her Flight, and with his paperwork in order began the menial task of again being a candidate, often volunteering for the manual labor and working the tithing trains.
Though suspicions surrounding the strange candidate were high at first, it seems that they were mostly due to his twitchy personality. Those he works with have seemed to accept him, appreciating his hard and consistent work. The more lazy of the bunch are even more appreciative of the fact that he does his work efficiently and will often pick up their slack and help unload the section they were assigned to do. When this happens from time to time the slacker is often trouble. Missing goods, half empty boxes. Weren't there 20 herdbeasts earlier?
Aside from the trouble workers seem to get in from time to time, Andradril goes about his own business, only being interactive when he has to be, which is occasionally down a lesser used tunnel with coin passing between a handshake.
The Lie
What people know
-Andradril is a transfer candidate from Benden Weyr. His own views on RMW were very conflicting with the majority of his home Weyr so he's returning to the south, where his mother's family is from and his sister is currently being fostered. His father is a brown rider and his mother works in the creche
-He has stood for a few clutches but feels that a Benden dragon would never Impress him for his views, so he has transferring thinking his chances would be better at Rainbow Mists.
-He has told no one he is a dragonless man
-There are very minor suspicions that he may be involved in the disappearance of tithe goods and other shady dealings, though no one has come forward with any proof and the missing goods are never the ones he was assigned to unload so it is it generally accepted that lazy fools are miscounting or losing things.
Adoption?:
Sure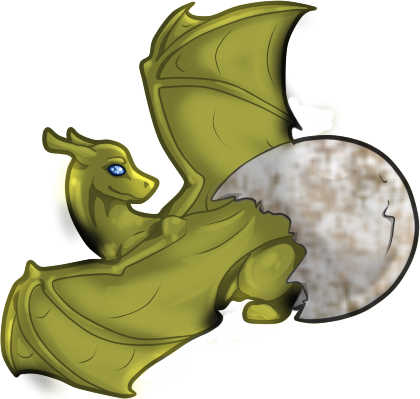 Dragon's Name:
Koroth (Coe-roe-ith)
Dragon's Gender:
Female
Dragon's Age:
Hatchling
Dragon's Color:
Black-Haze Citrine
Current Size:
4ft (16ft at maturity)
Dragon's Appearance:
Koroth is, well
would
, have been a brightly colored Citrine had she not been born as a Black-Haze. As a hatchling she has what some would call a 'dull' hide, as her black markings are more of a smokey haze to nearly her entire hide. Many of her joints, however, give hint to the color underneath as if their use had rubbed off a layer of dirty hide.
She's tiny, even by Citrine standards, though her confident stride make her seem larger than she is. Her faceted eyes rarely rest on one color, or whir at one speed.
Dragon's Personality:
Proud as the day is long, Koroth is what you would call the epitome of a Citrine. She loves to make others laugh while her hot headed nature can make her get a little carried away from time to time. While many young dragons are prone to mood swings, hers can be quite severe. Above all, however, she is protective of A'radil. When happy she is very food motivated and prone to trying to anything, as Citrines often will. However, she is easy to annoy and quick to anger, a perfect example of "Well, that escalated quickly." over small things.
Koroth isn't afraid to pick a fight or accept a challenge and considers herself as brave and noble as any king or queen, if not more so, despite her diminutive size. More often than not it is over something to do with A'radil, though she is rarely angry with him personally. Although when stray thoughts of Jayreth sneak into his mind she quickly stomps and squashes them as quickly as she can with whatever way she feels appropriate for the moment. She is also quicker to jump to her Rider's aid should he become involved in some sort of altercation than she is to try and calm him, which may lead to problems down the road.
The attribute that endears her to her rider the most is her determination and willingness to work. That strength alone she shares with Jayreth, and with himself. She has a hard time focusing at first, but once she realizes how important it is to A'radril or is something that really interests her she works harder than any dragon, determined to learn each and every minute detail and be better at it than any dragon before her.
Dragon's History:
She hatched! 75.09.02