Post by Ghost of Fire (Fëanáro) on Jul 12, 2011 3:58:10 GMT -8
Name:
T'ruk (Pre-Impression: Tamaruk)
Pronunciation:
Tuh-rook (Tah-mah-rook)
Gender:
Male
Age:
Roughly 18 Turns.
Turnday:
Gillian and Aurelav did some record searching, and based on what they found, T'ruk was born in the 2nd or 3rd Turn of the 11th interval. Aurelav's opinion is that it was near the end of the 2nd Turn (turn 3060)...
Location:
Ice Stone Weyr (originally Icy Caverns Hold)
Rank:
DragonRider
Family:
Unknown (to him…)
(for the curious. T'ruk doesn't know any of this. mother died in childbirth, father was from somewhere far away, and was forced to leave before T'ruk's birth.)
Friends:
More like a sort of casually acquired sort-of-family that T'ruk is learning to trust: Kyuuki, Rallin Yevanus, Harper Gillian, Ayasha, and (somewhat more cautiously) Ayasha's father, MasterHealer Aurelav, and her mother, Neemora.
Pets:
Black canine Sinok (looks like a cross between a Siberian Husky and an Alaskan Malamute, about 11 Turns old), Aurora (m) firelizard Guyaky (guy-yah-key), about 9 Turns, Crimson firelizard Atanek (Ah-tah-neck), about 4 Turns, and Midnight firelizard Tungull, about 3 Turns
Appearance:
T'ruk has light tan skin, roughly the color of a dark honey. His eyes are a deep brown, so dark as to be almost black in the right light, and his hair is the deep-black of the night sky. He's tall for his age, standing almost six feet even, with the long, gangly limbs and too large feet of a child who has not yet caught up to his own height. Like most people in the north, he wears furs (with the fur on the inside), but since his are only multiple-time hand-me-downs that he has to patch himself, they really aren't in that good of condition.
Now that he is living at the Weyr, he is frequently seen in nicer clothes, though they are still a little baggy on him, being as he has yet to put on enough weight.
Personality:
T'ruk tends to be exceptionally quiet. He has cultivated not drawing attention to himself for as long as he can remember, and he feels safest when he's being overlooked. He's extremely touchy about his name — one of the longest phrases he'll use is "my
name
is
T'ruk
!" in response to being called anything else. However, this is the only way in which he will "defy" authority, and even then, he'll answer to whatever else he was called (he would be genuinely surprised if someone actually called him by his chosen name). He's naturally curious, but he won't ask questions, because he's been… told… that doing so is disrespectful. He will try to help those he perceives as defenseless, usually by sneaking aid to them.
Recently, he has become more "bold" (read: normal) in social interactions, though typically this is only seen if he is interacting with someone he already knows and has figured out is safe. For example, if he knows someone fairly well, he will frequently keep up an endless stream of questions, though if it seems to be annoying them, he frequently over-reacts and will scamper off.
History:
For as long as he can remember, T'ruk has been a drudge, serving anyone who happened to be within earshot. He doesn't remember his parents, the only thing he's been told about his mother was that he killed her (she died in childbirth), and he was thrashed when (at about 4 Turns) he asked about his father. He got lessons; after all tradition demanded it, but woe betide him once the lessons were over if he had made the mistake of distinguishing himself beyond even one of the other children. They would all gang up on him at the end, and it only took him one time trying to defend himself before he learned not to do that again. The other kids claimed he'd started it, and since the adults believed them, he got beat and locked in an empty closet for the rest of the day, then had to finish the chores that had gone undone (owing to his being locked up and unable to do them). That happened when he was about 6 Turns, and he stopped trying to do anything in lessons within a Turn. The Harper, Gillian, often tried to catch him alone to ask him what had happened, but the one time he succeeded, T'ruk saw someone else in the distance and, frightened, refused to talk about it.
Later that same Turn (when T'ruk was about 7), Gillian was replaced. Before he left, he gave the three-month old Sinok to T'ruk, claiming that the canine was injured and would be unable to leave for awhile, and that he had observed that the boy had a good hand with animals (for Tamaruk already helped with the sled-teams). Cautiously excited, T'ruk started training Sinok immediately, for though it was obvious that the adults disliked "the drudge-boy" having something of his own, none of them were willing to go against even an absent Harper.
Two Turns later, a group of Traders swapped an entire clutch of firelizard eggs (about 26 eggs) for two teams of sled-canines. T'ruk was not supposed to be anywhere near the eggs, but he was tending fires about a week later and stumbled (almost literally) across them. One of them, which must have been older than the rest, had just hatched, revealing a beautiful firelizard with a hide like the northern lights. Entranced, T'ruk fed it to keep it quiet. It followed him out of the room, and was shivering by the time he got to the outer room that he shared with Sinok, so he convinced it to snuggle against his chest inside his shirt. As soon as the adults and other children noticed the firelizard, which T'ruk had named Guyaky after a story character, they constantly tried to take it from T'ruk. Guyaky consequently inflicted several sharp bites and claw wounds before T'ruk taught him to remain hidden.
Four Turns later, T'ruk overheard someone mentioning that Gillian was at Ice Stone Weyr. This information was just enough incentive to convince him to act on his long-held desire to run away. He knew that with a light sled, Sinok could pull him to the Weyr, or close enough. He knew enough about outdoor survival in the snow that he, Sinok, and Guyaky would survive, and at that moment, that was enough for him.
He made it to the Weyr with only minor frostbite, which healed nicely. He hasn't yet gotten to know anyone well by a normal person's standards, though he's had some human contact in the form of healers. Once, he overheard someone mention "Unnatural Queens" which surprised him. He'd heard that all the time at Icy Caverns Hold, of course, but he hadn't expected to hear such things at the
Weyr
. It's made him more cautious and doubting; if the Weyr is like the Hold that way, than are they alike in other ways? After all, he hasn't seen anyone around who looks like him.
However, despite this, he slowly learned that not all adults are cruel beings that must be feared. The arrival of Harper Gillian, about a month after he arrived at the Weyr, helped a lot with this, as Gillian was able to convince him to trust a few others, namely Kyuuki, the Narunoks, and Rallin Yevanas.
About two months after Gillian's arrival, he and Rallin gave T'ruk a firelizard egg, which Hatched into a lovely Crimson (whose second act in life was to get smacked by Guyaky for trying to steal the older flitt's food). T'ruk named the Crimson Atanek, after one of the story characters Rallin always told tales of.
T'ruk (then Tamaruk) was simply a spectator at the Hatching of Ice Temeranth's first clutch. Those who knew him closely had tried to push for him to stand, but had been over-ridden by others, who felt that the boy might not be confident enough yet. At the very end of the Hatching, he Impressed Azeriuth.
Adoption?:
If needed.
Grammer corrections are perfectly ok.
Dragon Name:
Azeriuth (Ah-zair-ee-uth)
Dragon Gender:
Male
Dragon Age:
5 Turns (born 73.13.21)
Dragon Color:
Silverlight (272323/b5b2b2)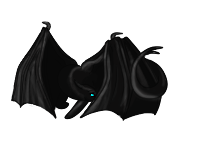 Template courtesy of
HeartofPern
, coloring courtesy of Cait
Dragon Appearance:
Azeriuth is 38 feet in length
Dragon Personality:
Azeriuth is a very optimistic dragon. He can see good in almost anyone and has a knack for getting a feel for peoples' strengths. It means that he will make a good leader, if he can get over his problem with crowds. Azeriuth easily gets overwhelmed in large groups of people or dragons, preferring flitters or whers for company if he has the option. Lifewings are intimidating if they are in large numbers but he can do fine with a few good friends.
Dragon History:
Azeriuth Hatched towards the end of the Hatching.