Post by Shoki on Mar 24, 2015 23:22:28 GMT -8
Name:
F'mil "Formy" Felgera (Formerly Forosimil)
Pronunciation:
Fah-mill (For –os- eh- mill)
Gender:
Male
Age:
19 Turns
Turnday:
57.13.20
Weyr:
Telgar Weyr
Rank:
Crimsonrider
Family:
Moralge Felgera, Lord Holder, Ista Hold (Father)
Orisiaf Felgera, Lady Holder (Mother)
Raisagil Felgera, Older brother (21)
Rosial Felgera, younger sister (17)
Egel Felgera, young brother (15)
Olgiar Felgera, younger brother (12)
A few half siblings he doesn't know.
Weyrmate:
None
Friends:
Jisralna, Ista Junior Weyrwoman
Pets:
Azure-Crimson Firelizard Aweirgan
Appearance:
F'mil is a tall, pale man who clearly prefers the indoors to the out of doors. He tops out at 6'2" and when he wants to has the bearing of a serious, important man. However, for the most part, his face is in a relaxed smile and his brown eyes have a pleasant sparkle to them. He keeps his hair long enough to cover his ears, though generally cuts it before it hits his shoulders. His hair is a dark brown that curls up pleasantly around his face. His posture is often far too good, indicating a concentrated effort on his part to have such a posture previously. He keeps himself clean shaven, and his hands are rather free of heavy callouses.
F'mil feels most at ease in nicer clothing, and the general air about him when he is wearing such things is that this is a man who never had to do a hard day's work in his life. He has an air of formality about him, but generally only when he is either trying to have it, or is standing still.
Personality:
F'mil is odd. Sure, on the surface he seems very normal, an agreeable man who is always happy to have a chat. When it's at that level, it's just fine. However, when presented with certain kinds of information F'mil can get interested to an almost creepy degree. He is fascinated by healers, though he has no training as one. Similarly Lifewings fascinate him, but the Aerie firmly told him he wasn't fit to be a candidate. He also has, what some would call, an unhealthy interest in poisons. F'mil just likes seeing how people tick, he says.
When trying to befriend someone, F'mil can be quite charming, but he often doesn't employ the same techniques when among those he already considers friends. It sometimes results in gaining a friend, then losing them when they figure out what kind of person he really is. Among the things he feels deeply, is a desire to stay out of politics. For various reasons he would feel much better if he didn't have to contribute by guiding people. Suggesting to people different things is fine, but he would rather implement strategy then be the person responsible for giving the order.
F'mil is the sort of person that wants to do what they want, but doesn't always know what that is. Often what he wants, is a good book and time to himself. However, he has a need to make people around him happy. He has found himself a full time job in Delgeth, but F'mil loves the dragon more than anything.
F'mil has found that he is uncommonly good at smoothing out fights since he impressed Delgeth. Because of he and the Crimson's tight bond he can empathize with people and use that in conjunction with his words to smooth things over. He rarely uses it for anything else, because of his dragon's temperament, and would prefer not to let such things be widely known. The more people came to distrust him, the worse things get for Delgeth, and that is something that F'mil refuses to have happen.
History:
Forosimil Felgera was born the second son of Lord holder Moralge and Lady Orisiaf. Being the second son meant that he was not so strictly trained as his elder brother, but even so, from a young age he was raised in all things that a lord might need know. He was a bright boy, but prone to boredom. His older brother, Raisagil, was the perfect one, learning everything and gaining his father's praise quickly. Forosimil found things interesting that would not do him any use to learn, and those that were presented to him he found dull. When Egil was old enough to learn, he found himself lost in the middle of the family, neither an ambitious younger brother, nor an impeccable older brother. Rosial was at least the lovely younger sister, taking after her mother's serene grace. So, starting from the time he was about eleven, he started to learn to manipulate people. Often it was only to the effect that he could learn subjects that normally was told to him to be useless in his vocation. He learned more anatomy, becoming fascinated with the subject. Quite frankly, he was more interested in how people worked, over how they thought. Still, he would collect bits of information, on plants, animals, how the natural world worked, over the dull social one. Everything around him was all pretty words, half lies, half mind games. Even if he was rapidly learning how to bend it to his own desires.
However, one day when he was on an outing with his father and his brothers, they were lucky enough to go to a hatching at Ista Weyr. The whole process was fascinating, and even though he behaved as properly as any child of his father was supposed to, he felt that Weyr life was so much better than being at a Hold. He was only twelve at the time, but he remembered well.
When he got home he began to look into dragons and how they worked. Mostly it was stories, or brief talks with the watch rider. He even heard about colors that most around Ista would prefer not to discuss. The information felt taboo to him, which made him latch onto it even more. He didn't really care about right or wrong, only that if it was weird, different, or odd, he had to know about it.
Not that these tendencies could be completely hidden from his parents. He was often reprimanded for it, but that only taught him to keep the information closer, away from prying eyes. Despite the fact he never got on well with any of his brothers, he often did both of them favors. In exchange, they largely left him to his devices, and he could rest easy knowing they wouldn't rat him out when he started writing about odd things late at night. He tried drawing the strange colors he heard of, writing down the little things he knew. It was a nice break in a sea of doing everything else that father declared, like a nice little soldier.
It stood that way, when he was still fifteen, his father informed him that there was soon to be a Queen clutch at nearby Ista Weyr. He was to go, as the dragonriders were gracious enough to extend one of his sons the honor of standing. His older brother could not be missed, and his younger brother was too young to go. He was informed rather strenuously that he would go for the hatching, attend, then return. The boon of being a dragon candidate was a good one, not to be missed. Obviously there were politics going on around him, but just this once, Forosimil didn't care at all. He could go and observe the dragons again. And maybe, just maybe, get an excuse to leave his family. He hated the world of double talk and lies, he just wanted to learn what he wanted to learn without people telling him it was useless or forbidden.
So when Forosimil arrived at Ista Weyr, he ensured that no one could call him a bad candidate. Though completely unfamiliar with chores and manual labor in general, he threw himself into it. He kept himself well out of trouble, giving every single person around him a smile and a kind word. He didn't even really lie, or try to manipulate anyone. He just sucked up to everyone around. He tried to prove that he could be a good addition to the Weyr. He did allow himself the luxury of using the time to discover more about lifewings, but was told very quickly he wasn't fit to be a candidate at the Aerie. He was disappointed but didn't let it get in the way of the fact he was temporarily free from his father's oppressive regimen. Finally the hatching song began, and he rushed to the sands with all the other candidates. Knowing that there may be people around who would report to his father, he tried to be on his best behavior, but he hoped he would never have to go back.
The hatching was a chaotic one. He stood his ground, but pleaded in his mind for any of the dragons to select him. Green, Blue, Brown, they all passed him by. Almost half the eggs had hatched and he tried to keep optimistic. Look, there were still plenty, he hadn't failed yet. Of course, then it hatched. A Crimson with white markings. He was confused, since though he had heard the word Crimson before, he didn't think they were supposed to have white on them like that. He watched the creature intensely, as always, interested in the weird. He didn't even notice the Brown disappear until he heard keening. He didn't have time to observe this new phenomenon, since this descended the hatching into proper chaos. He didn't know what all to think until the dragonet was collapsed into the sands, and Forosimil had a chance to look around. People were hurt, dragonets were hurt, and as he looked on the cause of it all, it appeared the one who did it all was also hurting. He didn't know hatchings could be like this. But this one was. He wasn't sure what to make of it all, but at the time he just thought it would be nice if everyone felt better. Even the odd red creature. From there, he didn't know what was happening until it was already done.
[smear:c82009]F'mil, mine please, don't fear me. Delgeth doesn't mean you any harm. I just don't want to be hurt anymore. [/smear:ffffff]
Forosimil, now F'mil, was overwhelmed. He'd never felt so passionately about something before, but he loved this little dragon, and wanted to everything in his power to keep it happy.
F'mil learned rather quickly how difficult that would be. He had gotten what he wanted, he now was free from his father's machinations, but was viewed with distrust and scorn for having such a ridiculous and violent dragon. On the other side, he got to learn all about dragons, and he just drank it all up.
During Weyrlinghood, he was largely dismissed by the Bronze riders in his class, but managed to make a few friends with some of the other riders. At least temporarily. He found not a lot of people shared his fascination with the strange and weird. They didn't have to in order for him to like them, but often it turned people off. Especially if they were the sort that saw him as a former lordling, someone who should be refined and princely. Eventually he graduated, and F'mil felt that things would finally be perfect.
They were not.
He was often pushed off from 'real' work, and sent to do things like searching and the like. He was more like a bluerider in their eyes. He went along with it, not caring to argue, but disliked the continued stares. He was different, weird, and they saw it as a bad thing. He was too soft for a fighting dragon and didn't deserve to be a Kingrider, clearly. F'mil didn't care about the prestige of being a Kingrider, but he couldn't stand for the opinions that put down Delgeth. It was toxic to his dragon in ways that it wouldn't have been to others. He decided he had to put their future in his own hands for once.
Dusting off his silver tongue, he convinced his superiors to transfer him and Delgeth to Telgar, for reasons they would find beneficial. Why, Ista would be giving them a fine search rider, and if they saw them as a kingrider, well all the better for Ista, and they wouldn't find out about his deficiencies until later. Done and done. Telgar was his new home, and a relief it was.
F'mil immediately found that Crimson was not as strange a color here. It was a welcome change. It didn't seem so bad, and he relaxed in his new surroundings. Finally, things seemed to be looking up for Delgeth and himself. Of course somethings didn't change, F'mil's fascination with the weird being one of those things.
When there is mark to be made, people can find out the most interesting of facts. So when a firelizard trader came on by and told him that he had eggs from two unique colors, F'mil listened up close. Apparently, a Silver and a Tiger had recently had a clutch for him, and he was having a harder time selling. F'mil couldn't resist, taking the largest of the bunch of eggs. Delgeth might not have perfectly approved, but he was curious, so the pair of them had a fair time speculating. When the time came, an oversized blue with red markings flopped out of the egg, creeling for food. The coloring baffled F'mil, but delighted him all the same. He was named Aweirgan, and he got all the more strange looks for his new pet. Apparently the color was cursed or some such. Delgeth rolled his eyes, and F'mil just grinned all the wider at such topics.
F'mil might be the single weirdest rider at Telgar at the moment, but as long as eyes don't rove to Delgeth in a bad way, it's all good to him.
Adoption?:
Rather not.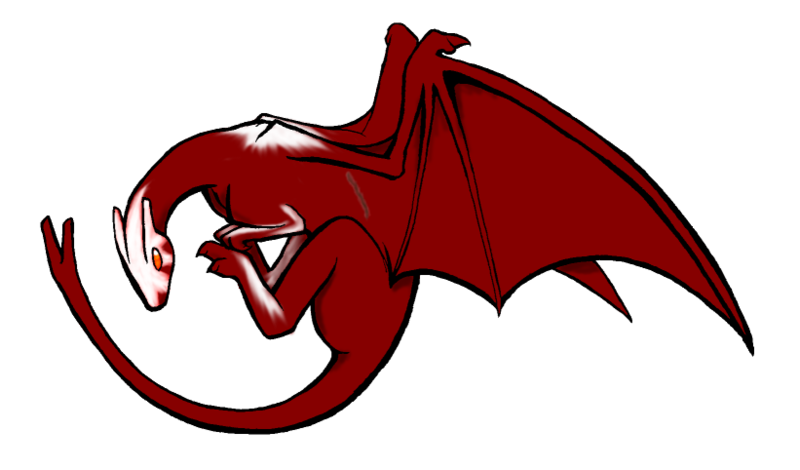 Template by
Pledging Myself to a Frail Infinity
Dragon's Name:
Delgeth
Dragon's Gender:
Male
Dragon's Age:
4 Turns (72)
Dragon's Color:
Crimson-White
Dragon's Appearance:
At twenty eight feet, Delgeth can't even be called Brown sized. The majority of his body is the color of deep crimson, which can't point to anything but his main color. However starting from the crown of his head and seeping down over his eyes and to his snout he is unmistakably white, until it melts back into his crimson color. Similarly, along his shoulders and down his legs it is white, though those points are the only ones. His wings are on the smaller end for a dragon his size, and his stamina is likewise low, though not outrageously so. On his left side, just under where his wing starts is a scar, from a fight with another dragon. However, he is dense for his size, so he has a good balance between strength and dexterity.
Delgeth is almost never truly still. Like most Crimsons he swishes his tail furiously when he is feeling something strongly, but at rest he keeps his tail moving gently. Delgeth loves to sleep, but doesn't sleep deeply, and is easy to wake.
Dragon's Personality:
Delgeth is a frustrated dragon. His coloring is such that others looked down on him and his rider. His hide sports both a color that should pronounce him a King, but also the smallest and least considered color. His size is such that he can feel those around him looking down upon him. He may be a King, but not a real one. He gained the Crimson trait of a fierce tongue, but it is forever balanced and aggravated by an unwanted White gift. He is impressively empathic, to the extent that he can feel the general mood around him. He has a tendency to keep this ability suppressed, but when his temper appears, he often slips. If the mood around him is bad, then it often means his temper becomes even worse. However, the inverse is also true. When a Weyr is happy, Delgeth feels that too. Of course it also means it is nearly impossible for him to refuse a flight, for similar reasons.
When Delgeth dislikes someone, he usually avoids or snubs them. Often this is because he has detected they dislike him or his rider, or are even just generally unpleasant emotionally. When among friends, he can relax and let his guard down. In these cases he can be fairly friendly, even enthusiastic. Delgeth can be carried along by the mood that surrounds him, for good, or for ill.
Don't ever ask Delgeth to do things halfway. He either puts no effort into something, or his entire being into it. He has gotten into trouble in the past for lashing out during flights, but stubbornly refuses to believe he did anything to the other chasers that was out of line. He was doing his very best for the dragoness, wasn't he?
Because of Delgeth's abilities, F'mil and Delgeth are extremely close mentally. Unlike other rider pairs, this doesn't result in a loss of agency for either of them. It's more like an eternal conversation. Delgeth also finds it nearly impossible to hide things from F'mil, even when he is feeling sulky. He is an often stubborn, passionate dragon, but he leaves subterfuge to F'mil entirely. He sees how people really are feeling, so lying to him doesn't have much of a point.
Dragon's History:
Delgeth was born to the Gold Queen Ishtath and Bronze Vendoroth. The clutch was a large, fine clutch that the Weyr could be proud of. The hatching started fairly enough, proper colors coming to light, Blues, Greens, and some lovely Browns. Though not holding a Golden egg, there was hope for the two largest eggs, as they might hold Bronzes. What they didn't expect, in the middle of the hatching, was for one of the eggs between Brown and Blue in size, to hatch into Delgeth. He was immediately overwhelmed. So much excitement, anticipation, and then attention directed at him. He couldn't stand up straight. Then, one of his brothers, almost out of nowhere, gave a cry of despair, and then vanished. For most, this event was tragic. For Delgeth it was impossible to bear. He ended up barreling over one of his siblings, which caused them to fear him. By the time he reached the candidates, he wasn't himself at all, a ball of Crimson rage. Everyone hated him, well they might as well hate him more. He tore up some of the male candidates, but the bright pings of fear pushed him away from them until he finally collapsed in the middle of the sands, trying to roar at them all to stop the feelings. But he couldn't. Eventually in all the chaos, he picked up a friendly feeling, and he dove straight for it and didn't look back.
[smear:c82009]F'mil, mine please, don't fear me. Delgeth doesn't mean you any harm. I just don't want to be hurt anymore. [/smear:ffffff]
The time growing as a weyrling was tough for the oddball King. He often was plagued by his enhanced empathy, and lashed out often because of it. Of course that only made things worse. With F'mil's help he was able to control his temper to some extent, and learned how to shut out the outside world. He found few friends, and as he grew he found that he wasn't respected as a King in the slightest. He was too small, too foreign. He found himself pulling away from everyone but his rider, in all but flights. He caught none, and found his resentment growing. Eventually, when they had graduated, F'mil suggested a change of scenery. A new place would do both of them well. Delgeth agreed wholeheartedly. They transferred to Telgar Weyr, and there was an immediate change. The mood of the Weyr was just better, Delgeth could feel it. So they settled into their new home, wary but generally pleased at their new surroundings.
Though Delgeth disliked going on searches at Ista, he finds he likes it a lot better for Telgar. Less because the work itself has changed and more that he feels like the people assigning him the work are doing it because they legitimately think he and F'mil are good at it. At Ista, it was because they weren't a pair worth assigning or doing real work. Delgeth still has a long way to go, but he is at least a bit more in his comfort zone now.