Post by Moo on Jul 23, 2011 23:21:17 GMT -8
Name:
D'gan Cisneros (formerly Dorigan)
Pronunciation:
Deh-GAN (Door-rih-gan)
Gender:
Male
Sexuality:
Heteroflexible
Age:
46 turns
Turnday:
02.19 Turn 3030
Weyr:
Rainbow Mists Weyr
Rank:
Sr. Weyrleader (as of 76.13.15), TigerRider
Family:


Yura (Weyrbrat) - daughter, age 1, ISW

D'rin of Blue Gorulinth – father, age 66, Fort Weyr

Maegan of Green Relath – mother, age 65, Fort Weyr

E'ras of Midnight Haronth – brother, age 36, Fort Weyr

Weyrmate:
Sr. Weyrwoman Rilora
of
Gold
Archith
Friends:
Appearance:
D'gan stands at 6'2" and carries himself with the dignity and pride only age and experience can give. He speaks with a low, warm voice and is very congenial in conversation. He has brown eyes, and when he first arrived at the Weyr, his hair was black as pitch - but after the past couple of turns, his black, shaggy hair has begun to turn silver. He doesn't like to mention it, though. On rare occasion, he keeps a trim beard and mustache. He has a stocky, muscular body and an olive complexion, both of which result from the numerous hours he puts into exercise and training with his Mosiliath and other riders. D'gan is broad-shouldered and is rarely seen in anything other than his riding outfit. His back, chest, and arms bear testament to their youth and inexperience during past Threadfall, with various pockmarks and scar tissue. Char burns are visible around his eyes.
celebrity look-alike: benicio del toro, seen above.
Personality:
There is little that would phase D'gan -- growing up fighting Thread saw quickly to that. Straightforward and business-like in his thoughts and actions, he can get flustered when someone beats around the bush. He always tries to appear collected and courteous while in the eyes of the Weyr, though if pushed or hassled too much, he can cause a scene if need be. D'gan is also bullheaded when his decisions are challenged, but only if he feels like his choices make more sense. He also has a bit of a competitive streak. He has always strived for the absolute best from himself, and because of this self-pressure, he often goes through bouts of anxiety. However, as he has gotten older, D'gan is beginning to understand that perfection isn't always obtainable, and is trying to accept good enough when it comes along.
History:
Before he had Impressed, D'gan was much more of a recluse, preferring his own company to another's. When placed in a group, however, D'gan naturally took on the role of leader, though his misguided attempts to perfect and control every detail led the others to eventually ignore his methods and ideas. He was never very good at making friends, and having grown up as a Weyrbrat, D'gan seldom encountered his mother; his father was a different story.
D'rin, a BlueRider at Fort, was a driving force in his son's attempts at perfection, as well as the heavy-handed goal of being a great Rider -- and it came with a lot of pressure. As D'gan was the eldest in his family, he shouldered a greater responsibility for success than his younger brother. This pressure growing up left him unwilling to interact much with those his own age, and since he was lacking a good base for a childhood, D'gan chose instead to spend time with the older Riders.
#
When the Hatching Day at Fort Weyr finally came, D'gan (then Dorigan, and thirteen Turns old) was dead on his feet that morning – he had laid awake all night, wracked with anxiety and nerves and the fear that he wouldn't Impress. He had to make them proud. He
had
to. Unable to sleep, he got dressed in his Candidate robe and arrived at the Sands, the world still wrapped in the blue-gray mist of early morning. He sat at the edge of the Sands, watching the glorious, golden Elspeth rolling her eggs, and heard the tiny, muffled squeaks that came from the shuddering orbs. Eventually, the other candidates arrived, and the humming grew into a great roar.
Then a great, shattering sound silenced the world, and the dragonets began to emerge from their eggs. They creeled to their chosen riders, slick with amniotic fluid and covered in hot sand. Dorigan looked around at each passing dragonet, feeling the icy clutch of fear begin to overtake him. He wouldn't Impress. He would be a failure. The world became a blur of color and hums and bugles.
D'gan, help!
Dorigan doubled over, clutching at his stomach. It felt like something was gnawing at him from the inside! He was confused. What was happening to him? Whose voice was he hearing? Was it his own? Why was he so hungry?
D'gan, Mine, look! Here I am!
Dorigan looked up, and in that instant, locked eyes with the most stunning, exquisite, orange-and-black striped dragonet. It moved toward him, mouth open like a hungered bird.
And all of a sudden, it hit him, even in his sleepless stupor.
He was D'gan.
He had Impressed!
I am your Mosiliath, Rider Mine!
"Mosiliath!" D'gan gasped, rushing toward the dragonet, who was managing the best it could with shaky steps and a large, dragging wingspan. D'gan's father, who had been helping the new Weyrlings, appeared at the bonded pair's side a moment later, quickly stepping in and helping to lead the hunger-drunk rider and noisy dragonet over to a quiet spot to feed and rest.
#
Even after Weyrling training, D'gan and Mosiliath spent every moment together, constantly learning and expanding the boundaries of the limits of their bond. Mosiliath was the perfect temper for his rider, and was often the one who talked D'gan out of overtraining or being too hard on himself for small slip-ups. In return, D'gan began to grow into a more mature, rational-thinking adult, and was then able to understand how to take commands and interact with those his own age. This attracted the attention of a Wingleader, who eventually took D'gan as his Wingsecond, and the pair flourished in this new position. D'gan had the ability to rise to the Wingleader's position, but was uncertain if he had enough experience to effectively lead.
But a few Turns (and scars) later, D'gan felt he had grown too comfortable at Fort Weyr, and wished to travel to another Weyr to see if he and Mosiliath could improve in their abilities and rank. Another particular reason was one that D'gan could not quite come to terms with: he had been Threadscored -- not long after completing Weyrling training -- on his right ear. Later, his hearing had begun to fail on that side, and it left him in a vulnerable position as Wingsecond.
Privately hoping that a change of scenery and pace of life would help recover what he had lost, he kept this fact a secret between him and Mosiliath. They had discussed transferring at length for the past Turn, and the combination of wants and desires had them finally arrive at the decision to put in a transfer to Rainbow Mists Weyr.
#
A lot has changed for D'gan over the past few turns at Rainbow Mists Weyr, but he feels he is just beginning to well and truly settle down. He is not as flighty as he was originally with relationships, although a one-night stand resulting in the birth of his first child might have more to do with that than anything else. His return from Fort Weyr (after an intra-Weyr rendezvous that lasted almost an entire turn) has also given him a lot to consider on what "home" means for him. He has begun to accept the mantle of responsibility and leadership, and even more so after Archith and Rilora chose him and Mosiliath in their latest mating Flight. His feelings, and those of his dragon's, still have not wavered where the Weyrwoman and her dragon are concerned. He cares deeply for Rilora and values her camaraderie immensely. In truth, he would do anything she wanted -- she only has to ask.
Pets: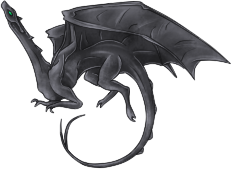 "Rama"
Appearance: A strapping Iron lad, Rama is a solidly built little thing. A bit on the stout side but still as agile and long-lasting in flight as any of his kind are expected to be. Overall he is a beautiful, medium shade of grey with the faintest bluish tint. Mottled with darker shades, he gives the impression of tarnished iron.
Personality: A sweet little fellow, Rama is quite affectionate towards his handler. He is always available for a snuggle or a pet and has a particular fondness for belly rubs. He is playful and even a little curious though doesn't stray too far from his bonded in his inspection of new things. Despite his cheerful and unflappable nature, Rama does have an unreasonable fear of trundle bugs. Be prepared to have to peel the poor thing off of your head or coax him out of a corner should one of the harmless little things come around and never expect him to keep his cool should you or your dragonkin companions be injured.
Rama was named after one of Mosiliath's old friends, a Black dragon named Ramashanth.
Adoption:
No, thank you. NPC if necessary.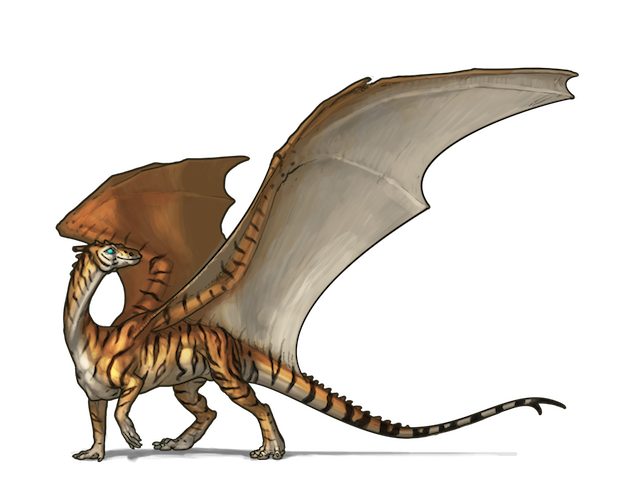 Dragon's Name:
Mosiliath
Pronunciation:
Moh-sill-EE-ath
Dragon's Gender:
Male
Hide Color:
TigerDragon's Age:
30 turns
Hex Codes:
#ff7f24 #ff6600 #292421 #000000
Appearance:
Beautiful and well-muscled, Mosiliath has a light orange hide with long, winding stripes, and just as many scars from Thread as his rider does. Because he is a Tiger, and his forte is strength and speed, Mosiliath is slower on maneuverability, and takes more threadscore than other riders. One notable scar can be found on his right wing where Thread hit the inner membrane. Thanks to the quick work of a healer, the membrane was mostly saved, but it is now knotted and tightly pinched. He finds he has more difficulty stretching and flying on that wing, but he tries to not let that affect him too much. He measures 38 feet in length, has cream-colored inner wings, chest and belly, though he has begun to gray out on the edges of his wing membranes. His wingspan is also larger than most other dragons. Mosiliath walks with a slight sway, because of the larger distribution of muscles on his upper body. He carries himself with pride.
Personality:
Cool and collected in the public's eye, Mosiliath was the key factor in developing D'gan's calmer, more rational side, and strives to maintain their appearances as befitting their rank. He is incredibly loyal to D'gan, and he would do anything for him if it were the right thing to do. He is a superb secret keeper, and would never reveal any secret unless it was of the utmost importance. Mosiliath has taken it upon himself to be the voice of reason for his Rider - like a parent to their child - though their differing perspectives sometimes make his actions/intentions, noble as they may be, appear misguided. He does not understand his Rider's underlying attraction to male Riders, either, but it's a topic both have agreed never to touch on - unless such a situation comes between them or their work in the Weyr.
History at Rainbow Mists Weyr:
. Won the Flight of
Aurora
Ayleneth on 73.10.08 and sired several hatchlings.
. Won the Flight of
Gold
Archith on 76.13.15, and sired ten hatchlings.