Post by Ghost of Fire (Fëanáro) on Jul 28, 2011 7:25:13 GMT -8
Name:
Talira
Pronunciation:
Tuh-leer-uh
Gender:
Female
Age:
15 Turns
Turnday:
3063.09.21
Weyr/Location:
Rainbow Mists Weyr
Rank:
Weyrbrat
Family:
Mother: Relira (42) of Green Zamath
Father: Z'tal (39) of Cloud Vawellith
Grandfathers:
T'mas of Black (m) Brackneth
Grodeg — small holder near Golden Flight Hold
Grandmothers:
Zylira of Starlight Vaneseth
(Half)Brother: Nadiron (11)
Weyrmate/Spouse:
N/A
Friends:
Lots, including her cousins Rezamon and Manorak.
Pets:
Crimson Moril (10), Pink Lyasora (5), and Cloud Stuntman (3)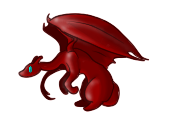 Lineart thanks to
HeartofPern
, coloring courtesy of Cait.
Appearance:
Talira is tall for her age, already standing about 5'6". She doesn't have as much "puppy fat" as most children, in fact, she's basically made of bone and muscle, weighing only about 127 lbs. Her green eyes are an exact duplicate of both her mother's eyes and her grandfather T'mas's eyes, though she has her father's golden-blond-brown hair. She tends to wear men's clothing, and this, combined with her height, often leads to her being mistaken for an 11 or 12 turn old boy, something she finds amusing.
Personality:
Talira has a lot of energy, which lends extra intensity to her already intense emotions. Generally excitable, she also rarely sleeps longer than 5-6 hours at night, and she's quite capable of lasting the day on even less. She hasn't learned the art of the white lie yet; if she's asked a question where a truthful answer is disloyal to a friend or family member but to be loyal to that person requires lying, she'll remain silent (usually with a look of guilt about her, since she feels bad about not being able to truthfully support them). She has a tendency to pick one or two good friends and willingly follow their lead in just about everything, though if they do something she is truly opposed to (or thinks is wrong) she will leave them and find something else to do. She's hopeless at both lying and telling when she is being lied to. The one thing she will not tolerate is someone attempting to hurt her family or friends, anyone trying will find themselves on the receiving end of violent verbal (and if that doesn't work or they hit first, physical) attack by one tall eleven turn old. She can be shy, but will open up quickly, so long as the other person speaks first.
History:
Talira was the first child of Relira, and the third of Z'tal. Her parents are not currently weyrmates, though they both spend some time with her. Despite being raised in the Weyr crèche, Talira spent (and spends) a lot of time with her grandparents on her mother's side, T'mas and Zylira. In fact, it was Zylira and T'mas who bought her a firelizard egg for her 6th Turnday. When it hatched a deep Crimson flitt, Talira was in love immediately. She named the flitt Moril, after a favorite character in her grandfather's stories, the Crimson dragon Morillarth, whose rider R'kent had been her own great-grandfather.
A few months after she turned ten, there was a firelizard Hatching at RMW, and she Impressed Pink Lyasora.
Adoption?:
Yes