Post by Kaya on Dec 28, 2011 22:39:36 GMT -8


Lithena
Name:
Lithena Brennawen
Pronunciation:
Lih-
thin
-ah [lɪθɪnə brɪnəwɪn]
Gender:
Female
Age:
24
Turnday:
09.19 Turn 3054 (46th Turn of the 11th Pass)
Weyr:
Rainbow Mists Weyr
Rank:
Wing Rider
Family:
Father: Loethien "Loe" Brennawen (52) – Farmer
Mother: Rillyanna "Rill" Brennawen (50) – Full Time Mom
Brothers: Jubore (31), Lorrellen "Lor" (25), Benjory (18)
Sisters:
Rilora
(27), Lorinya (21), Breanne (15), Rina (13)
Weyrmate:
None
Friends:
R'le of Cloud Quiorith
Pets:

Green Firelizard Iolanthe
(Ai-oh-
lan
-thee) [aɪolænθi]
Blue Firelizard Sario
Neon RR Flame Firelizard Alvolio
Rukbat "Ruky" - Golden male feline, family pet, resides at Golden Flight Hold
Appearance:
Lithena has wavy, shining blonde hair and a bright smile. She loves these things about herself and does her best to make her hair look great every day! Among life's common tragedies, a bad hair day is third worst on Lithena's list. Lithena stands at a proud 5'6" and moves with the confidence of someone who has been liked their entire life. Her eyes are a lively blue always on the lookout for a good time. Her skin is a healthy, light shade: clear and kept clean like the rest of her. Lithena hates being dirty and looking less than her best. Because of this she tends to choose outfits in colors that complement her blonde hair and developing shape. She has a fondness for blues and blacks and though blondes look good in red she's heard, she only wears it on occasion. (Playby: Candice King (Accola))
Personality:
Lithena loves to love people, life and all it has to offer - as long as it's good. Being around people makes her feel alive and there's nothing she loves more than social gatherings. Even class was agreeable to her because it meant she got to be around people. Of course she's gotten in trouble for talking in class, but who can blame her?
It's not hard to excite Lithena and if it's something she can look forward to, you can bet your last mark that she will. Everything from reminding others how long until the next Gather or Hatching Feast or Turnday party, Lithena loves the preparation almost as much as the party itself. She is full of energy, which converts itself into happiness, and she splashes it on everyone who comes near.
Lithena is an energetic, flirty bundle of semi-spontaneity and can't handle being tired, sick or exhausted well. She becomes inhospitably cranky and needs to be left to Hrith's care until she recovers. She likes things to be fun, new and interesting but needs some measure of stability and familiarity in her life.
History:
Lithena was the fourth of eight children born to Loe and Rill Brennawen. Her parents and older siblings did the real work and as long as she completed her lessons on time as a youngster she was left to her own devices. Lithena loved her huge family - there was always someone to talk to, or bother - but she disliked farm life. They lived too far away from even their closest neighbors and the walk to the Hold was too far for her to go by herself to see her friends.
She didn't like farms or herdbests - dirt and smelly animals, ew! - nor did she take to teaching, singing or other Harpercraft skills as some thought the social girl might. Instead, she learned she had a knack for sewing and so when she got old enough to start learning a craft in addition to her lessons Lithena would walk to the women's sewing group in the Hold. She loved it, working with the fabrics and threads and having nothing better to do than talk while working! Her craft training also let her stay in the Hold longer and that made it all the more desirable.
At fourteen Lithena was able to start meeting with a Journeyman Tailor and start lessons with him. She came to think that he was quite handsome but he always laughed it off as was appropriate. Lithena still showed up as a regular at the sewing group and learned proper and practical ways to make, mend and create with her budding craft.
This was her life until a Search dragon from Rainbow Mists Weyr arrived at Golden Flight Hold one day and requested Lithena and her sister Rilora, among others, for Candidacy. Lithena was overjoyed at the invitation and started packing without a second thought. She thought Rilora took things too seriously and should be leaping to pack rather than agonizing over moving. They would have
dragons
. They could come back whenever they liked! This was an exciting, new change of pace that teens of all sorts throughout Pern were supposed to dream about happening to them. So she told all her friends and made a dramatic exit to Rainbow Mists.
Lithena adapted quickly to Weyr life. It was open, friendly and busy. Everything was in walking distance and so long as she went to lessons and did her chores (she found a way to wiggle into the ones that didn't require dirt) she was free to do as she liked. She kept working on a few sewing projects she brought to the Weyr with her and even took one trip back to her Hold months later to show her former teacher a piece she'd finally finished.
Lithena was not quite sixteen when she Impressed Hrith at a small Hatching that happened early in the 9th month. She took to Weyrling Lessons well and meet everyone in her class. Life with Hrith was her life still, just improved. Lithena and Hrith adapted to each other so quickly they barely remember things being otherwise. Quite often Lithena would find and pester Rilora - still a Candidate then - about all the new things she was learning in weyrling lessons and the Weyr.
It came as a shocking to surprise to Lithena when three months after her own Impression her sister found her dragon. Lithena had always known they'd be Riders (she just knew, she said) but the real twist was that her sister had Impressed to a Gold! She took it upon herself to write letters to everyone she knew before Rilora had even recovered enough from the change to write a letter home. It didn't take long for Lithena to start realizing that as an up and coming Weyrwoman, it meant she had far less time with her sister.
Lithena spent time with the Tailorcraft as a senior weyrling after basic training. She didn't pick it back up with the same passion, but the Weyr required that their Riders know useful things and tailoring, especially mending, was useful.
Since she too is from the rather large Brennawen family she misses having more time with her older sister, who is the only family member she sees with any regularity. Occasionally she'll tag along with Rilora on one of her trips to the Hold, but otherwise going back near her old life gives her a strange chill. Having even less time to be girls with Rilora nowadays, Lithena spends time with the other Riders from her class and seeking out new people to meet.
Hrith has Flown twice but Lithena chooses not to have a weyrmate. She does choose to flirt with whomever she likes.
Adoption?:
No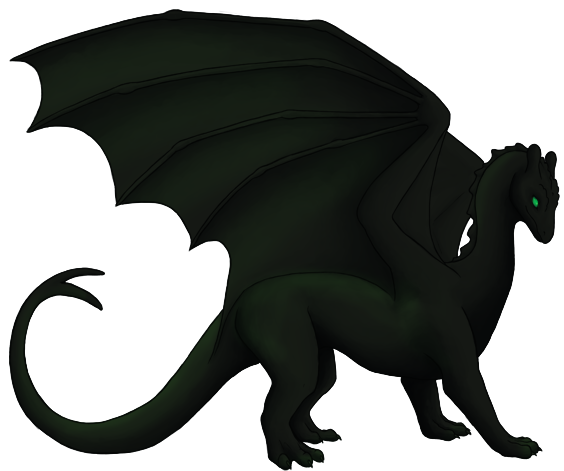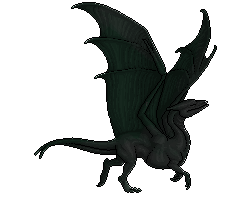 Dragon's Name:
Hrith
Dragon's Gender:
Female
Dragon's Age:
5 Turns
Dragon's Color:
Black-Green
Dragon's Appearance:
Hrith is full grown and is 24 feet in length, a bit smaller than other Blacks because of her -Green secondary coloration. She is on the lighter end of the Black spectrum and has a matte green overlay on her hide that doesn't show up well in low lighting.
Dragon's Personality:
As much as Lithena likes to like people, Hrith likes people to like her. She's a generally agreeable, if not a touch vain, dragon. She likes socializing and gossip - on her terms - and is often doing things (or encouraging Lithena to do things) so that more people will like them. She goes out of her way to avoid conflict and to make others' days better but is always looking out for her own best interest first. Fortunately for the world, her best interest lines up well with the wellbeing of others. Well, most of the time. If there's something Hrith really wants she's shamelessly selfish about it.
Dragon's History:
Hrith was born from a smaller clutch that happened before Bylanath's last. Her mother was a Black and her father a Purple, though she doesn't know them very well. Hrith hatched fourth, right in the middle of the small seven egg Hatching. She headed straight for the females, sized up each one along the line, and when she found Lithena she stopped and knew in an instant that they were
meant to be
. They have gotten along fetchingly ever since.
---
More about her Firelizards as detailed by the marvelous Cait:
Flame
Appearance: A vibrant and near blinding display of yellows, oranges and reds, this firlizard is a sight to behold. Every bit as glorious as either of his parents, he has a proud and regal bearing that os only somewhat tarnished by his tendency to hug his own brightly colored tail. There are brief flashes of bright blue on his claws and even his nose as well as one side of his forked tail. His wings are quite large and his body sturdily built. He will be a strong little king once he is grown and capable of carrying bulky packages. Certainly, you'll never loose this guy in the crowd.
Personality: Alvolio is a peculiarity among RR Flames. All of the expected personality traits and none of them. Though his most prominent seem to be quite the opposite of his Neon sire. He has his moments of regal stoicism where he will perch sagely upon his handler's shoulder, observing and lording over all he sees. Then other moments when everything he comes in contact with seems to irritate him beyond reason. These are his extreme poles as more often than not he is a bit silly and certainly far less dependent on you than you might wish; but he'll always come back. Hey, at least you don't have to worry about him waking you up to eat at the crack of dawn. With a tendency to hug his own tail either sleeping or awake, he has moments where he becomes strangely fixated on it. Curious and precocious, he is liable to get into everything that isn't tied down or securely fastened shut and you will find him in the oddest places when he seems to go missing. Don't forget to check under your covers or inside your dresser drawers.
Blue
Appearance: A burly little thing, this blue has the appearance of being rather well muscled. Combined with a slightly compact figure, his agility is a bit lacking but his stamina and strength is much improved. His hide is a dusky shade of cobalt that makes him appear a bit drab but his personality more than makes up for it.
Personality: Mild tempered and even sweet, this little blue wants nothing more than to please you. If that means hauling your boots across your room because you're too lazy to get them, or fetching whatever item might pop into your mind before you've even decided that you want it, then he is your
man
flit. Just be careful not to work him too hard as this little fellow doesn't always know when to take a break, he'll continue at his little self appointed fetching tasks until he's too tired to fly.