Post by Shoki on Jan 7, 2012 15:16:15 GMT -8
Gods ain't gonna help ya son
You'll be sorry for whatcha done

Them gods gonna hurt you son
When you play with a loaded gun
When you play with a loaded gun
Name:
Hedara Lune
Pronunciation:
(Eh-da-rah Loon)
Gender:
Female
Age:
25 turns
Turnday:
3052.02.23
Weyr:
Ice Stone Weyr
Rank:
Sr. Weyrwoman
Family:
Denor- father- Mine worker (49)
Arah- mother- Master Smither (47)
Weyrmate:
None
Friends:
Former Sr. Weyrwoman Sanshe of Ice Lanikath
V'quin of Black Hazed Iron Irrakath
Pets:
Green firelizard Ivy
Appearance:
Hedara is a tall woman, reaching about 5' 10" in height. She is built long in the limbs and is fairly flat in the chest area. She has some good muscle about her arms, and some in her legs, both from her smithing work. Her hair is cut to reach the middle of her back and it is usually tied back for practicality reasons. Still, it's usually not too tight as to stop the waves in her hair from framing her face. The sun bleaches it a very fair blond but her natural color is closer to a dark honey. Her skin tone is very fair, and she freckles easily. She sunburns fairly easy, and wears cloths that cover her up and are practical. Her eyes are a hazel color, and don't quite fit into her usually aloof expression.
She often wears a metal bracelet, made of brass. It's about and inch thick and has some nice detailing in it, mostly lines and curving shapes. She got it at a southern gather she attended.
Personality:
Hedara is naturally serious, and tends to keep emotions from being expressed. She has a sort of icy aloofness for most people, and has a real issue in letting people know how she feels. This is double true for people she has a romantic interest in. However, she can most easily be a snarker if she is being something other then serious. She is a bit of a perfectionist, and a good habit of practicing what she just learned. She is suspicious of people that she meets for the first time, though it doesn't result in antagonism. It just means it takes a lot longer for someone to become an acquaintance in her head. She is drawn to people who have some sort of drive, and work hard at it. Likewise, she disdains dreamers and people who 'tell pointless stories'. Or at least she did. She tolerates people who tell stories, but still can't abide the stories themselves. She is very direct in everything but emotions and demands others do the same to her. Her goal in life is to defend those who can't defend themselves and works her hardest at it, in what ever capacity it might be. It's hard for her to sit down an listen to people but when she forces herself to do it she can often see what the real problems are, rather then just the current situation.
History:
Hedara was born in Icy Cavern Hold to Denor and Arah, two very serious people. They were both very restrained people and from a young age Hedara learned to follow their example. She was a rather obedient child and her parents instilled in her the values they held most dear. Denor emphasized self defense, wanting to make sure that his only daughter would be protected against whatever the world would throw at her. Arah taught her about survival techniques, as she had gotten lost outside of the hold when she was little and swore no child of hers would be helpless in the same situation. They both gave her a value on self reliance with their teachings, though they did so unconsciously. As she grew up learning from her parents, it instilled in her a more then healthy suspicion of other people. It meant that she had very few friends until she was apprenticed to the Smithing Hall.
When she became an apprentice, she was so quiet and serious that at first she intimidated some of the other apprentices. Eventually her serious nature and her perfectionist nature got her some friends who wanted to glean answers from her. She didn't mind really, since it was good for everyone if they knew what they were doing. Further down the line she took an interest in swords as a natural extension of her father's teachings and her smithing training. She didn't actually start training with them until she reached her sixteenth turn but their form and weight distribution was carefully studied by her. When she did reach her sixteenth turn her parents pooled together to get her a simple practice sword and someone to teach her sword fighting in her free time. She found the training particularly fun, as it was both productive and an art at the same time, much like smithing.
Just after she reached her nineteenth turn she got Journeyman status. She fully expected to continue on toward master status, but by a random stroke of luck she was searched for Ice Stone Weyr. She had always found dragons interesting and approved of the dragonriders for the way they protected the people of the hold. As this was another way to protect people she was very pleased to accept, and bid farewell to her parents. As a gift they gave her a real sword, though simple, they felt it would serve as a keepsake and (as they were practical people) keep her safe.
Her candidacy was a mixed bag for her. On the one hand, chores put her in the mindset of her apprentice days, and she was hoping that was all behind her. However, she had time to perfect her sword forms, and found that Ice Stone Weyr had a very good body of swordsmen. She found time to spar against some of the weyrlings or riders, finding that she learned plenty just sparring. Still, soon time rolled around for the hatching of the current Weyrwoman's dragoness and Hedara experienced the hatching with a quiet awe. She'd never been around even a baby flitter so the whole experience was a good one. Close to the end a lovely ice queen hatched, and Temperanth impressed her. Hedara didn't know at the time what that would mean for the future, but she was certainly pleased to have her chance to defend the Weyr with her dragonet. In time.
As a Weyrling Hedara found the most peculiar thing to be the learning of politics. She retained information fairly well, but couldn't bring herself to be as friendly as some people would like. She was still naturally suspicious and her lessons only cemented the belief that it was warranted. However, her natural confidence caught the Sr. Weyrwoman's attention and the two spent some good time with her training so that she didn't come off horribly. Hedara found she liked Sanshe, though it took quite a while to come to that conclusion. She was more friendly but had a drive to her that impressed Hedara, and inspired her to try to take up the mantle of the Jr. Weyrwoman properly, rather then letting her suspicious nature become too much of a hindrance. It was at this time that she stood for a flitter hatching and got her pet, a lovely little green that she named Ivy.
She graduated from weyrlinghood, appreciating the irony of receiving a sword that a few years ago she would have helping to make. She never stopped sharpening her skills, not wanting to be the weakest link in a fight, if things ever came to that. She found that as a proper Jr. Weyrwoman that politics were much more of a force about her, and the intensity of the opinions surround "unnatural queens" was no exception. The Weyrwoman had touched on it before, not quite decided on what would be done if the issue got more heated then this. Hedara herself saw nothing wrong with "unnatural queens" as she viewed that dragons would pick who they picked and felt the job fell to those who were riders to work best at filling the role for the dragon. The Sr. Weyrwoman emphasized viewing all sides of the argument but Hedara still found any proposed solutions to be unnecessary at best and cruelty at worst.
As the debates raged on Hedara found her mentor had less time to spend, as a large majority of the time, it seemed as though the Weyrwoman had to speak with someone or another about the unnatural pairing issues. She knew that the woman cared deeply about the Weyr and was doing everything she could to cool tempers and find a solution to everything. Hedara felt that the Weyrwoman would do her best, and was confident that she would find a solution. However Sanshe fell ill after a long series of meetings, and it seemed like the woman had gotten enough stress to weaken her immune system. Healers recommended much less on her plate, so much that she would not be able to serve as Sr. Weyrwoman for a time. It fell to Hedara to do the work, something that the woman would gladly take on for her mentor. She found rather quickly that others found her aloof and serious nature to be intimidating and for a while both her and Temperanth felt completely out of their element. Trying to force issues was often not a viable option, and for a while Hedara got frustrated about how things were turning out. Still, rider and dragoness refused to back down, and even with her lack of finesse when it came to talking with people, she started getting the hang of things. She learned a little about listening, and found that if she took an extra minute to listen and think, things usually turned out better. Still, Hedara can still clearly feel the stress of the position, but refuses to let down Sanshe. She just hopes its not too long until the Weyrwoman gets better.
As if she needed more trouble, A'mir was kidnapped on her watch, leading to much rage on her part and much to long a time to get him and his Silverlight back. She crossed blades with someone she feels is very, very good with a sword, Tiberax. His son, Tivax helped them escape, but Hedara couldn't help but think that she needed more skills if she was going to face him again. Temperanth's first flight came and went, leaving her with a working relationship with X'kel, someone who kinda gets on her nerves, though she tried to manage as well as she could not to let that get in the way of work. Temperanth's clutch brought not only a Chrome to Tivax, but a Silverlight male, something she had never even conceived of, which made its way to Tamaruk, a very quiet youth. Paired together, these two dragonets would so very likely cause trouble in people's minds, which put Hedara on edge. She didn't need anyone else to get riled up over dragons at ISW. However, to at least try to fix something she went to Nai, a legend at ISW and a former Weyrwoman, to see if she couldn't so something about her skills. She was gifted with two items of note, a series of pouches with various mixtures inside, the sort that a enemy would not like to breathe in or get in their eyes. The other is a Three-Section-Staff, a unique weapon that Hedara decided is variable to confuse enemies if used well. So her training with the strange weapon began.
Over time she has found that she has had to make hard decisions and hates herself for them. She feels that dragons are the ones that really should have most say in what occurs, not anything else. So between trying to get the Hold to agree with her to go after Tiberax and a certain hatching of Lanikath's she has decided that humans, if they get in the way of dragons, are all liabilities. So she will cut off any that are such. So she cut ties with Icy Caverns Hold under her leadership. Sanshe now transferred to Waterfalll Valley Weyr for her health, she felt like she is very alone, and without much recourse. She must protect the Weyr, at all costs.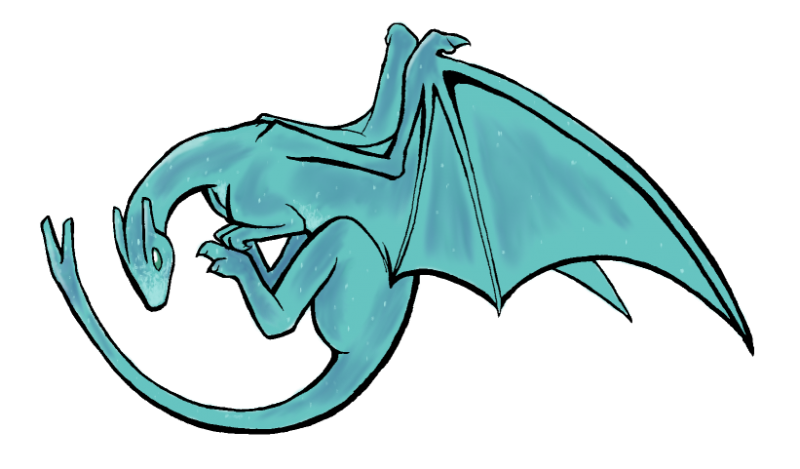 Template provided by
Pledging Myself to a Frail Infinity
Dragon's Name:
Temperanth (T-eh-m -per- anth)
Dragon's Gender:
Female
Dragon's Age:
6 Turns
Dragon's Color:
Ice
Dragon's Appearance:
Temperanth is a large Ice, coming in at 42 feet in length. The bulk of her body is a icy blue, and is flecked with darker blue and lighter blue that almost looks white against her blue body. By chance many of the light blue flecks are centered around her snout, making it look like she has a white snout. It more like a thickly dappled snout though.
Dragon's Personality:
Temperanth is a much more approachable personality then her rider. She can be a touch icy when in a mood, but for the most part is amiable and content. She loves to hear harpers spin tales, and can repeat many that she has heard a couple times. This annoys Hedara to no end, but begrudgingly agrees that the talent is handy when the Ice can pull examples of history pertaining to current events. Temperanth finds both history and fiction equally interesting, but can't seem to convince her rider of the same. She takes the responsibility of being a Queen seriously and revels in the chance to work for the many rather then herself. That being said she can be as stubborn as a brick wall if she doesn't want to do something. It means that on occasion she and Hedara will completely force each other into a standstill, since neither of them are the type to back down. However usually it does not happen on large issues, since they both have the will to do their best for the Weyr. When her anger is stoked, she is icy first, but if pushed can be frightening. She regains composure quickly though, unless her rage is against someone hurting others.
Dragon's History:
Temperanth was born to Ice Lanikath and Bronze Naxtorth, and was the 20th egg of 25. She was born in Ice Stone Weyr and impressed Hedara after reviewing every candidate thoroughly. However she eventually strolled back to Hedara and sat neatly in front of her.
Well HedaraLove, shall we go? Temperanth can only go so long being hungry.
The two found each other a comfort in their weyrlinghood, except for one matter. Hedara still could not stand the frivolous stories that Temperanth so dearly loved. It was a cause of much friction until the Ice found that Hedara really loved listening to the dragoness relate histories to her. Not that she would say as much. The two had many conversations on politics and history, most often in Hedara wondering why the brute force solution was never used. Temperanth found her rider's straight forward nature charming, though she always felt that with a little of her influence she could make her a more well rounded person.
As they graduated, Temperanth found that hers could be a little less then involved in politics if left to her own devices. However, once she was thrown into the fray after the Weyrwoman got ill, Temperanth found that her advice was sorely needed to aid hers. For the most part her advice was taken, though it would occasionally be disregarded if she felt sure of a point. The ice dragoness was amazed at how well hers took to pressure, and has recently taken pride in hers for how well she is handling responsibility. Still, she hopes that Lanikath's own would get better quickly.
For her first flight, she was caught by Crimson Varketh and clutched 23 eggs.
After Lanikath's hatching, she has noted a change in Hedara that she does not like. Paranoia has turned to hate, and it vexes the Ice Queen very much. She will do anything to fix it, and has begun to encourage Hedara to talk with people she thinks will give her healthy relationships.
She has risen again, this time to be caught by Cloud Brignith and clutched eleven healthy eggs.
They ain't gonna catch you when ya fall
You'll be pleadin' while your bleedin'

They ain't gonna heal you son
Don't care 'bout whatcha done