Post by Ghost of Fire (Fëanáro) on Feb 3, 2012 16:49:40 GMT -8
Name:
Rallin Yevanas
Pronunciation:
Ral-lin Yeh-va-nus
Gender:
Male
Age:
45
Turnday:
3033.06.18
Weyr:
ISW
Rank:
Wher Handler
Family:
Sisters: Helmara (54), Golmerin (52)
Brother: Masterminer Torsil (49)
Several nieces and nephews.
Weyrmate:Friends:
Harper Gillian, MasterHealer Aurelav Narunok
Pets:
Two felines. Dark-grey/black tabby named Zarlon, and brown with cream belly named Nucifer
Appearance:
Rallin has hair that is primarily golden-blond, with streaks of silver running through it, particularly at his temples. He has laugh lines at the corners of his light blue eyes, and at the corners of his mouth, and is most frequently seen smiling. He's not the tallest guy around, being a sturdy 5'8", but he's built like the miner that he was as a youth — strong and broad-shouldered. His skin is pale, but roughed from exposure to the elements. He picks his clothing based on functionality, so it is almost always some shade of undyed brown, and he is most often seen wearing an oversized coat (which he'll let children snuggle up under). The one concession he will make towards "dressing up" is to wear a dangling gold earring that is carved to look like a firelizard.
Personality:
Rallin is a kind man, who has been "somewhat grandfatherly" since he was around 23 Turns old or so. Despite having no children of his own, he has always loved spending time with them, telling stories and playing games — in fact, had he even a shred of real musical talent, he would have made a great Harper, just based on his love of storytelling. He tends to be calm and steady, and he's not one for rushing into situations without thought, and will often pause and think (at least briefly) through the best way to handle any situation. He is unfailingly polite and respectful of other people, though he is protective of children and young adults, and will not just bow out of a situation where someone is frightening a another person, no matter who tells him to.
History:
Rallin was the fourth child of Sashala and Geovan, both of whom worked in one of the mines near Ice Stone Weyr. His mother, Sashala, was one of two wherhandlers at the mine, and Rallin spent a lot of time with her Brown wher, Sashask. Rallin was a very active child, always out and about doing something, and he started working in the mine as soon as he was old and strong enough to do so, when he was around 13 Turns. He'd wanted to apprentice with the Harper who taught the local children, but he lacked even the beginnings of musical talent and had a good enough ear for music and pitch to know that he stood not a chance of obtaining that position (though in truth, he has a great deal of a Harper's non-musical skills, and is often mistaken for one), so he embraced working in the mines with the same steady acceptance that had always been a mark of his personality. When he was about 16 turns, he fell in love with a local girl named Perasha, but her parents disapproved of the possibility of a match, so they remained apart. About 4 turns later, when Rallin was 20, his mother's Sashask sired a clutch, and in payment, Rallin was given a chance at one of the eggs. Rallin was pleased at the opportunity, and a mix of glad and relieved when the Starlight wher permitted him to take one of the eggs. After Rallisk's Hatching, Rallin took about a year off from working so that he could teach Rallisk, with the help of his mother and Sashask. After that time, he resumed working in the mine, where he remained until his mother fell ill when he was 35. He relocated to the weyr in order to be near her and his father. Rallin came to enjoy being at the weyr, especially getting to spend time with all the children, and he remained there even after the deaths of his parents, about 2 turns later.
Adoption?:
Ok with me.
Wher's Name:
Rallisk
Wher's Gender:
Female
Wher's Age:
25
Wher's Color:
Black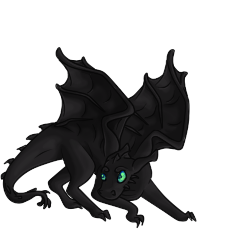 Lineart courtesy of
HeartofPern
Coloring courtesy of Cait.
Wher's Appearance:
Rallisk is about average size for a Black watchwher, standing about 4' 1" at the shoulder and measuring nearly the same from point of shoulder to point of rump. Like all watchwhers, she is extremely muscular, with heavy, well developed shoulders. She's probably more muscular than others of her size, owing to her early work in mines.
Wher's Personality:
Rallisk is generally self-contained and calm. She does what needs to be done, when it needs to be done, but would far rather be relaxing than working. However, when she's searching for something or someone, it's best to stay out of her way; she won't rest until she's obtained her goal. She doesn't like lots of noise, or people who complain, and really, she's not over fond of the rambunctious children that Rallin spends so much time around. That's not to say that she'd ever do anything to them, just that she would prefer that they leave her alone.
Wher's History:
"Rroo." With that sound, Rallisk entered the world, informing Rallin that she was there but that food was not. Most unsatisfactory. Rallisk grew quickly, and she spent the first 15 Turns of her life working in the mines, helping to dig tunnels and standing guard at night. She never clutched, being far too busy working to engage in such activity — or at least, that "she's been too busy working" is always what Rallin says when people ask him, usually with a broad grin.
Adoption RP sample:
Rallin looked around at the circle of expectant faces. He'd volunteered to watch the youngsters, and had promised them a story. Grinning, he began:
"There is a secret, known to a few, a back way through the tunnels of the great Ice Mine," Rallin spread his arms wide, accentuating what the vastness of the cavern for his young audience. "It was discovered by the great, intrepid explorer, Zarlon."
Several of the kids smiled, for Zarlon was a favorite story-character of theirs. He always wound up in scrapes and managed, sometimes only barely, to escape.
"Now Zarlon discovered this tunnel as a very young man, not much older than the eldest of you here…" Rallin lost himself in the story, enjoying the flow of the words as he spoke them.
Right when the story was about to come to a close, a large black head entered Rallin's field of vision.
"Rroo." The sound echoed up from the depths of Rallisk's chest, but was empty of any malice. Rather, the vocalization was contented, happy. The room had darkened, and now that it was evening, Rallisk had seemingly decided that it was time to see what was going on.
"…and that is the signal for bed," Rallin said. "Go on now, you'll get to hear more about Zarlon tomorrow," he continued, shooing the last couple stragglers along to where their parents waited.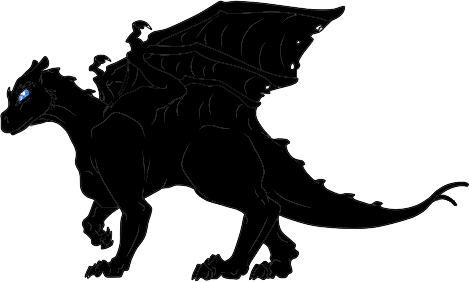 image credit:
HeartofPern