Post by Kaya on Sept 17, 2011 0:52:02 GMT -8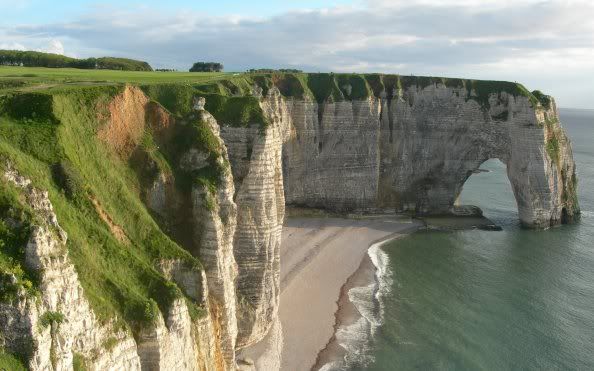 As bold and reckless as their origins, the Holdfolk of Cliffside Sea Hold are a hardy, stubborn breed with saltwater in their veins. Quiet and hardworking, the people of Cliffside are surprisingly hospitable to travelers, but do not be surprised if you are asked to help gut that morning's catch of Yellowtail. Predominantly a fishing village, Cliffside boasts a small-but-tenacious FisherCraft Hall that rivals all of the others. Built on top of a sheer escarpment overlooking the Western Sea, Cliffside Sea Hold is best known for its stunning geological features, marine exports, and its practice of earth sheltering. The soil, however, is too acidic and shallow for any practical farming. Cliffside Sea Hold receives its fair share of ocean storms, and living alongside the sea is a challenge most face head-on. The current WatchRider is N'kio of Black Metanath, a young, engaging Rider of thirty-five Turns who oft flies through hurricanes to rescue stranded fishermen and fisherwomen.
Cliffside Sea Hold is relatively young compared to the other Holds, founded in the fourth Turn of the 11th pass after a volcanic explosion at Waterfall Valley Weyr. The most recent Lord Holder is Ser Ralt Stell, a proud, gruff man with a bushy red beard and fifty-eight Turns to his name. He has a loud, explosive voice while out at sea, and likes to involve himself in every manner of the fishing process. In his youth, he built a two-masted schooner of his own and christened it "The Lady Harra II". The Lady of the Hold – and of Ser Ralt's heart – is Harra Weslen, a slim, brown-haired woman of fifty-one Turns. She's actually quite the comedian, if you can manage to get past her quiet display; she can gut, clean, and de-scale a Yellowtail in thirty seconds flat, and is a marvelous storyteller. Harra is most often seen watching the fishing vessels with her cloud firelizard, Aeolus. It is a well known, yet never spoken fact, that Lady Harra is the neck to Ser Ralt's head, and is the one who ultimately decides what is best for the Hold. Both Lady and Lord are somewhat reserved when it comes to public displays of affection. They speak little when together, and mostly about the monthly aggregate of fish products, but they're at a point in their relationship where they don't need words to understand each other. They are both kind souls who enjoy each other's company.
However, there is still a notable part of the Hold's history that leaves a bad taste in their mouth. Once, not so very long ago, Cliffside Sea Hold refused the call to arms and aid when a rumor of Dark Mists Weyr's return flew unchecked through Southern Pern. At that time, Cliffside was not as strong as it could be, and any possibility of an attack would leave it in ruins. Searches were stopped, the number of tithes sent to Rainbow Mists Weyr was drastically cut, and for a period of time Cliffside Sea Hold disappeared from the map. After realizing that their gamble was in vain, the previous Lord and Lady sucked up their pride and extended their aid to the Weyr once more before retiring. Now on fair terms with Rainbow Mists Weyr, Ser Ralt and Lady Harra are working hard to turn Cliffside Sea Hold around and into a strong support system. Approximately six miles from the valley, the people of Cliffside Sea Hold enjoy hosting small Gathers when their fish crop is good.
[
written by Moo
]