Post by shapeshifter on Jul 11, 2013 14:52:31 GMT -8
Name:
Andromeda Bendam (Andria, Rider Name)
Pronunciation:
An-drama-da Bend-am
Gender:
Female
Age:
24
Turnday:
57.10.21
Weyr:
Ice Stone Weyr
Rank:
Dragonrider
Family:
Lilliah Arrosi, Mother (NPC)
Friends:
Saphierah Medae(RMW);
Pets:
N/A
Appearance:
Andromeda had thick, curly, long black hair that falls just past her elbows with short side swept bangs. She has beautiful blue eyes that seem to pierce through you, almost as if she knows what you're thinking. Her height is of 5'4, athletically built with wider hips (and buttocks), thin waist and smaller breasts. Her skin is a very lightly tanned fair tone with peachy undertones and is very well taken care of. She has a musical laugh and voice, very charming and sweet. A small nose and mid cheekbones with a heart shaped face. Her average attire is a long tunic, skin tight breechs and riding boots that come to mid calf but when it comes to her formal attire she knows how to go all out with her extravagant dresses.
Personality:
She knows she's beautiful and isn't afraid to let you know that she knows. Her personality is not only stubborn but her beauty tends to make her a bit conceited. She tends to use her big eyes and long lashes to get what she wants out of men, almost like a "man-eater" would. She doesn't fall for just anyone; you have to catch her eye. She tends to make men think she wants them and then leaves them, it's a game to her. She just doesn't stay interested long with them, she has better things to concern herself with...like power and her rider status. She has a sdragon to Impress and no man is going to keep her from her goals. Her mother taught her to only rely on herself and do what it takes...and that advice is what she lives and thrives on.
History:
Andria doesn't have much of a history besides growing up as a child who stayed by her mother. Her mother traveled often up until Andromeda was three, leaving traveling behind to spend more time with her only child who's father no one knew but her. The only thing Andromeda ever received from her father was his last name, which is all she could ask for. At the age of 14 she was asked to become a Candidate but did not accept the offer until she turned 16 and determined what her goals would be in life. She felt rider life would suit her well. Since her acceptance, her mother started traveling once again and Andromeda has spent her free time between chores flirting with the other male Candidates and even some of the younger Riders. She was a free spirit and was going to take advantage of this day and these people.
Adoption?:
No
Dragon Preferences:
Female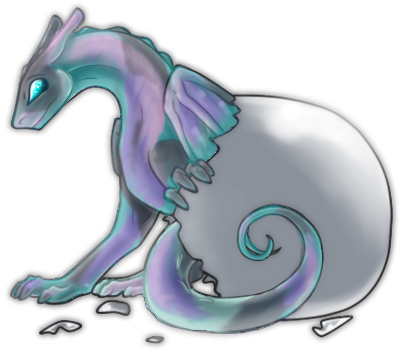 Name:
Ziaveth
Color:
Black Haze Aurora (f)
Personality:
Ziaveth is an extremely dignified creature. She has a high value to herself and uses eloquence to enforce along with graceful actions. However, she tries to keep down a fear that she constantly has for herself and hers. She keeps everyone around her doing exactly what she wants and plans, and hates it when people are off plan, because that is dangerous. She takes pride in her coloring, because it sets her apart from just being another dragon. With her silver tongue she can generally take advantage of the fact that she is 'exotic', and occasionally take advantage of her dark nature. After all, sometimes something that is dangerous is just that much more alluring. Ziaveth is good at talking her way into what she wants, and into a situation that favors her, but she will go to any lengths to stay safe.
Hex:
17999b ca99ce 6654b5 363341
Adult Length:
33 feet
Impresses:
Andromedae