Post by Anaxarete on Dec 8, 2012 17:33:43 GMT -8
Name:
Virvine Iceborn
Pronunciation:
VIR-veen
Gender:
Female
Age:
21
Turnday:
3052.13.28
Weyr:
Ice Stone Weyr
Rank:
Weyrling
Family:
Virvine's mother Adaile Iceborn (ah-DIE-lay, 42) is a cook in the Lower Caverns. Her father is unknown to her, but 'almost definitely Weyrfolk' according to her mother. No siblings.
Weyrmate:
None
Friends:
None yet.
Pets:
Aurora (F) Mist
Lineart by
HeartofPern @ DA
Appearance:
Virvine is an extremely tanned and freckly ash blonde who wears her wispy hair cropped short. Though her features are sharp rather than youthful, her age is often guessed lower than it truly is due to her being only four foot five. Her build is wiry and muscular for her size, flat-chested and thick-waisted with powerful legs and shoulders. With a nose that's been broken, a strong jaw and a stubborn chin, she considers herself plain at best, though her light blue-grey eyes are striking. She has a forked scar through her eyebrow, but it's not from anything interesting -- she slipped and dashed her head on stone stairs when she was younger.
Personality:
Virvine is painfully shy -- unless she's angry, in which case she promptly forgets both her nervousness and her size. Of course, then she's only more mortified for having lost her temper. The easiest ways for that to happen is if she feels either her mother or her dragon is being insulted. Her height, not so much -- she's used to it. But if it's implied she (or Throsnoth!) can't do something because of her size, she'll immediately go for it, no matter how ill-advised. If you can get past her shyness, Virvine is quite observant, with a wry sense of humor. She frequently nurses transient crushes on people she never actually gets the nerve to talk to, and is something of a closet romantic. She prefers to plan things out rather than 'wing it'.
She would just as soon spend every minute of every day within touching distance of Throsnoth, like she's secretly afraid if she lets him out of her sight he's going to vanish or she'll wake up and find out Impressing was all a dream. Virvine thinks he's amazing, and can be a little oblivious to the fact that, like new proud mothers, every dragonrider thinks their beast is the best to ever hatch off the sands.
She's diligent in her studies, but dreads her physical conditioning class -- which, she tries in, certainly, but more often than not her efforts in unarmed combat exercises end up looking a little, well, pathetic. Like a fire lizard trying to take on a wher. She has a good eye, however, and will likely do much better when they reach archery. Both she and her dragon love climbing, and having high vantage points to watch from.
When it comes to the issue of males impressing Silverlights, she's inclined to believe that the dragons know what they're doing, and as long as they dragons are turning out physically and mentally healthy, it's fine. And even if male Silverlights turn out to be a regular occurance, if Silverlight females are big enough to lay a full-sized clutch, why shouldn't we let them? This whole fuss just seems a bit old-fashioned to her.
History:
A dragonrider is the only thing Virvine ever wanted to be, from the time she was a little girl listening to Moreta's Ride at the knee of the WeyrHarper. Her mother, a forthright and practical woman, admonished her to keep her options open and not get so fixed on one thing so young, but Virvine was a daydreamer, and would hear none of it.
Due to her small size, she was asked not to Stand until she was fifteen or sixteen and had put on a scant few more inches. When her first Hatching did come, Virvine entertained fantasies of Impressing some rare or queen dragonet so striking, everyone would be sorry they'd ever teased her. Of course, that didn't happen -- Virvine was left un-Impressed.
She stood for many more Hatchings over the next five years, including one at Windy Peak Weyr, and was consistently unlucky. Her mother pressured her to give up this fool notion and start learning another trade, which was wise advice but did nothing to brighten Virvine's mood. She learned to sew clothes and the basics of mending leatherwork -- sewing, she even likes, but what she never liked was settling.
A mere sevenday before her twenty-first Turnsday, Virvine stood for what she swore would be her very last hatching, no matter what. If she didn't impress, she'd see about going south and apprenticing as a Weaver -- if she couldn't be a Rider, Virvine wanted no part of the Weyr. Then Throsnoth hatched, and everything was okay again, as far as Virvine was concerned.
Most of her time since has been spent in weyrling training, but she did recently find a single flitter egg in a nest that had been destroyed by predators. She's unsure whether it is still viable, since she has no way of knowing how long the nest was abandoned before she found it, but she's keeping it warm anyway. Throsnoth regards the egg with a mix of wariness and curiosity.
Adoption?:
Yes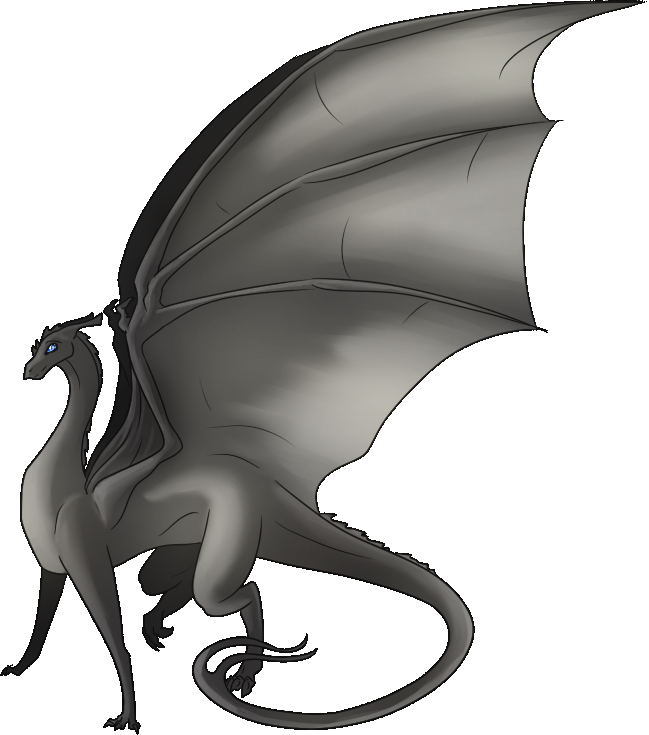 Lineart by
HeartofPern @ DA
Dragon's Name:
Throsnoth (THROWS-noth)
Dragon's Gender:
Male
Dragon's Age:
11 months
Dragon's Color:
Grey (Hex: 7c7676)
Dragon's Appearance:
As he grows, Throsnoth is beginning to reveal himself as fine-boned even for his size, with a very smooth, uniform color to his hide. (Adult size: 17 ft)
Dragon's Personality:
This tiny gray is not big on physical contact. He is fine with his rider and such, but it will take a while for him to get comfortable with others touching him. He is a listener, and isn't a big fan of being in the middle of large groups. His favorite activity is watching at a distance dragons and their riders having fun. He is actually on the cheerful side for a gray, but it will take a bit of encouragement to get him involved with other dragons. He will be just fine with only being with his.
Dragon's History:
Hatched from Temperanth's clutch by Varketh, Throsnoth was the second to break shell and the first to Impress of his brothers and sisters.
RP Sample:
Never again
. The first shells were cracking, and Virvine was already bracing for disappointment. She would never set foot on the sands after this, regardless of whether she left with a dragon today. A Chrome broke his egg first, and scurried back among the unhatched eggs. Since that color only Impressed males, Virvine refused to so much as look longingly at the lovely creature, even as her heart went out to him. If she woke to such a sight as a Hatching, she'd run and hide too.
A little grey came next, and as it stumbled toward the female candidates, Virvine stomped down on the butterflies of hope rising in her stomach. The dragonet wandered down the line on clumsy new legs, shying away from any candidate who reached out or moved towards it. It peered at the girls' faces in a way that Virvine could only interpret as sober scrutiny, when suddenly he -- and she was suddenly sure the dragon was a he -- met her gaze.
The tiny grey sprinted toward, her, crying with relief, "Vir-mine! Vir-mine!" He stopped at her feet, eyes suddenly spinning yellow with worry. "What's wrong, Virvi-mine? ...I didn't mean to keep you waiting." It was only then that Virvine realized she was crying.
"Nothing, Throsnoth. Everything's perfect." She looked around, caught sight of her mother beaming from the stands, and spirited her Throsnoth away as though worried he'd change his mind.