Post by shapeshifter on Jan 8, 2014 22:04:43 GMT -8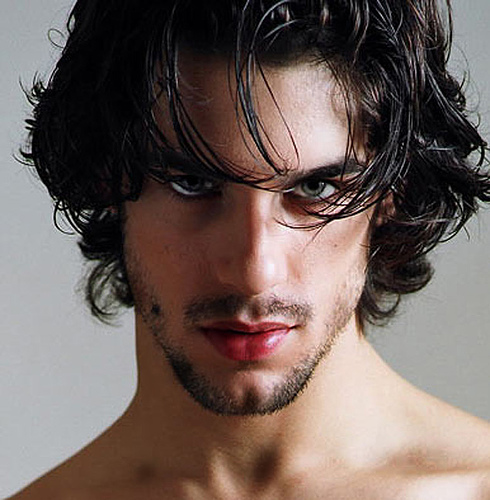 Name:
Venor
Pronunciation:
Ve-nor
Gender:
Male
Age:
17
Turnday:
59.01.07
Weyr:
Rainbow Mists
Rank:
Candidate
Family:
Fera Songborn (mother); Brenton Songborn (father); Fenton Songborn (Sibling, 15); Hentor Songborn (sibling, 16)
Friends:
n/a
Pets:
n/a
Appearance:
Venor has jet black hair, with highlights of brown in Rukabat's rays. He has cold, stormy grey eyes and sun-tanned skin from, as mentioned before, running around in the sun hunting all day. He has stayed fit over the years from constant running and working with runners. His hair falls to his neck in the back and around the ears, laying shaggy on his head. Like his father, he received good height and looks. He is only as high as six foot, one inch and he probably won't grow any taller if he can help it. His face is well defined, a strong chin and jaw line with a thicker nose that rounds at the tip. His eyes have long dark lashes and not too thick, not too thin eyebrows. His face tends to have a round the clock, five o'clock shadow...no matter how much he shaves.
Personality:
Venor was never the quiet type, always speaking his mind even when his two marks were never needed. He tended to find ways to get into trouble with the hierarchy, whether he verbally said or physically did. He was often found running around the Hold as punishment for his foolish ways. Pulling pranks with his buddies was one of his favorite things to do at his old home, Melisong Hold. Typical arguementive, self absorbed, trouble-making teenager...did I mention self-absorbed? He had always cared about himself, how he looked and how his rank would one day rise. Cold hearted some called it, but yet he still found ways to get girls to fall for him. Isn't that odd? It must be his good looks...because his personality isn't the most ideal. He can be very defensive at times, jumping on someone who insults himself. He has his standards, and expects them to be met within reason of it all.
History:
He has his faults, yes, but he has his perfections. This main skill would be hunting. He is an excellent hunter on runner back and on foot. This was acquired through spending time with his father and brothers, supplying meat to Kitchens in Hold and Weyr alike. Since the time he was born, till his Search day, Venor spent any time other than his free time, in the woods on runners hunting for birds and other prey to be on the dinner tables. His father and brothers were excellent huntsmen, never missing a beat out in the wilderness surrounding Melisong. However, Venor was not the favorite of his parents, no matter how skilled he was. He tried his best to impress his father, who only revered his older brothers. He lashed out, so to say, by being the troublemaker of the family. Whether it was good or bad attention, at least he received attention. He never understood why he was the "disappointment" of the family. He even tried to receive attention from his mother by running her errands occasionally when she asked. She was a tailor, yet not an "official" tailor by trade. She just spent her time as a seamstress, hemming things at a low mark to scrape up and make ends meet for the family.
On his Searching day, Venor was in the middle of a prank involving a bucket of water, a rope and a window sill...all in the middle of winter. Needless to say, the Rider who's head it landed on was not too amused, whereas the boys were. After his parents made him do laps around their home, the Rider discussed the Searching process with them; they agreed. When Venor was called to the dragon pair, it was almost an immediate choice. The Rider was not happy about his dragon's pick, but who was to argue with a being who never failed on his picks?
They Venor left the following sevenday for Rainbow Mists Weyr as an official Candidate. His dreams were going to come true. He wanted to impress a dragon, a dragon with rank to prove to his family he was better than they treated him. One day, he would be able to look down on them...not the other way around.
Adoption?:
If I'm gone for a VERY long time
Dragon Preferences:
Copper would be AWESOME xD
| | | |
| --- | --- | --- |
| Preferred Colors | Copper, Black, Blood | Rank and his history say it all |
| Cross Impression? | No | Comments? |
| Preferred Dragon/Rider Pair? | None | Comments/Reasons |
| Preferred Personality Traits | None | How important? Comments/Reasons |
| Mauling | Don't care | No preference |