Post by Cait on Feb 8, 2015 22:54:25 GMT -8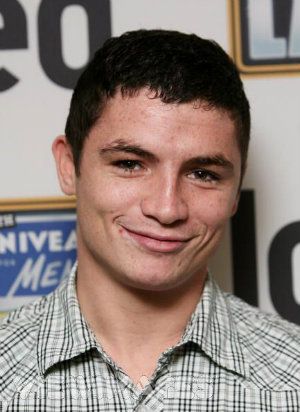 Name:
V'quin (Varquin) Varshay
Pronunciation:
vuh-keen
Gender:
Male
Age:
26
Turnday:
52.05.17
Weyr:
Ice Stone Weyr
Rank:
Wingrider
Family:
Daventar Varshay; father, 51, weaver
Quilla Varshay; mother, 44, midwife
Tarill Varshay; brother, 25, weaver

Davquil Varshay; sister, 22, rider of Purple-Grey Niekolgoth
Quivent Varshay; brother, 20, journeyman weaver

Weyrmate:
None
Friends:
Hedara Lune; 26, Sr. Weyrwoman of Ice Temperanth
Pets:
None yet
Appearance:
Coming in at about eight inches over five feet, V'quin is the tallest individuals in his family having an inch on his father. For the weyr, however, it is perhaps more on the average side and his build is typical of a rider. Strong legs, narrow waist and broad shoulders, all signs of a strong individual. His complexion is atypical of a Northerner, however. His skin tans easily and is covered in freckles. His hair, which he keeps cropped close, is prone to curling when it gets too long; it is thick and black. His eyes are a dark brown that looks black in some lights and he possesses laughter lines at the corners of both his eyes and mouth. In all he is rather attractive but not overly so. There is just enough roughness about him to keep his looks from going to his head. A dependable, dedicated rider, his wardrobe is comprised primarily of riding gear and other practical clothing with a gather tunic here or there.
Personality:
A complex and multi-faceted young man with a seemingly endless capacity to surprise those around him. For the most part, what people see is a serious-faced, dedicated, hard-working wingrider with the potential to be so much more. He does everything that is expected of him and then some. Most think it is only a matter of time before he gets a promotion; V'quin doesn't really waste time thinking about such things. However, despite what some people may think, this Ironrider does know how to relax and let go. Perhaps not so much in the beginning but between Irrakath and friends made during weyrlinghood, he can relax with the best of them. Catching some sun with his dragon isn't an uncommon occurrence, neither is seeking out the company of his closest friends.
Beyond that, however, is a side that is kept well hidden by practicality and the stoicism of having been raised in the far North. In fact, those who have never witnessed this rare aspect of his personality might even question his relation to his sister had they not looked so very much alike. V'quin, though he doesn't like to admit it and will even deny it, can be outright silly. It typically only comes out if he is overly tired or overly drunk, otherwise he keeps it under wraps simply because he is a grown man with things to do. However, it does tend to manifest in his near giddy delight in all things classified as "treats", be they sweet or savory. He also has an inordinate fondness for small, fluffy baby animals. He also has a weakness for baby humans as well, though the whole birthing thing and being a part of the process has freaked him out ever since he was a boy and was inadvertently witness to a birth; it was loud and scary and messy and traumatizing. It is, perhaps, this not entirely suppressed love of life and the near perpetual faint upturn of the corners of his mouth that make him seem approachable.
History:
Though his family clearly has southern blood coursing through their veins, they are a multigenerational Northern family. That being established, Varquin was first born to a weaver and his wife. He was a more or less happy child who took to the idea of being an older brother quite well. He did not, however, take up weaving readily or willingly. He was far too suited to more physical work. Though as he put off apprenticing, one year turned to two and then five and before his family realized it, he was sixteen with no more than a year here or there of earning under any given trade. It was then that he was Searched. It was before the split of Weyr and Hold, before tensions became too high. With very few other prospects available to him, Varquin left for the weyr just after his seventeenth naming day. Surprisingly, he found that weyr life suited him. There was always something for him to do and learn and he worked hard and set to his chores with an industry that made him a favorite of the Candidate master.
Sadly, he was not a favorite of the Hatchlings and it wasn't until his nineteenth turn that he managed to Impress to a Haze-Iron by the name of Irrakath. The pair took to training quite well and it was during this period of Weyrlinghood that V'quin met Hedara. She was the serious smith woman that had Impressed the Ice Queen. Not liking to see her so serious--though he himself took his training quite seriously, he did know how to let loose just a little--he worked at befriending the woman. It was Irrakath that succeeded first, endearing himself to Temperanth first and then wheedling his way into Hedara's affections in that subtle yet insistent way that he had of charming the people in V'quin's life. In fact, his only sister was so enamored of the young Haze-Iron that she begged and pleaded until V'quin agreed to find a way to get her into the weyr as a candidate.
It was shortly after Temperanth rose for the first time that--Irrakath gave chase but was beat out by a wily older dragon--that V'quin devised a plan to get his sister to the Weyr where she became a Candidate and much to his eternal pride, Impressed to a rather peculiar Purple-Grey dragon after making friends with enough ease to make Irrakath jealous. As fond as the Haze-Iron is of Davquil, when she and her closest friend T'vax went missing one night leaving their dragons with no idea where they were but only certain that they were not dead, Irrakath, normally docile and almost sweet in nature, became a whirling storm of agitation and anxiety. V'quin wasn't much better and there were times when he couldn't even rouse himself to comfort his dragon who formed unusually close attachments to the people in his life. At one point he even took out his frustrations on not behind able to find his sister on Hedara; she took it gracefully and he later apologized profusely and with cookies.
When Davquil and T'vax returned, his sister clinging to life and her friend not much better, V'quin was beside himself. He refused to leave her side unless he was physically dragged away by the healers or Hedara. But she survived and he is grateful that she has seemed to more or less bounce back from the ordeal--he still hasn't gotten her to tell him the details--and is glad that she is happy. At first he was skeptical when Dav moved into T'vax's weyr, but she seems content and Irrakath insists that she is happy so he doesn't bother her too much about it. Now V'quin and Irrakath have settled back into their work and support of the weyr as things only seem to get worse in the world.
Adoption?:
NPC
Play By:
Jody Latham
Dragon's Name:
Irrakath
Dragon's Gender:
Male
Dragon's Age:
8 Turns (3071)
Dragon's Color:
[smear:000000]Haze-Iron (666666)[/smear:666666]
Dragon's Appearance:
A rather impressive beast, Irrakath measures in at just over thirty-eight feet in length. Despite his exaggerated size, he is a dragon built for agility and speed with the potential lasting power to put any queen to shame. His hide is a mixture of greys, though primarily his hide is a dark grey that fades to a lighter grey on his chin, chest and rump as well as on his wing membranes. Over it all, however, is an ever shifting black haze; the reason for his excessive size. While this trait makes some apprehensive, it is really neither here nor there with this dragon and his rider. In truth, it is a stunning effect and one that his rider's sister is in awe of.
Dragon's Personality:
Just as his appearance is a bit atypical for an Iron, so too is Irrakath's personality. Mild-mannered and mellow, whether it is his constantly shifting hide or simply an aura about him, there is something subtle yet intense about the way Irrakath interacts with the world around him. While he doesn't often indulge in conflict he does like to be near it and while it is clear that he does not care for the sight of blood, is rarely far from the site of an altercation; whether this is by coincidence or design, not even his rider is entirely sure. What is certain, however, is that Irrakath loves being around others; dragons or people. Unlike your typical child-like Iron, however, Irrakath's sweetness is more subdued and quiet.
Subtlety seems to be his method of choice when garnering the affections of those around him, particularly when it comes to those important to his rider. Infinitely patient and determined, he will do whatever it takes to wiggle his way into the good graces of any human, dragon or even firelizard in order to build his little network around V'quin. Though he seems to prefer female company when not attached to his rider's shadow, it isn't unheard of for the Haze-Iron to seek out a fellow bachelor to sun with.
When it comes to Flights, however, Irrakath tends to lay low, avoiding chasing the more promiscuous females as they tend to be small and not much of a challenge. But when he does give chase, he is an entirely different creature. A born fighter, Irrakath is prone to using risky maneuvers and vaguely aggressive tactics to get his competition to drop out. However, even though he has given chase, his heart has never really been in it. His will to succeed is directly affected by his attachment to the female in question. If there is no attachment then he is simply flying for the thrill of it. Besides, as queen flights are so sporadic, he often feels that he is too large to fly the females that do rise and while he might be a bit rough with his competition he would never dream of injuring a female in flight.
In fact, despite his size and ferocity in the sky, Irrakath is quite gentle with everything smaller than he is; almost paranoidly so. The smaller a creature, the more nervous it makes the Haze-Iron to the point where absolutely tiny things like puppies and kittens actually frighten him. Despite his rider's love of canine pups, Irrakath has been irrationally fearful of the things since his hatching. They are small and fluffy and they jump. Being so unpredictable, the Iron becomes quite skittish when they are around and will actually flee if they come at him. If they come at him in numbers greater than two or three he will take flight to escape. V'quin isn't entirely certain that it's simply because Irrakath doesn't want to hurt them as there is a level of panic that is felt that goes beyond simple concern for a smaller creature.
Dragon's History:
Before Weyrling training was complete, Irrakath had made friends with quite a few of his siblings as well as the adult dragons in charge of training and all of their riders. He was a favorite for one reason or another; his docile nature, his willingness to fly hard or simply because he didn't mind company when he was sunning. This suited him well as he enjoyed contact with others, both physical and emotional. But always his rider came first. His rider and those closest to him. Irrakath started early with his tendency to herd his rider's loved ones. Endearing himself to them and then possessively watching over them, making sure they stayed safe.
While he had won a Sunset's flight, Irrakath was eager to test his wings on a Queen, so when Temperanth rose in flight for the first time, he gave chase...only to be beat out by a Crimson who was a bit more ruthless in his tactics than the Iron cared to be. Aside from giving chase out of boredom, he has stuck to chasing the Queens of the weyr. When he lost to a Cloud on Temperanth's second flight, however, he was a bit put off and to everyone's surprise, actually sulked for a few days. Still, every bit as determined to succeed as his rider, Irrakath will try again the next time his companion rises. Though, truly, so long as she is happy and lays a healthy clutch that is kept safe, he is content. Content to lurk in the shadows and watch over those he and his rider cares about with a sometimes overwhelming intensity.