Post by Darwin on Aug 26, 2018 17:17:30 GMT -8
Name:
Aravire Iceborn
Pronunciation:
air-ah-veye-re
Gender:
female/hetero
Age:
21 Turns
Turnday:
M10 D15 T3057
Weyr:
ISW
Rank:
Wingrider
Family:
Mother- Arrai, Journeywoman Healer
Father- Trevire, Journeyman Smith
Brother- Tarave, Jounryeman Smith
Sister- Raivi
Brother- Aivine
Brother- Varrin
Sister- Iravi
Weyrmate:
(open)
Friends:
(open for any)
Pets:
Blue Timid
Appearance:
Long blond hair, blue eyes, and standing at 5'6". Her hair reaches to the middle of her back and is completely straight, not even the hint of a wave or curl. She generally keeps it up off her neck in a runner's tail or braid. Her blue eyes are always taking things in and hardly miss anything that happens around her, whether she has been there many times or not. She has filled out with womanly curves, showing early on in her young life. She has curves in all the right places despite her wiry appearance, and her chest area is a little more than average. She has a nice simple chin that moves up to high cheekbones. She has thin wide lips and thin eyebrows. She has a nice red dress that she keeps at the bottom of her travel trunk and wears that dress for those special occasions. She has a small box at the very bottom of her travel trunk. It's a nice dark rosewood color with her and her dragon's names engraved on the top.
She keeps all of her jewelry in it. She always wears a simple silver necklace that has their names engraved on it as well. She had received it as a gift from her older brother before he'd been transferred. It also has a ring to match. She saves the rest of her jewelry to wear for special occasions. She has a leather hide belt she wears all the time. It was a gift from her second oldest brother after she had started standing at hatchings. Her mother taught her to have proper posture in public, but when she's alone, she's not stiff. She slouches and relaxes when she gets moments alone. Aravire prefers darker, richer colors. Her skin is not the translucence of the more common redhead, but the paleness that some dark brunettes have. Her skin tone favors darker colors. She wears skirts out of duty, but prefers pants and tunics if she has to get dirty. She has a small scar on the outside of her left thigh.
Personality:
Energetic, dependable, considerate, impatient, hard-worker, fierce temper, and loyal. Aravire is a hard worker and loyal to her family and to Ice Stone. She adores children and hopes to have a few someday. She hopes to find a mate that she could love, trust, talk to, if one exists, one that is not simply interested in just another romp in the furs. She is a very hard worker with a soft voice and an easy smile. She is very serious about her duty as a Dragonrider, and takes Weyrling Lessons seriously. She hides her true feelings from others because she doesn't want anyone to know her mind. She feels that her mind is the only safe place she can retreat to and think things over clearly. She has a bad temper when she loses it, but there is a long fuse that leads up to the loss of her self control.
Aravire does have a temper, but she's so good-natured that it takes a long while before she does get angry. She values friendship and doesn't like anyone trying to manipulate her for their own reasons. She is tough when it comes to hand to hand combat, and she doesn't hold back, usually, when sparring. She has sharp wits and an even sharper mind when dealing with bullies. She has a habit of doing more than her share of chores. She doesn't mind the work and actually uses it as an excuse to be alone. She likes to work alone, unless when the situation calls for more than one body. She isn't afraid to speak her mind and will often listen to a conversation for a bit before saying anything. She is considerate of others, unless they really anger her. When she is in a bad mood she glares at people, whether they are the person she is mad at or not. She doesn't lash out at people when she loses her temper, though she does curse a bit when she does.
She hates bullies and people that are arrogant. She is impatient when people tend to take a while doing one simple task, especially when it prevents her from doing whatever task she is assigned to. She will tap her left foot if she is kept waiting. It is a habit she can't break. Aravire is a dependable woman. If you ask her to do something, she'll hardly say no. Even if she doesn't like the chore or what ever it is that she's being asked to do. She will never turn down a plea for help. She loves a good joke, even though she can't telling any herself. Aravire is a calm young woman in the face of disaster. She never lets anything rattle her, except for when she is alone with her Raeth. She has an aloof manner when she just wakes up and hasn't had her cup of fresh halk in the morning.
She is friendly and inviting once she's taken her first sip of the warm and invigorating liquid. She loves her life mate and their bond has become very close since impression. She is afraid of one day losing her beloved Raeth. She was a bit nervous since impressing to the beautiful Aurora, but accepts the responsibility happily. She has an abundance of energy she uses when she's attending Weyrling Lessons, or just when she's talking. She has a habit of speaking a little faster than normal when she's really excited about something. Aravire has another side to her that comes out only rarely. She is a complete romantic. She doesn't let it show because she perceives that to be weakness and she has a fear of that. She keeps it under a tight control, though it does manage to show itself from time to time.
History:
Aravire was born as the third child of six. She was born at Ice Stone Weyr to a Journeyman Healer, Arrai, and a Journeyman Smith, Trevire. She was always on the move almost right after birth. She could not keep still for a full ten minutes. She was running with the group of children pulling pranks or finding some kind of mischief. Though she wasn't the prank kind of child. She had never pulled a prank on anyone. She was just with them for the laughs. Or the punishment when caught, since she was with them. She loved to go for rides on runners at the age of six turns. Her oldest brother, Tarave, taught her to ride in his spare time. And she loved it every moment of it.
By the time she was twelve turns, she could ride a runner bareback and only the bridle. She would often go off on her own on rest days. She would head to the Hatching sands to sit in the stands and contemplate whatever was on her mind. One rest day after she'd just turned 12 turns, she headed for the Hatching sands again and made her way in. Only this time, a wild gold had clutched eggs on the sands. She hurriedly told the first person she saw of the wild firelizard clutch on the sands. Though she was busy helping in the lower cavers when the firelizard eggs hatched, and was unable to impress one. She was very close to getting another firelizard egg, but again, missed her chance. For a few months after she'd turned 12, Aravire gave some thought to what craft she wanted to apprentice too. She didn't want to stay at home all her life and not do anything useful. Though helping to clean and cook was useful. She settled on the Baker craft and apprenticed to the Senior Journeyman Cook.
She had just barely turned 13 turns when she stood for her first Hatching. She was bubbling over with the giggles and happiness when she stood. Though she didn't impress at the time. So, during the time between Hatchings, she helped with meal preparations along with her Candidate chores and Lessons. After her 19th birthing day, a clutch on the sands began hatching. Aravire stood with the other candidates and waited. A bright smile lit her face as the eggs rocked and cracked. One or two of the shells flung broken shell pieces everywhere. And then… Aravire witnessed the hatching of what she thought to be the most beautiful dragonet she'd ever seen. She was a beautiful silvery dragonet with a sheen of blue and green, and lavender and purple as well.
All the hues blended in a most beautiful fashion on the silvery hide. The beautiful dragonet approached Aravire without any preamble and spoke to her. Impression was made. Since her impression to the beautiful Aurora dragonet calling herself Raeth, Aravire had been having a most pleasant time with her Lessons. Especially when the Lesson involved Raeth. Graduation came and went. Aravire and Raeth are both wondering what the future holds for them.
Adoption?:
No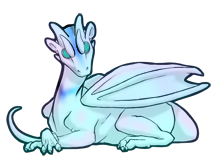 Dragon's Name:
Raeth
Dragon's Gender:
Female
Dragon's Age:
3 Turns
Dragon's Color:
Aurora [B588FE - 88FED3]
Dragon's Appearance:
Raeth is the smallest of what an Aurora would be, reaching 27 feet, and she lacks some visible strength. Her muscles are lean and wiry, and she is slender and delicately built, almost as doll-like. With a long tail and broad, beautiful wings, she is stunning to see, her silvery hide gleaming radiantly in blues and greens under the sunlight. From end to end, she is pale and elegant, but for a v-shaped blaze, which starts between her eyes and runs halfway down her neck, flaring briefly, elegantly forward to close at the front of her neck like an elegant, antiqued collar.
Dragon's Personality:
Raeth is a creature who seems to come across as cold and calculating. She will do things that others may find unpleasant or even repulsive. She knows these things need doing and will carry them out with the minimum of fuss. She is a fiercely loyal dragon, and can seem very aggressive to any if she feels they are a threat to Hers. She is arrogant at times, and seems to dismiss any she feels are below her. She can be warm and friendly, but usually only in private to Hers.
Dragon's History:
She hatched and found hers easily enough. Nothing really noteworthy during their Weyrling Training except for the time Raeth flew and nearly hit the wall of the Weyrbowl. But she learned her lesson for flight and had since then mastered flight.
Roleplay Sample:
Death's Promise
It had finally happened. She had hoped that it never would have come to this. She stood on her weyr ledge, looking down at the Weyrbowl's ground floor. It had happened so fast, they had arrived without warning. Nearly every new color of Dragon lay dead or dieing on the Weyrbowl floor. Aravire was in shock. Her beloved Raeth was, thankfully, not one of the dead or dieing. They had been out to the beach to help ferry Candidates on a wonderful rest day. And then to return, to this macabre horror. She could see many of her friend's dragons on the ground. Dsirth, Nabaneth, Daylith, Olinath, Adaneth, and many others she recognized immediately, all dead.
Tears flowed unchecked down her cheeks. She didn't try to stop them, or wipe them away, and invariably, the tears blinded her eyes. She couldn't turn away from the carnage that seemed to hold her spell bound. Only a few people, including riders, some of the original colors and a few of the newer colors, had survived this horrible nightmare. She had spoke with Savvi a few moments ago upon returning, flying straight due to Raeth being heavy with eggs and due to clutch any day, to discover the carnage below her. She'd heard, from Savvi's point of view and had learned a good deal had happened since they'd left at dawn. From what Savvi, and a few others, had told her, Telgar Weyr had launched an attack on them. Telgar, apparently, was bent on wiping the new colors off the face of Pern for good, instead of sending them to another place.
Mine. I need you on the sands! NOW!
Aravire turned on her heal and ran for the Hatching Sands. She arrived out of breath, and in a panic. She was afraid that a few of the Telgarian Riders had been hiding to kill Raeth and herself, but no. Raeth sat on the sands, three precious Eggs lay on the warming sands, mottled and glistening from just being laid. A moment later, and another egg joined the first three. And soon five more eggs joined the others. Aravire couldn't help the huge smile on her face at the eggs that graced Lellinias Weyr's Hatching Grounds. From death, life would renew the Weyr back to it's strength. The Aurora Rider fell to her knees and let go. She sobbed openly, not trying to keep anyone else from hearing her. She could only allow herself this one moment of weakness, for from now on, she needed to be strong and help to rebuild and try to repair what Telgar Weyr had done.
No Dragon should ever have to fight Dragon, no matter what color was the on Dragon's hide.
*~*~*~*~*
this was a thing I did on the old site they are from for a Fan Fic contest.