Post by Kaya on Apr 13, 2011 19:16:17 GMT -8
Key
Name
(Gender of Dragon/Gender of Rider) Rarity Length Range
Color Hex Code
F = Female
M = Male
E = Either
S = Same Gender
C = Common
U = Uncommon
R = Rare
Queens:
Gold, Silver, Rainbow, Abyss, Azure, Ice
Kings:
Bronze, Crimson, Tiger, Ice, RR Flame
Dragon lengths are measured from the front of their chest to the back of their hind leg where the tail joins the body. Measurements are given in feet.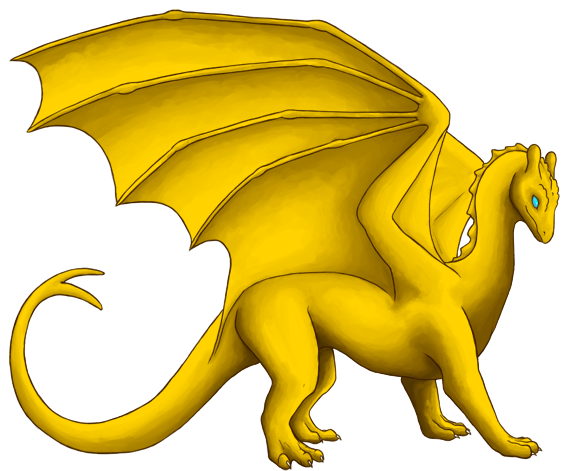 Gold
(F/F) R 40-46+ #FFD700
Appearance:
Gold dragons are the largest dragons on Pern, ranging from 40 to over 46 feet in length. Their hides have the most brilliant glow of all metallic dragons. Golds are strong fliers but lack the nimble agility characteristic of smaller dragons.
Personality:
Golds are prideful dragons who enjoy being in charge and take their jobs seriously. A young Gold enters adulthood with intensity as she settles into a personality she will keep for the rest of her life. When stressed, Golds seem to be hardhearted, but a few kind words - or lack thereof - can make or break their day. They typically become better judges and act with level self-certainty as they age. Golds choose Candidates possessing good leadership qualities and a strong will. After all, her Rider must be a superb Weyrwoman.
Other:
When fighting Thread, Riders must use a flamethrower to keep a Gold fertile. In Flight, they are usually caught by Kings, though the rare Brown-sized dragon may also catch one.
Abyss
(F/F) R 38-46+ #666666 #FFCC33
Appearance:
The hide of an Abyss is black with golden rips and streaks that cover her entire body. It is believed they range in size from the largest Queen to the smallest Silver, but as only one dragon and a handful of firelizards of this color haves ever existed prior to recent Turns (when Abyss Sunvoiath became the second dragon of this color), much is left to know of these dark, mysterious Queens.
Personality:
The Dark Queen. Beautiful but terribly vain, Abysses expect to be acknowledged and obeyed as leaders. They do not tolerate insubordination and are quick to punish others yet forgive themselves. They have short tempers and no patience. They want the best and they want it now. They will always try to get what they want. It is believed that Abysses Impress to Candidates who are as vain and flirtatious as they are.
Other:
Abyss don't Fly until they are 4 Turns or older. They are normally caught by the King colors and fly to their very limits. Abysses can lay abnormally large numbers of eggs. Abysses originated at Dark Mists Weyr.
Rainbow
(F/F) R 38-43 Varies
#FF0000 #FF6600 #FFCC00 #33CC00 #6633FF #3366FF #993399
Appearance:
These metallic dragons have hides that display every color of the rainbow. They have a glossy sheen and their colors shift in the light. Though Rainbows are less common than Golds and Silvers they earn their respect rather than demand it.
Personality:
Rainbows enjoy talking and sharing recent news. Of all the Queens they are the most open and conversational, willing to give their opinions or feedback when it is asked of them. If there's an event upcoming - Gather, feast, or festival - a Rainbow is bound to be there. They love to help and take far more interest in the smaller goings on of Weyr life than other Queens. Anything but shy, they enjoy a large circle of friends. Rainbows tend to choose Candidates who are like themselves and become somewhat possessive of them as they get older. Their desire to be the pride and joy of their Rider's eye drives them.
Other:
Rainbows are born from regular, mottled eggs.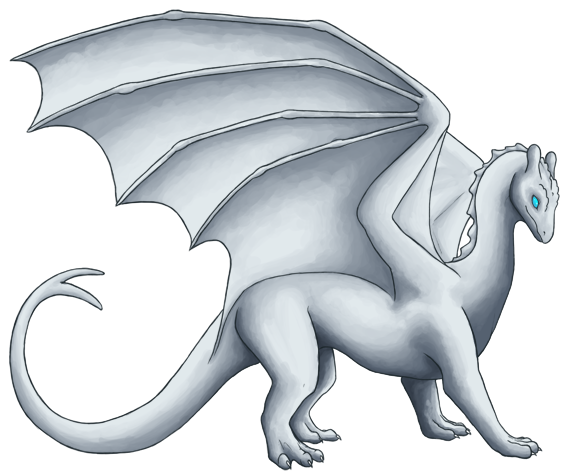 Silver
(F/F) R 38-42 #C0C0C0
Appearance:
Rarer than Golds, Silver dragons are the third largest female dragon, ranging from thirty eight to forty two feet in length. A Silver's glossy hide can range from light to medium dark silver.
Personality:
Silvers are the calm minds in the middle of busy Weyr life. They value tranquility, actively seeking out a personal quiet place. These elegant dragons know who they are, centered in their honest opinions and convictions. Though they enjoy listening to others, Silvers are not easily swayed. They carry the same air of command as Golds. Of all the Queens, Silvers appreciate and value pleasantries and formalities the most. From a Silver, everyday orders sound more like requests. However, high priority tasks elicit commands in a cold, business tone. They choose Candidates possessing unique, serene personalities as well as good leadership qualities.
Other:
Silvers are born from golden eggs.
Ice
(E/E) R 38-42 (F) / 35-39 (M) #33CCFF #3333FF #000099
Appearance:
Ices have hides made of various shades of blue with white flecks.
Personality:
Ice dragons can be natural leaders and are generally peaceful. If threatened, they will rise up and strike.
Other:
At Ice Stone Weyr, they were elected the Ice-Leaders of the Weyr and considered Queens and Kings up north. It wasn't until their discovery by Kaya and the search party that they were found.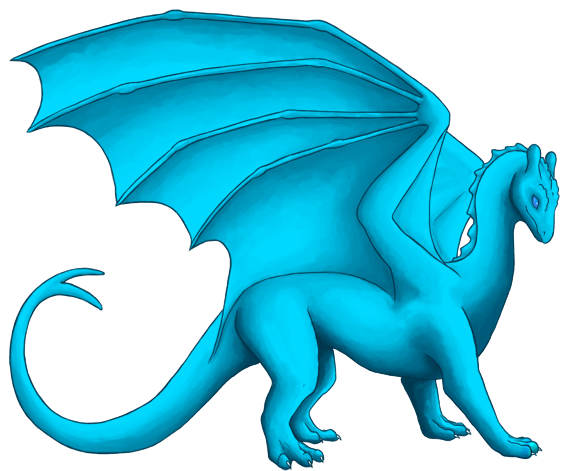 Azure
(E/S) R 37-42 #00BFFF
Appearance:
Azures are beautiful light blue Dragons, with hides that range from the palest of blues to stunning azure blue. They stand tall and alert and are almost always tense.
Personality:
Due to their rarity, little is known about Azure dragons; loyal companions, they have been observed constantly at their Rider's side. Their capacity for revenge knows no bounds and should their Rider be insulted or injured, they are quick to avenge them.
Other:
It is considered both a blessing and a curse to Impress an Azure. The myth of a curse surrounds them: the curse of the Azures. It is said that all Azure Riders will end up mauled or murdered and that their Azure will avenge them.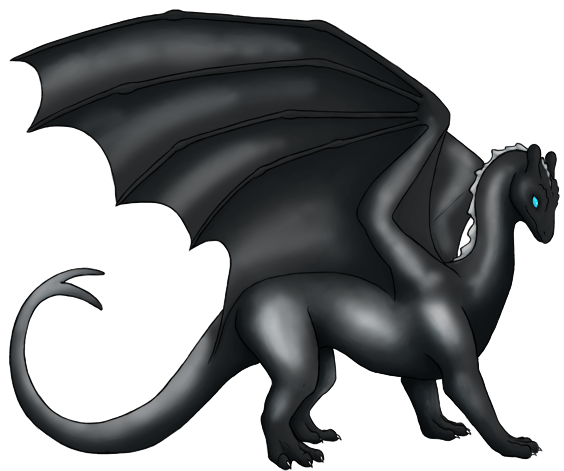 Silverlight
(E?/E) R 36.5-42 #666666 #808080 #C0C0C0
Appearance:
Silverlights are a deep black overlaid with a shimmering silver that gives them a glittering quality. Spinal ridges, claws and teeth are the same silvery color and add even more of a sparkle to the dragons. They possess long, tapered wings that fold over their backs much like those of small birds. They're remarkably agile.
Personality:
Docile and good-natured, Silverlights enjoy flying and possess a deep rooted love for Firelizards. They understand and respect WatchWhers and, unlike most dragons, will converse with them freely.
Other:
Silverlights are Queens at Ice Stone Weyr but don't traditionally hold top leadership positions as those have been filled by Ices. They can only be clutched by a female Ice dragon.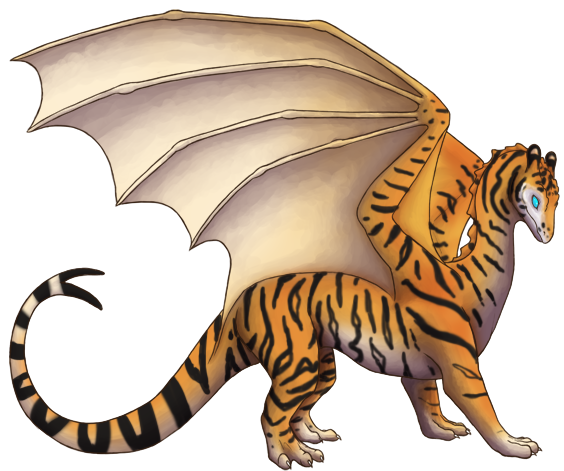 Tiger
(M/M) R 36-42 #ff9900 #666666
Appearance:
Tigers get their name from the big cat of the same coloration, and their hide can range from a light orangish-white to a deep reddish-orange, with solid black striping which can take on various forms, including a mesh-like pattern, with connected stripes, small triangular stripes, long winding stripes, straight evenly-spread stripes, or zigzags. As newborn dragonets they range in size between Whites and Blues and grow to thirty six to forty two feet in length as adults. However the last two feet in their upper range are rare. Their wingspan is almost always slightly larger in proportion to most other dragons, and they have well-muscled shoulders, which gives them power in attacks and speed at the cost of maneuverability during flight. Because of this, they are the least likely King to catch a Queen.
Personality:
Tigers are one of the only dragon types to recognize their parental bonds with their clutchmother and father, and even show respect for their clutchbrothers and sisters. They are fiercely loyal and incredibly intelligent. When it comes to their Bonded they are very playful, respectful, and loving. They love to do things with their Riders especially, preferring their company over anyone else. Tigers show a remarkable ability for self-control, and can even resist the urge to Rise during a Flight. Tigers typically prefer to Rise when the one Flying is a dragoness they truly care for, however this is not always the case. Tigers tend to stray away from befriending the smallest one-third of dragons, as when they engage in play they can injure those who aren't big enough to handle their force. They Impress to ambitious and driven males, preferring those whom they know they can improve.
Bronze
(M/M) R 35-40 #B8860B
Appearance:
The largest and strongest of the male dragons, Bronzes range between thirty five and forty feet in length.
Personality:
Bronze dragons are strong willed and quiet, never talking outside of their Rider and occasionally the Rider's Weyrmate. They are dragons of action and strategy, though the strength of the two skills vary from dragon to dragon (they tend to be either highly strategic or highly skilled in keeping cool in battle). They tend to choose strong willed Candidates.
Other:
Because of their size, they often catch Golds to produce the best Clutches. The title Weyrleader is given to the man whose dragon flies the senior Queen of the Weyr.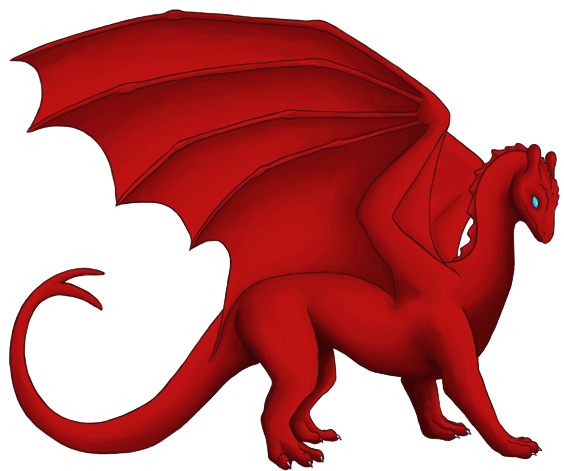 Crimson
(M/M) R 35-40 #CC0000
Appearance:
Closest to Bronzes in size, Crimsons are nearly blood red in color.
Personality:
Crimsons are quick to insult, even if they never actually say the words to their intended target. They seethe when insulted, though they learn to control it as they mature. They make decisions quickly and don't always be think things through. They have a habit of swishing their tails about when they're feeling intense emotions, and considering their hot tempers, that happens quite often.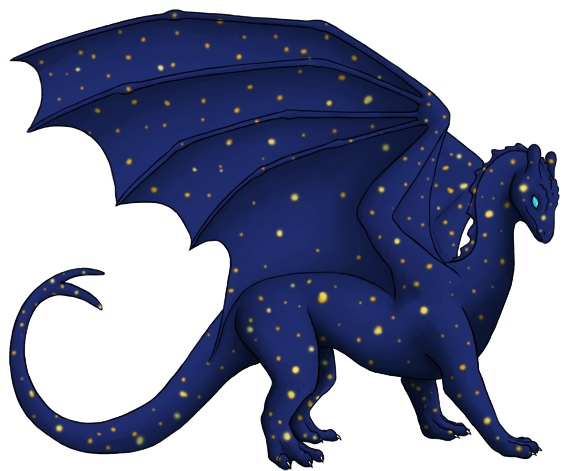 Starlight
(F/F) R 35-38 #3333FF #FFCC00
Appearance:
Starlights are dark blue dragons with yellow-orange starbursts scattered throughout their hide.
Personality:
Starlights think highly of themselves and often impress to "Queen seeking" Candidates. At birth they tend to be horribly conceited and push anybody out of the way that they don't like. They insult easily and are extremely persnickety. They correct things that they think are wrong. However, they love to be surrounded by people and to receive compliments. They are also fierce fighters.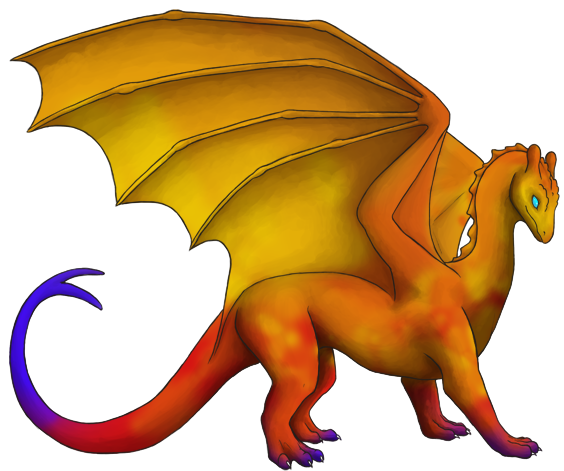 Flame
(M/M) U 23-25 (RR: R 34-36) Varies
#990000 #CC6600 #FFCC33 #993300 #3333FF
Appearance:
Flames have a mixture of brick red, light bronze, wheat yellow, dark brown and blue violet hides. These colors lick at their hides like flames in the darkness. It is not uncommon for their hides to seem like they are moving with a life of their own when they are flying or walking, dancing like fire in the light of the sun. They are some of the least stealthy dragons, however, being extremely visible even at night.
Personality:
They are quite smart, though especially excitable when young. They are always there for their riders, but tend to ignore other dragons as they have trouble relating to others. Flames have a tendency to act or speak without thinking when they are excited. As they grow they learn to keep certain opinions to themselves, even if they are technically true. They are calm, logical, and collected on their best days and are great innovators. If only they worked well in groups... Flames can hold a grudge better than any other dragon, so watch out! Don't get on their bad side. If you don't, you will find yourself with a stalwart companion.
Other:
When all the colors are in a certain placement and proportionality, it means the Flame contains the Rank-Ripping (RR) gene. Normal Flames grow to the size of a large blue or small brown dragon. But a Flame born with the RR characteristics are considered Kings. There is an odd abnormality with these King Flames: either they are quite cantankerous or quite pleasant. decisive factor is thought to come from the sire of the clutch. If the sire is a Bronze and there is a RR Flame hatched, the hatchling will tend to have Crimson attributes. If the sire is a Crimson, the hatchling will have Bronze attributes. Bronze attributed RR Flames will take on a statelier, kingly personality. Crimson attributed RR Flames take on the hotheadedness of the Crimson and can truly be "Flames" if rubbed the wrong way. RR Flames can win Queen Flights.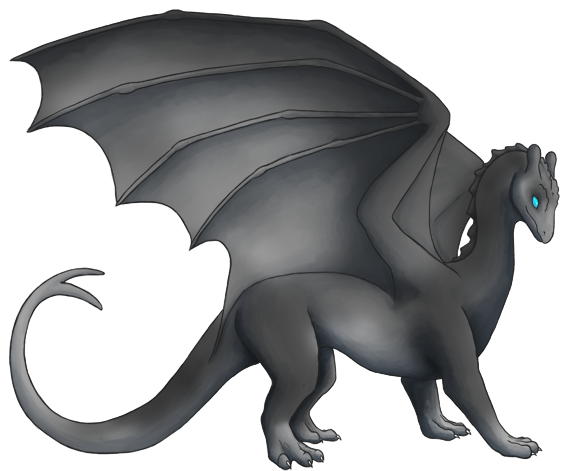 Iron
(M/M) R 34-36 #CCCCCC C0C0C0 #999999 #666666
Appearance:
Irons have hides ranging in shades of grey.
Personality:
Irons are sweet tempered and nearly childish with the ability to win anybody's heart, given time. However, they are the warriors of the dragons, gifted with a fighting instinct that was second to none. Faster than greens and with hidden reserves of power, they can defeat Golds. However, when not fighting, they're completely docile, unable to win any argument. Many of them have odd phobias and none like blood or ichor. They are superb guardians and stay fiercely loyal to those who win their heart.
Blood
(E/E) R 33-35 #990000 #FF0000
Appearance:
Bloods are the size of a large Brown or small Bronze.
Personality:
Vengeful dragons by nature, Bloods Impress to people of the same mindset. Their sharp tongues and violent moods make enemies to all but their Mine. They hate sitting idle and always rush through their decisions. They never Fly and focus all their energy on revenge.
Other:
Bloods originated at Dark Mists Weyr.
Brown
(M/M) U 29-35 #A0522D
Appearance:
Usually about thirty five feet in length, Browns are the largest of the fighting dragons.
Personality:
Considered the most dependable of dragons - if not a bit lazy - Browns know how to hold their head in a crisis. They seek partners who are honest and always there for others.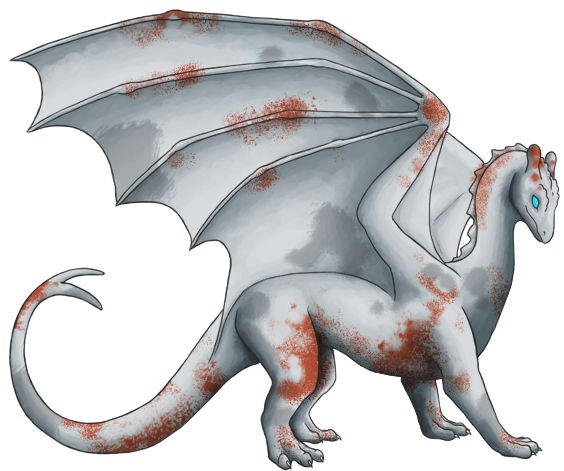 Chrome
(M/M) R 29-35 #999999 #993300
Appearance:
Chromes are large dragons, about the size of a Brown, with colors reminiscent of rusting metal. The main bulk of their body is a shiny chrome color with uneven blotches of darker gray and dark red copper or rust colored flecks. They are rather weak flamers but make up for it with their raw strength.
Personality:
These dark dragons tend to choose violent, emotionally extravagant boys and calm them with their much calmer and stable personalities. They are a tether for their Riders' minds if they lose their grip on things. Chromes like a challenge and require insight and precision from themselves. They are expert strategists in fighting and combat arts. They will converse with other dark dragons so long as the conversation is stimulating enough.
Other:
Chromes originated at Dark Mists Weyr.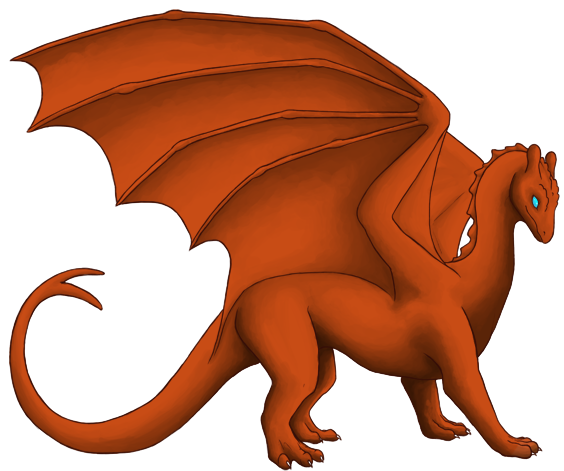 Copper
(F/E) R 29-35 #A15A30
Appearance:
Coppers are large dragons with a slight shine to their hides, which range from dark to pale copper in color. Only some have blue-green patterns spread across their snout.
Personality:
The most vicious of all dragons, Coppers are known for their destruction of property, people, and dragons. They often maim people they Impress in a frenzy to find one 'good enough' to 'serve' them. Conceited, they consider themselves above all other dragons and ignore most humans - that is, when they're not choosing to terrorize them. They love only themselves and become friends with their Riders, who more often than not adore them. The older they get, the more blood they crave.
Other:
Coppers originated at Dark Mists Weyr.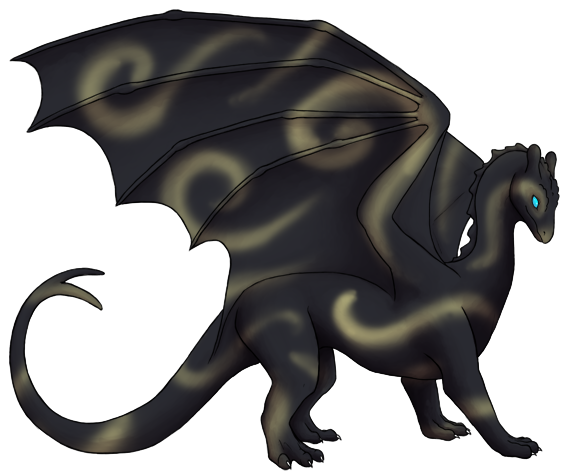 Moonlight
(E/S) U 29-35 #F0E68C #808080
Appearance:
Moonlights have glossy black hides with swirls of pale golden yellow, which gives them the appearance of beams of light on a full-moon night. They grow to be the size of an average Brown, and have wingspans to match. Moonlight's hides require much care if they have been out in the sun too long, as the dark patches are sensitive to absorbing too much heat and dry out easily in the Southern sun.
Personality:
Kind and tenderhearted, most Moonlights would rather relax by the lake than go on a wild adventure. They're good company and have an almost eerie calming effect on others. They especially like to go for late night swims or flights around the Weyr. They are caring and loving to those they enjoy being around and can often tell when something is wrong, though not often what. They make great friends or, in the case of a moonlight flitter, pets. They can be needier than some dragons, as their hides require intense care, and they enjoy bathing frequently. Although they are night dragons, they do enjoy the sun, as it gives light to the moons.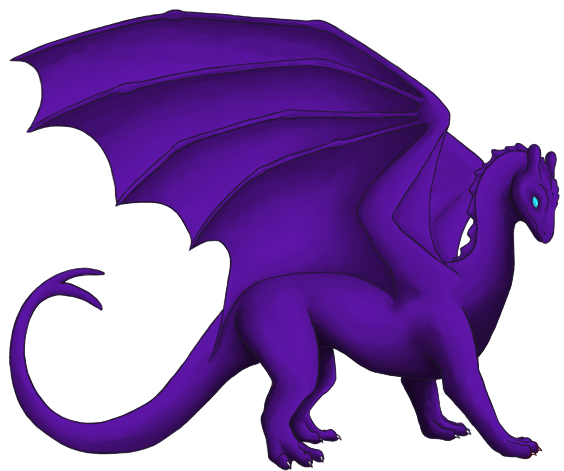 Purple
(E/E) C 29-32 #800080
Appearance:
Purples are Brown-sized dragons. Their coloration can range from a blue-violet, through a true royal purple, to a slightly more red-purple.
Personality:
Over-hyper, these dragons will do anything fun or exciting as long as it doesn't require too much waiting. They often tease their Mine, who will snip back - it's all fun and games with Purples. They generally posses a great deal of enthusiasm for their pursuits, as well as being curious about new things. Lighthearted and friendly, it is truly difficult to offend a Purple and they thrive on social interactions and relationships. To Purples, particularly young Purples, there are only two kinds of individuals: friends, and friends that haven't been met yet.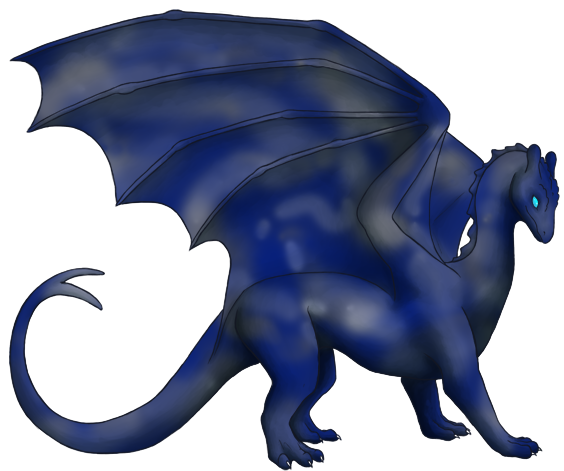 Dream
(E/S) U 28-32 #999999 #000099
Appearance:
Dreams are a dark blue color with tinges of grey swirled throughout. Flecks of silver adorn their hides. They grow to be the size of a Brown.
Personality:
Dreams are protectors. If something threatens (or seems to threaten) those they care about, they will place themselves in between them and the danger. On their average day, they enjoy daydreaming and trying to make the world a better place. They will not hesitate to speak up when they have an idea though they introduce their ideas with much preamble. They're especially imaginative and enjoy both hearing and telling stories, made up or otherwise. This enjoyment in stories can go too far however, as Dreams that are presented with an untenable situation or that are subject to too much stress will often retreat from the real world and into the realm of stories.
Aurora
(E/E) C 27-32 #FFCCFF #CCFFFF #A6D8FF #A6FFB7 #EEFCFF #FFAAE4
Appearance:
Names for the Aurora Borealis, these dragons resemble the northern lights with shades of blue melting together with green or magenta. These dragons are compact in the body, making their heads and feet look big. The advantage is any blow to their main body is much easier to take. However it means their flame is only moderate in short bursts. These dragons are between a blue and brown in size.
Personality:
Auroras are very loyal, and dislike being away from their rider more then other dragons. It is very easy for their rider's desires and baggage to become their own, because of the dragon's close bond. They have zero tolerance for situations or people who harm their rider or anyone else they hold dear. In normal circumstances they are extremely polite, if a little quiet. It makes arguments with an Aurora much more like a gentleman's debate rather then a heated emotional fight. Occasionally it makes these dragons much more formal then others, using proper titles regardless of how well they know someone. Still, if someone harms their rider, they are impossible to control until the threat has been dealt with. These dragons tend to impress those who have a inner pain or a secret they refuse to share.
Other:
Auroras are Ice Stone Weyr exclusive.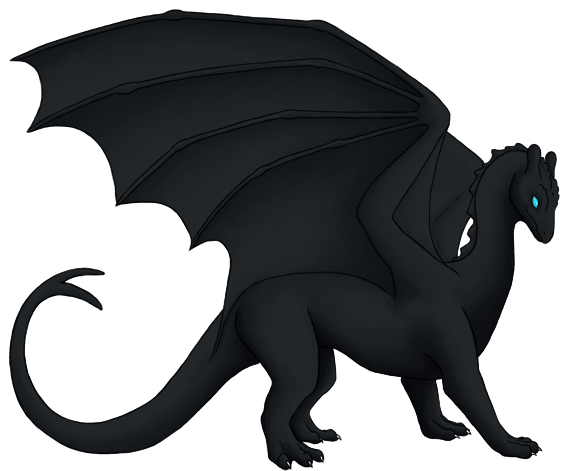 Black
(E/E) C 26-31 #000000
Appearance:
Blacks are medium dragons with ebony hides and delicate wings. They are very dark and can overheat easily in sun. Because of this they tend to prefer early mornings and late evenings with their cool atmospheres as opposed to summer days. Blacks are stealthy like Midnights, though few can keep quiet like a Midnight can. Blacks are stronger fliers and have a knack for their ability with
between
. Blacks are one of the most common non-traditional colors. They have a wide range of personalities and tend to resist a general stereotype.
Personality:
On the Hatching Sands, male Blacks tend get straight to the point while female Blacks tend to soak in their appearance and show it off. They tend to Impress Candidates with personalities either similar to their own or exactly the opposite. This can lead to conflicts with their Rider if their frustrations or differences aren't addressed. Even as adults, male Blacks can be too blunt with their peers and female Blacks can aggravate other females if they are too flashy, trying to impress the males too often.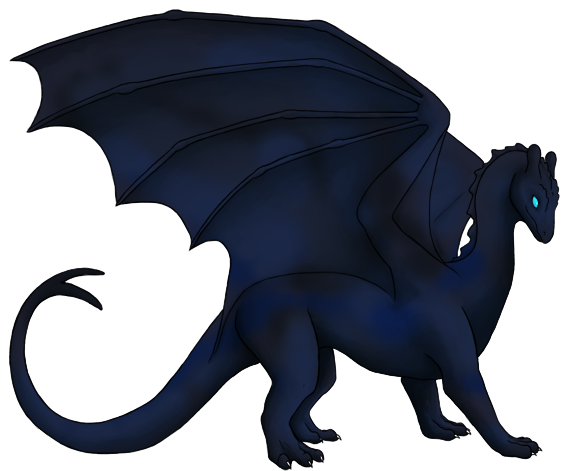 Midnight
(M/E) C 26-29 #666666 #000099
Appearance:
Midnights have hides that are the epitome of darkness, black and navy blue meld together in such a way that when this dragon flies at night, they can only be seen by the keenest of eyes. Stealthy and sleek, a midnight might pop out of nowhere or slink about the Weyr like a streetwise feline. They range in size about even with average Blues, though their overall rank is higher. Their wingspans vary greatly.
Personality:
As long as Midnights can do something at night, they are up for anything. They're the best stealth fliers and can seem very mysterious, always offering a puzzle or riddle instead of a straight answer. They aren't the most talkative of dragons and tend not to pass on secrets or rumors or even simple gossip. A Midnight Rider has to be very patient for their dragon to open up and share the secret preponderances of their inner life. They can be secluded when upset and tend to entirely shut up inside without response when angry or hurt.
Blue
(M/E) C 25-30 #0000CD
Appearance:
Blues have a blue hide, ranging from light to a mid-range, and more often than not only comprised of one shade. There has been at least one recorded case of mottled blues but for the most part only a single shade is present. Blues are not mistaken for DarkBlues, for one, they are true blue, and their range of colors end far before they can be considered a dark blue in shade. They are smaller on average then DarkBlues and are the swifter color.
Personality:
Blue dragons are loyal and are a fairly common dragon. It's a good thing too, these dragons work hard and their riders are more often than not just as persistent. Loyal to their leaders, these dragons save many a headache and get things done, making their large numbers a blessing.
Jungle
(M/M) U 25-29 #008000 #2E8B57 #90EE90
Appearance:
Because of their forest colors, Jungles are known in the South as the camouflage dragon, as they can blend into almost any tree filled area. They grow to be the size of a Blue.
Personality:
Jungles are good to their friends and hate seeing others get hurt. They are extremely empathetic to the pain of others. They are not particularly aggressive dragons; they would rather live to fight another day than battle it out. To Jungles, being friends is more important than being right. They enjoy listening to their Mines' read, and consider listening to this one of the best ways to pass time. These dragons have an amazing memory for things, including the knowledge contained within said books.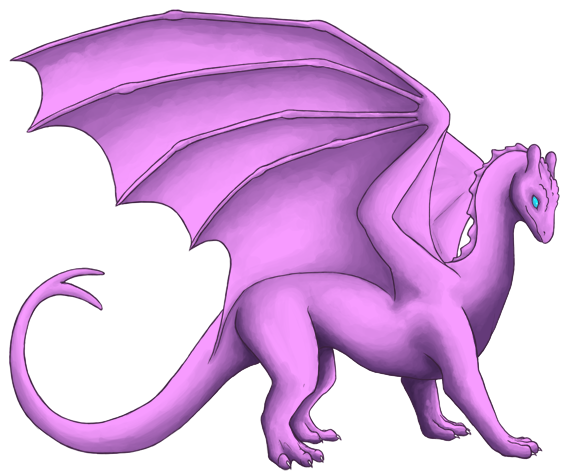 Pink
(F/F) U 25-29 #FF99FF
Appearance:
Pinks are lithe, compact, yet average length dragons. Pink dragon hides from pale pink to bright or deep pink have been recorded. Sometimes their wingspan is a couple feet off average, making Pinks the most varied color in terms of flying ability. Despite this change, pinks are very dexterous and flexible, more so than the other colors, and have a knack for getting into places a dragon normally couldn't maneuver, such as a cave or forest.
Personality:
Pinks Impress girls with inclinations towards music. They are cheerful and playful when young and mature into calm adults. They are good leaders and followers, and, though quite sure of their personal convictions, they tend to display only agreement in conversation with others. Loyal and slow to anger, they love to listen to music of all kinds. Pinks are the conflict-solvers of the Weyr, often times taking an unbiased position in an argument to settle things to everyone's content. They make great friends, confidants, and work well on a team.
Sunlance
(E/E) C 25-27 #FFFFCC
Appearance:
Sunlances are Blue-sized dragons. Their coloration is typically a very pale yellow, sometimes being almost off-white.
Personality:
Sunlances are protective and loving; they are supportive of others and do not take kindly to those that deal harm to one they know. They have strong parental instincts and will protect and comfort those they or their rider care about. They like to know where their riders are and what they have been doing, and are frequently controlled by their rider's feelings. They are generally content with life as it is, just as willing to sit in the sun as to go off on an adventure, and they think things through unless a loved one is in trouble.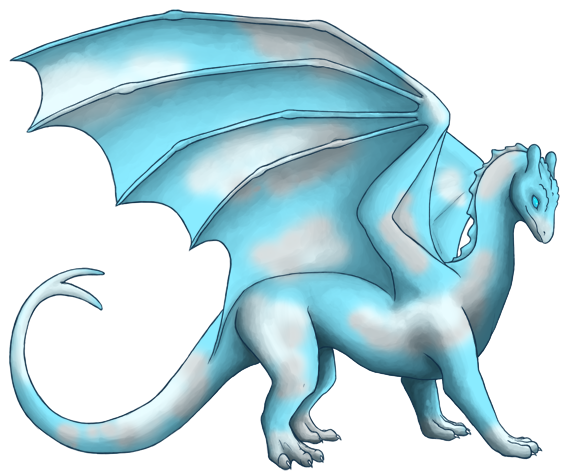 Cloud
(E/E) U 24-28 #33FFFF #FFFFFF
Appearance:
Clouds are small dragons with sky blue hides tinged with white and grey. They have huge wings that can grow to be more than twice the full length of their body (each!), allowing the little ones to become fast fliers. Their flame is nothing remarkable for their size. Because of this, a Cloud dragon can chase and Fly a dragon much bigger than itself.
Personality:
Clouds Impress people who are kind and gentle but hold a deep and great hidden strength within themselves. They are playful and love to be in the sky or high places.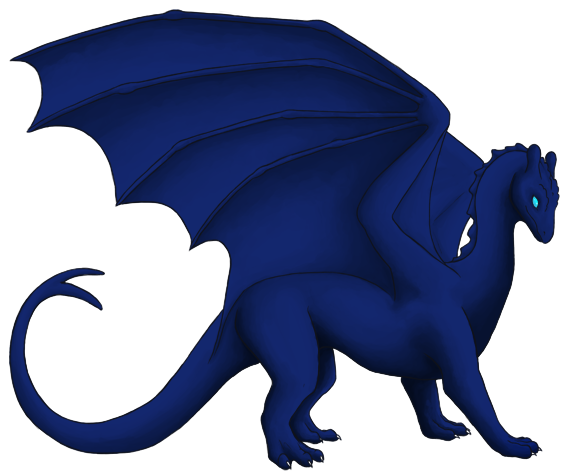 DarkBlue
(E/E) C 23-31 #000099
Appearance:
DarkBlues average about the same size as Blues but have a slightly larger size range. These dragons are a stocky and sturdy color. DarkBlues have hides of a very dark and deep blue shade, often a midnight or even navy blue. They are always dark enough to avoid being mistaken for a Blue and can have more grey in their tone than Blues.
Personality:
DarkBlues are quiet, serious, and sometimes shy dragons. They don't often share with anyone other than their Rider, and they are often reluctant to share their worries. They are very thoughtful dragons with very level heads. They will never rush into any decision and can be notorious over-thinkers. At times they can seem cold and dispassionate, but to those they know and trust they are one of the most sincere and heartfelt dragons around.
Other:
Blues have a well-known reputation for producing long flames. Most DarkBlue females chew Firestone.
Sunset
(F/E) C 22-25 #FF0000 #FFA500 #FFFF00
Appearance:
Sunsets are small dragons with deep gold, bright red and vibrant orange hides. They are about the size of a large Green or small Blue and are quick and agile. The pattern of their hide resembles their namesake, and when they fly in the sun they seem to become brighter as they reflect the vibrant colors directly from the sunlight. In an actual sunset, they belong so well that they are almost invisible, blending in with the lighted colors of the clouds.
Personality:
Playful and spunky, Sunsets love to play in the sun and on the beach. They have no interest in Flying and have no opinion about their Rider's love life. Loyal and determined, they are very stubborn if they don't get their way, but they will always fight for the Weyr they call home. Sunsets are outgoing and bright, the same as their hides, and they are certainly some of the more colorful characters around the Weyr. They make great friends or playmates for other dragons, and their relationship with their Bonded has the potential to evolve into a deep and meaningful friendship.
Green
(F/E) C 20-25 #008000
Appearance:
The most abundant dragon on Pern, they are the the smallest traditional color. They typically range from twenty to twenty five feet. Greens are lithe and agile, capable of avoiding Thread with fluid movements and visual grace, though their size limits their stamina.
Personality:
Greens are generally happy dragons who adore their Riders. They seek approval, whether from their Rider, their peers or mates, they find it somewhere. This search for self-esteem is the basis of the "flirty Green" stereotype, though friendly Green might be a more accurate label. Though they aren't always the most direct dragons they are good friends with those who take the time for them and avoid unnecessary bluntness. Greens don't want to hear when their hide isn't exactly the picture of perfect health and hygiene.
Brick
(E/E) U 19-23 #800000 #A0522D #808080
Appearance:
They are small dragons and never grow larger than a Green. Their hides are a brick red, with small patches of paler color that give them the appearance of actually being constructed of something other than hide and bone, however this isn't the case. Their hides are tough and slightly rougher than other colors, though not to the extent that they aren't good to hug. Bricks are not particularly good with firestone.
Personality:
Bricks are clownish dragons that love pulling pranks and will laugh at anything. They are unparalleled in their ability to set traps or ambushes, taking their unfortunate prey by surprise and toying with them to their hearts content. Bricks can sometimes aggravate other dragons with their jokes or pranks, which can get old to those who lack the patience to deal with such a personality. They don't take light reprimand seriously and will only realize a situation's gravity under stern and potentially harsh rebuke. These unpleasant conversations can leave Bricks deflated of their good humor for days if not sevendays. Cheering up a disheartened Brick is a challenging task. Overall, Bricks can be quite a handful for their Bonded, who will find themselves the unfortunate victim of many pranks when nobody else is around. On the up side, they are never boring, and can always cheer somebody up.
Wood
(F/F) U 17-21 #CC9933 #993300
Appearance:
The hide of a Wood dragoness is truly unique in that it mimics the patterns and coloring of tree trunks. The dragons' patterns depend on the trees in the area where they were born. Because of this, the coloration of Wood dragons ranges greatly. They can be light brown, gray brown, green brown, mahogany and so on, but they are always a shade of brown. Like Jungles, they can blend in with the trees quite easily. They are relatively small, coming in a few feet bigger than White dragons, making them quick and nimble in the air. They are capable of twisting and pulling themselves into almost any aerial maneuver.
Personality:
Woods are generally very gentle, forest-loving dragons. They love firelizards and will not object to their Rider Impressing one. Woods are typically calm, serene dragons but some have been known to be hyper and playful or even shy and quiet. Woods don't want anyone or anything to be hurt. They refuse to eat meat and are typically vegetarians. When they are preparing for Flight, they will often go after fish. A Wood's Rider must prevent their dragon from consuming too many fish or it will hinder the dragon's Flight. It has been seen in their history that some Woods are occasionally (1 in 3 Flights) able to clutch eggs despite having ingested Firestone, and that some (1 in 3 eggs) of those eggs are viable. They also are far less susceptible to food-born and other toxins. The two are believed to be related.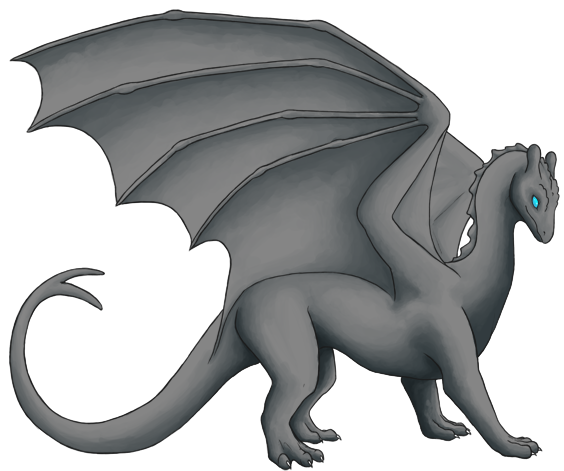 Grey
(E/E) C 17-20 #808080
Appearance:
Greys are, well, grey in color and are just slightly larger than Whites.
Personality:
Greys are true to their name - they either look depressed or actually are. Their Riders are almost constantly reassuring and comforting these overly sensitive dragons. Though they're quite loving, they pick up on the slightest discontent and take it to the extreme.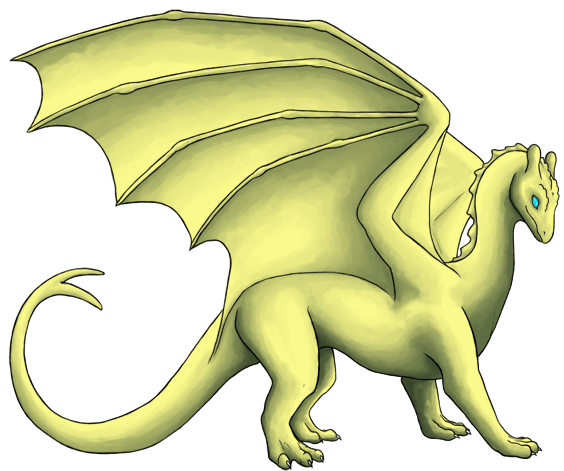 Citrine
(F/E) C 17-19 #EEE8AA
Appearance:
Citrines are small dragons. Their hides range from yellow to pale yellow.
Personality:
Kind and sociable, Citrines have a bit of a fiery temper and can get angry quickly. This anger never lasts long though, and mostly consists of verbal ranting. They typically can keep their claws to themselves and seldom lash out at another. A Citrine would be truly horrified if someone were to be hurt by one of their eruptions, and they will often apologize as soon as their anger cools. They take great pleasure in eating and if something looks tasty to them they will put it in their mouths.
White
(E/E) C 14-18 #FFFFFF
Appearance:
Whites are the smallest dragons, reaching up to eighteen feet in length when they mature. They are swift but unable to fly for long periods of time. Some whites have tiny, just visible patches of multiple colors on their hide if the light hits it the right way. They have the smallest wingspan of any of the colors, and they lack stamina. What they lose in physical ability, however, they make up for in sheer charisma.
Personality:
Whites tend to Impress youngsters who aren't able to do things that they would like to do. Whites can be very personable, and tend to make connections with other dragons or even people very easily. They are a friend to everyone and give freely of their talents, expecting the same in return. Whites are smart and wise, offering a voice of caution or encouragement as needed. Their ability to
between
with skill and accuracy is quite impressive and due in no small part to their size. Of all dragons, Whites most often have enhanced or sensitive telepathic gifts.
Special Thanks
The art used for our dragon colors was generously donated to Rainbow Mists Weyr by:
Ziskara of deviantart.com

We offer our heartfelt gratitude.