Post by Ghost of Fire (Fëanáro) on Jul 20, 2011 20:47:13 GMT -8
Long ago, boy met dragon.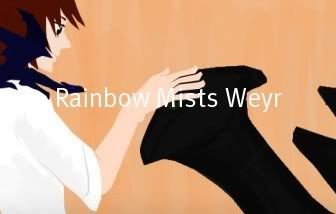 Name:
T'mas
Pronunciation:
Tuh-mas
Gender:
Male
Age:
about 71
Turnday:
sometime during turn 3003
Weyr:
RMW
Rank:
Retired Wingleader
Family:
Daughter: Relira (37) of Green Zamath
Son: T'var (36) of Iron Chasearenth
Granddaughters:
Talira (11)
, Korya (7)
Grandsons: Rezamon and Manorak (twins, both 10), Nadiron (7).
Weyrmate:
Zylira of Starlight Vaneseth
Friends:Pets:
Two Flitts, Sunset Nasha and DarkBlue (m) Malik
Appearance:
T'mas still wears his hair cut to his earlobes, and it is still reddish-black, though the silver grey "streaks" at his temples have expanded to over an inch and a half wide and the rest of his hair is thoroughly salted with grey. Like his father, he will likely never have solid silver hair. His high and pronounced cheek bones are further accentuated by the aforementioned silver streaks, as is the nose that can give him the appearance of a hawk. His eyes are a deep green, and his skin is pale. His brow has lines on it from the pressure of duty during the past fall, but these are counter-balanced by laughter-lines at the corners of his eyes and mouth. He has a lean, scrappy build; standing a little under average height and 5'10" and weighing 145 pounds. He prefers to wear dark green, brown, black, or dark blue clothes, but anything dark colored will do — however, his weyrmate can get him to wear vibrant red because "it looks so good with Brackneth".
Personality:
T'mas retains the inquisitive nature of his youth; he likes to know what is going on and doesn't really care too much about how he finds out, though he won't hurt anyone. (will spy, sneak into off-limits areas, etc...) He has a sense of honor, and is protective towards friends and those that he perceives as needing it, in addition to those that he respects. He doesn't always take orders well unless he knows why they are given, and prefers general assignments to micro-managing type orders. (Find this; rather than, go there, get that, take it...) He can seem cold and distant, but warms (up to a point) quickly once he decides to trust someone. He basically never loses his head, and can make snap decisions in any situation (often guesses right, too). He is pretty good at getting other people to listen to him in danger (because of the calmness) and is most comfortable either operating alone or near the relative top of the command chain. (leading a small group, for instance).
History:
He lived with his mother a scant two turns before she left the hold and married, leaving him with her brother, his uncle. His uncle considered him a useless burden, refusing to teach him anything, and forcing him to work when he should have been in lessons. In fact, if his uncle caught him sneaking out for lessons (or anything else) he proceeded to beat him until he could hardly stand up. Not that that was hugely different from how his uncle treated him anyway, it was just that if he stayed around, the beating was spread though out the day, rather then all at once. As he got older, around 8 or 9, he realized that if he stayed gone most the time (leave before his uncle woke, and get back after he fell asleep) he didn't get hit at all, so that's when he really started learning how to sneak around, as well as starting to actually play with some of the other kids. At first most of the other kids refused to include him, but it wasn't long before they welcomed him - mostly because they admired his daring and ability to figure things out. His playmates were still limited however, because none of the parents wanted him around their kids.
On the day he was searched (summer of either his 14th or 15th Turn), he had actually just stolen (from one of his uncle's friends) a piece of fruit and was eating it when the search rider came up to him and asked if he'd like to come to the Weyr. Naturally, he said that he would be honored (though at the time all he could think was: "Yes! Somewhere without my uncle!"). The search rider said that he would need to get permission, so he took a back way out into the fields, made sure he was out of sight, waited a while, and then came back and told the rider that it was ok with his uncle. He never told anyone at that Hold where he was going. He encountered his uncle and cousins (as well as his mouther, though he didn't know who she was) at a Gather about seven months later, and after that incident, which precipitated a fight, he hasn't seen any of them again.
He stood in one Hatching without Impressing, then in the next Hatching he Impressed Black Brackneth, beginning a new chapter in his life.
During his Weyrling training, he became a sort of "ward" to a newly transferred CrimsonRider, R'kent, who started teaching him sword-fighting. He was wary of the CrimsonRider at first, but after a year or so he just accepted that for whatever reason the man had decided to help him out, and he gradually came to view R'kent as a father (all while not knowing that R'kent was, in fact, his father), though his initial trust was mostly due to Brackneth's friendship with both R'kent and Crimson Morillarth. It was R'kent who managed to find T'mas after the Weyrling became hurt on his and Brackneth's first flight, when Brackneth was around nine and a half months old (T'mas and Brackneth had gone to Keroon, mostly because T'mas wanted to see if he could find his mother, rather than going to the standard training destination).
After T'mas's Weyrling Graduation, R'kent showed up with a new set of flying leathers and straps (custom made for T'mas and Brackneth) as well as a new belt knife. He gave them all to T'mas, and before the startled young man could say anything, asked that it be considered a partial repayment for all the Turndays that R'kent had missed, as well as for his not having "stayed with your mother". He then retreated down the hall, leaving the flabbergasted new rider gaping in the doorway. Although, when T'mas recounts the story, it never happens like that — it usually happens with him finding out much earlier, and keeping it a secret just to find out how long it would take for R'kent to act on the information.
Within a turn and a half, T'mas was a wingsecond, and when the wingleader retired two turns later, T'mas had the position in which, he was fast to discover, he belonged. He continued to fly as a wingleader until his retirement from that position, about 10 turns ago. During his years as a wingleader, he had two children, Relira and Tazivar (T'var). Despite the fact that they were fostered, he still managed to spend time with both of them.
He's now quite content to occupy most of his time with routine flying and spending time with his four five grandchildren.
Additional Information:
T'mas is very good at both climbing and moving silently, in addition to staying unseen/hidden. He likes music and musical instruments, and will play them quietly if he's around close friends or his family. He has quick reflexes and a fast reaction time, a side effect of having to always be on his toes. He continues to practice unarmed, knife, and sword combat, simply for the enjoyment that he gets out of still being able to.
Adoption?:
No.
Dragon's Name:
Brackneth
Dragon's Gender:
Male
Dragon's Age:
About 56 turns
Dragon's Color:
Ebony
Dragon's Appearance:
Brackneth is truly a magnificent specimen of a Black. His hide is a deep ebony, with no shading of any other color, though he is now graying around the muzzle, and his wings are flawless ebony and taper towards the tips, like those of a falcon. He is one of the largest blacks around, at exactly 31 feet in length.
Dragon's Personality:
Brackneth enjoys being the center of attention, and he often pushes T'mas into the limelight as well. He is proud of his magnificent pitch-black hide, and is also well aware of the fact that he is larger than other blacks. He is confident and strong willed and capable of keeping a cool head in dangerous situations. He is patient when he needs to be, but grows quickly impatient if nothing interesting is going on. He speaks with precision and dignity, and is also rather quiet, rarely using more words than necessary.
Dragon's History:
Brackneth was one of Wood Illyrmiath's first clutch with Purple Cilerth. He took the longest time walking across the Sands, enjoying the stares of the Candidates, before stopping in front of a boy whom he found intriguing. ~T'masMine?~ the dragonet had said, in a tone of dignity and pride. ~Take your Brackneth and let us leave these sands.~
Brackneth was very confident as a dragonet, in fact it came closer to cocky during his time as a weyrling. It was on his suggestion that, when he wasn't even a full ten months old, he and T'mas vanished from the Weyr in order to search for T'mas's mother. They ended up in a fight with T'mas's uncle and cousins, from which they managed to escape, but in the process both T'mas and Brackneth had been injured — Brackneth's wing was torn, so they could not return to the Weyr. When T'mas sent Nasha back with a message, Brackneth over-rode his rider's choice of destination: instead of the message going to J'nan, it went to R'kent. The experience was actually good for Brackneth, since he gained an appreciation for his rider's lack in interest in calling in a high-ranking rider. By the time Morillarth and R'kent were done delivering their separate lectures on irresponsible behavior, even the proud Brackneth was willing to admit that he and T'mas had done the wrong thing in coming to Keroon.
Brackneth grew out of some of the cockyness by the end of the pair's Weyrling training, but he retained his confidence. Of course, by that time, T'mas's own natural confidence was starting to become more apparent, so they found themselves some of the most daring fliers of their training group — though Brackneth still refused to "perform undignified tricks" when anyone was watching, so they did their best flying at night when no one (that they knew of) was watching.