Post by Terayne on Dec 9, 2011 15:18:10 GMT -8
Name:
Ylara
Pronunciation:
Ill-are-uh
Gender:
Female
Age:
30 Turns
Turnday:
12th day of the 7th month, Turn 3043
Weyr:
Rainbow Mists(Transferring from Ista)
Rank:
Woodrider/Candidate Mistress' Assistant
Family:
Father: Yldim- Master Leatherworker
Real Mother: Arane- Greenrider
Step-Mother: Helana- Yldim's wife, Master Weaver
Full Siblings: None
Half-siblings: Wyatt(older) and Dilana(younger)-Yldim and Helana's children
Weyrmate:
None
Friends:
None Yet
Pets:

(Thanks Cait!)
Citrine-Pink Female Chantelaube(Dawnsinger in French)- "A little bright yellowish flitt had made it to the hearth, but when she spread her wings it became apparent she wasn't just a Citrine. The tips of her wings were tinged pink, and a light coating of the color decorated the end of her tail and the top of her nose and forehead" (Courtesy of her Hatching Post In-Rp)
Appearance:
She is a slight woman, only 5'2" tall, but is anything but petite and delicate. Toned from living almost half her life as a rider, she is well built and muscular, with the normal scarring on her arms and a few on her chest that one generally finds when they are confronted by someone who wrestled with a dragonet when they were younger. Her hair is a straight, wood brown shade, with just enough gold to save it from being called dull, and is normally restrained in three braids braided into one larger one. Intelligent hazel eyes stare out at the world, more gray then brown or green, and flecked with a glinting gold. She favors darker shades of brown and gray that set off her bronzed skin, and possesses a belt handmade by her leatherworker father that has a buckle shaped like a dragon lying down.
Personality:
She is playful and silly most of the time, a very charming person to be around, enough so that some have teased she should have been a Purplerider. When that is said, Orylth just huffs and tells her she is Her's, and that's that, which is plenty fine for Ylara. She does have her moments though, when she becomes withdrawn, though never cold, just saddened. She adores children and working with them and younger adults fills the emptiness she is prone to, as she is barren and unable to bear children of her own. She spends a lot of time doing so, enjoying it immensely, and when not doing that, she enjoys swimming and just generally playing around with her Wood.
History:
She is the product of an unintentional encounter between her Greenrider mother and her Leatherworker father. They were together only once, but that was enough, and Ylara was hoisted off on her father as soon as she was able to be. Yldim's wife, though irritated with her man, took the baby girl in and raised her as her own, though they never hid who her real mother was from her. They didn't see the point of doing so. When she was still young, Helana bore a second child of her own, a girl as well, and Ylara and her halfsister had a lot of fun together, just playing and generally being girls. As she grew, Ylara learned her step mother's trade of weaving, and proved fairly good at it, capable of weaving small toys and dolls for her brother and sister. She took that as her 'trade skill' and was Apprenticed to the Weaver Hall at 12, to learn more of it.
While there, she had her first taste of what having a crush on a guy was like, as she had a major one on the Weaver who was her primary teacher. They spent a lot of time talking, but it never came to anything, for the girl was far too young, only 14 at the time. Her teacher soon left, being a Journeyman, and she was left nursing a bruised heart. That didn't stop her for long though, her joyful enthusiasm for life wouldn't allow it to, and she went on with her training.
At 17, she was nearly ready to walk the tables when the Green came to the Hall, looking, not for Candidates, but for supplies. The winter months had gotten oddly cold for some reason, and Ista Weyr had been unprepared, so had sent the rider to see what she could do. Ylara encountered the rider the night they arrived, as well as her dragon, and was subjected to the Green's inspection without being truly prepared for it. To her surprise, the rider then asked if she'd like to go the Weyr, to Stand as a Candidate. Although there wasn't a Clutch on the Sands at the time, she agreed anyways, knowing she would likely not get another chance if she refused to go.
That was how she came to be at Ista Weyr when the great Gold leading it Rose, and several months later, a grand clutch was laid, Queen egg and all. Ylara was enchanted by the whole thing, even when witness to the fatal mauling of one of her fellow female Candidates by the unhappy Gold Hatchling. Almost all of the eggs had broken shell, and she was starting to wonder if her dragon was among those still present when one of the smaller eggs broke, tumbling its pretty occupant onto the Sands. Though she was itchy, wet and sticky, the little Wood came running to the girls, inspecting each one before sitting on her pretty butt before Ylara and announcing herself to be a very tired, itchy and hungry Orylth.
They were inseparable from then on. Whenever Ylara went somewhere Orylth could not, they were always touching minds, taking comfort from each others' presence. Their Weyrling Training was uneventful until they hit the Flying Lessons, in which Orylth proved that falling really DOES hurt, tearing her wing membrane. The Healers managed to repair it, but the Wood flew rather heavily for awhile, and her wing retained a rather jagged edge from the accident. They managed, despite the incident, to get into the air, and graduated along with the rest of their Weyrling Class.
After that, their lives were not all that exciting, with Wing Practices and such filling their time. The only real excitement was when Orylth Rose. Having not Chewed initially, this meant that a few months later, she Clutched, her clutch containing 6 eggs, her mate being a young Bronze. Afterwards, she was made to chew 'Stone, the deal she'd made with the Weyrwoman for her experience with children playing out in her being made the Candidate Mistress in exchange for that single Clutching opportunity. However, a few months after her next Rising 4 Turns later, Orylth clutched AGAIN, despite chewing, and this time, the clutch contained 3 eggs, though only one Hatched. And 4 Turns later, this repeated itself, her clutch of 5 Hatching out 2 more. This upset the Senior Goldrider, who was also the Weyrwoman of Ista, that Orylth could not be made sterile. Ylara never got pregnant from any of the Flights, or any of the encounters she had between them, and she went to the Healers to find out why. When informed she was barren, she was heartbroken, but her job as the Candidate Mistress helped to fill the void, though she would still love to have her own children, if only through the adoption of another's who is unable to raise it. She was transferred after she put in a request to do so and had trained a replacement, as the Istan environment had grown stale for her, and she wanted the excitement of new experiences. Though she wouldn't say it, she also is transferring due to pressure from the Weyrwoman to leave, since she does not like that Orylth, a mere Wood, is still fertile and can clutch just as the great Golden Queens.
Adoption?:
No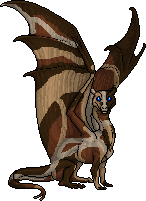 (Thank you Simile!)
Dragon's Name:
Orylth(Or-ilth)
Dragon's Gender:
Female
Dragon's Age:
13 Turns
Dragon's Color:
Wood
Dragon's Appearance:
At 21 feet, she is easily on the largest end of her hue's size spectrum, with a rich, reddish brown hide covered in swirls and ripples of darker shading. It also has areas that are lighter in shade, though not much so, just enough to be noticable, and one of these rests right over her left eye. Her wings are long and tapered, and the very edge of the right one is slightly jagged from a flying accident when she was in Weyrling Training.
Dragon's Personality:
Very sweet at heart, Orylth enjoys the company of others, though she seems to favor that of younger dragons and UnBonded Candidates over everything else. Her Mine is her world, and she will not go anywhere without letting Ylara know what she's up to, not wishing her Own to worry about her. She can be incredibly strict sometimes with "Her" youngsters, making sure they do what they're told to, although it is all for their benefit. She knows her Mine is saddened by her lack of childbearing abilities, and does what she can to fill that emptiness with her love and adoration. She enjoys sharing all aspects of her Layings with her Own, wanting her to feel as if she too is the mother of those precious eggs and their bundles.
Dragon's History:
Born the daughter of Gold Weshaerth and Bronze Jurwith, she was the only Wood in her clutch, which was mostly 'old' colors. Her Hatching was uneventful really. She Hatched and found Her's fairly quickly. It wasn't until her Weyrling Training that things got quirky, and the Flying Lessons really hurt her, when she fell out of the air and tore her wing membrane. She was, luckily, able to continue flying after the Healers had repaired it, for it healed well, though it was difficult at first for her to fly, and it left a jagged edge to it. After that, things went more smoothly, and she was more than prepared for her first Flight, though her Mine was not. Her amusement at her rider's expense was comical for those who witnessed it, but everything managed to go smoothly, all things considered, although even Orylth was surprised at the young Bronze who rose to her Flight, and her choice of him was expected. How often did a King, after all, Fly to a Wood? Her clutch of six with him was healthy and hardy, though two of the eggs later proved themselves duds. The other four found their riders without incident though.
The pair was asked to be Candidate Mistress and dragon shortly thereafter, neither expecting those next two clutches, sired by a Blue and a Brown, although recently their surroundings have grown boring and stale, and, after training their replacements, they requested a transfer to Rainbow Mists. Orylth was unhappy about being looked down on by the Golds for being able to clutch just as they, spoken down at when she was just as good as they.